Bay area death trio ULTHAR – featuring within its ranks Shelby Lermo (Vastum, Extremity), Justin Ennis (Void Omnia, ex-Mutilation Rites, ex-Tombs), and Steve Peacock (Mastery, Pandiscordian Necrogenesis, Pale Chalice) – will kick off a lengthy North American headlining tour this spring. The trek will commence on March 22nd in Oakland, California and rumble the stages of nearly three dozen venues upon its conclusion April 26th in Las Vegas, Nevada. Support will be provided by Delaware death dealers/labelmates Scorched on select shows. See all confirmed dates below.
ULTHAR will be touring in support of their Cosmovore debut released late last year via 20 Buck Spin. Cosmovore was engineered, recorded, and mixed by Greg Wilkinson (Brainoil, Deathgrave) at Earhammer Studios in Oakland, California, mastered by Justin Weis at Trackworx, and unleashes the feral urgency of dizzying, Absu-like black metal with the bludgeoning ferocity of classic death metal. Thematically heavy on weird, supernatural horror and a bizarre Rudimentary Peni surrealism, ULTHAR is a difficult to classify spectral entity.
Stream Cosmovore in its entirety below.
Cosmovore is available on CD, LP, cassette, and all digital formats. For physical orders, go to THIS LOCATION. For digital orders go HERE.
ULTHAR:
3/22/2019 Eli's Mile High Club – Oakland, CA *
3/23/2019 5 Star Bar – Los Angeles, CA *
3/24/2019 Brick By Brick – San Diego, CA *
3/25/2019 Yucca Tap Room – Phoenix, AZ *
3/26/2019 Club Congress – Tucson, AZ *
3/27/2019 Neon Rose – El Paso, TX *
3/28/2019 Lime Light – San Antonio, TX *
3/29/2019 Wits End – Dallas, TX *
3/30/2019 Lost Well – Austin, TX *
3/31/2019 Poor Boys – New Orleans, LA *
4/01/2019 Fire House – Birmingham, AL *
4/02/2019 The Bakery – Atlanta, GA *
4/03/2019 Radio Room – Greenville, SC *
4/04/2019 Wonderland – Richmond, VA
4/05/2019 Meatlocker – Montclair, NJ
4/06/2019 Atlas Brew Works – Washington, DC
4/07/2019 Kung Fu Necktie – Philadelphia, PA
4/08/2019 Saint Vitus Bar – Brooklyn, NY
4/10/2019 O'Brien's – Boston, MA
4/11/2019 (Johnson City) Avenue DIY – Binghamton, NY
4/12/2019 Genos – Portland, ME
4/13/2019 Turbohaus – Montreal, QC
4/14/2019 Bovine Sex Club – Toronto, ON
4/15/2019 Black Circle Brewing – Indianapolis, IN
4/16/2019 Bug Jar – Rochester, NY
4/17/2019 Howlers – Pittsburgh, PA
4/18/2019 Sanctuary – Detroit, MI
4/19/2019 Subterranean – Chicago, IL
4/20/2019 NYDM FEST – Milwaukee, WI
4/22/2019 Syntax – Denver, CO
4/23/2019 Triple Nickel – Colorado Springs, CO
4/24/2019 The Cave – Santa Fe, NM
4/26/2019 TBA – Las Vegas, NV
* w/ Scorched
Over the course of Cosmovore's forty-minute run time speeds careen forward at primarily unrelenting velocity, the opening title track instantly battering with primal persistence. The album's middle section, a blinding storm of ghastly black dread, leads into the thirteen-plus-minute closing epic "Dunwich Whore" where the ULTHAR universe becomes all-consuming with proggy synth bookends, vertiginous tempo variation, grinding technical violence, and thrashed madness.
Tying it all together is the gripping cover art of famed UK illustrator Ian Miller, known for his work with the Warhammer games, Lovecraft books, Ralph Bakshi films, and more.Yet another stellar debut album released under the 20 Buck Spin banner, ULTHAR's Cosmovore stands as the monstrous opening salvo of a band only beginning to wage war. Fans of Absu, Immortal, early Atrocity, early Pestilence, Demilich, Morbid Angel, Gorguts, and labelmates Tomb Mold should tune in to ULTHAR's deft execution.
"Lermo weaves evil, inverted riffs that create an unsettling atmosphere but ultimately bludgeon the listener; the rhythm section shores up the heaviest parts of 'Asymmetric Warfare' and Lermo and bassist/vocalist Steve Peacock shriek and growl with rage." — Decibel on "Asymmetric"
"Collectively, they possess a uniquely deadly skillset that's firmly based in the annals of smudged, knotty blackened death (deathened black, if you're nasty) — which they put to surgically sharp use on Cosmovore." — Bandcamp Album Of The Day
"…enigmatic and intense…awe-inspiring… one of the strongest offerings of the year from a band that is just finding its legs." — Metal Utopia
"…a dizzying monolith of heaviness." — Spill Magazine
"…a dark, nasty, yet gloriously vicious album." — Ghost Cult
"When it comes to the art of defense and all the myriad of intricacies and patience needed for successful aggression, ULTHAR represent an elite class of professional. Through chaos and tension does patience reign. Through dissonance and contradiction are the battles of blackened death metal won. And, when the battle clears and the last cauldron of steaming molten metal is poured, there will stand ULTHAR upon the parapets waving blood encrusted flags of victory." — Last Rites
"Purebreds are overrated. Cosmovore is the mutt you want. Sure, it's gonna shit all over your floor and tear up the curtains, but would you rather be prancing around the dog show with the rest of the yuppies? Get a good kennel, cuz ULTHAR are coming home with you." — Metal Trenches
"Some of the most grotesquely intense blackened death metal… incredibly unsettling. Fantastic stuff!" — Nattskog
"The chaos is spread thick on these tracks, and the sense of dread is impossible to shake. This has been a banner year for death metal, and ULTHAR are making their case for being one of the bloodiest new entrants into the skull-destroying terrain." — Meat Mead Metal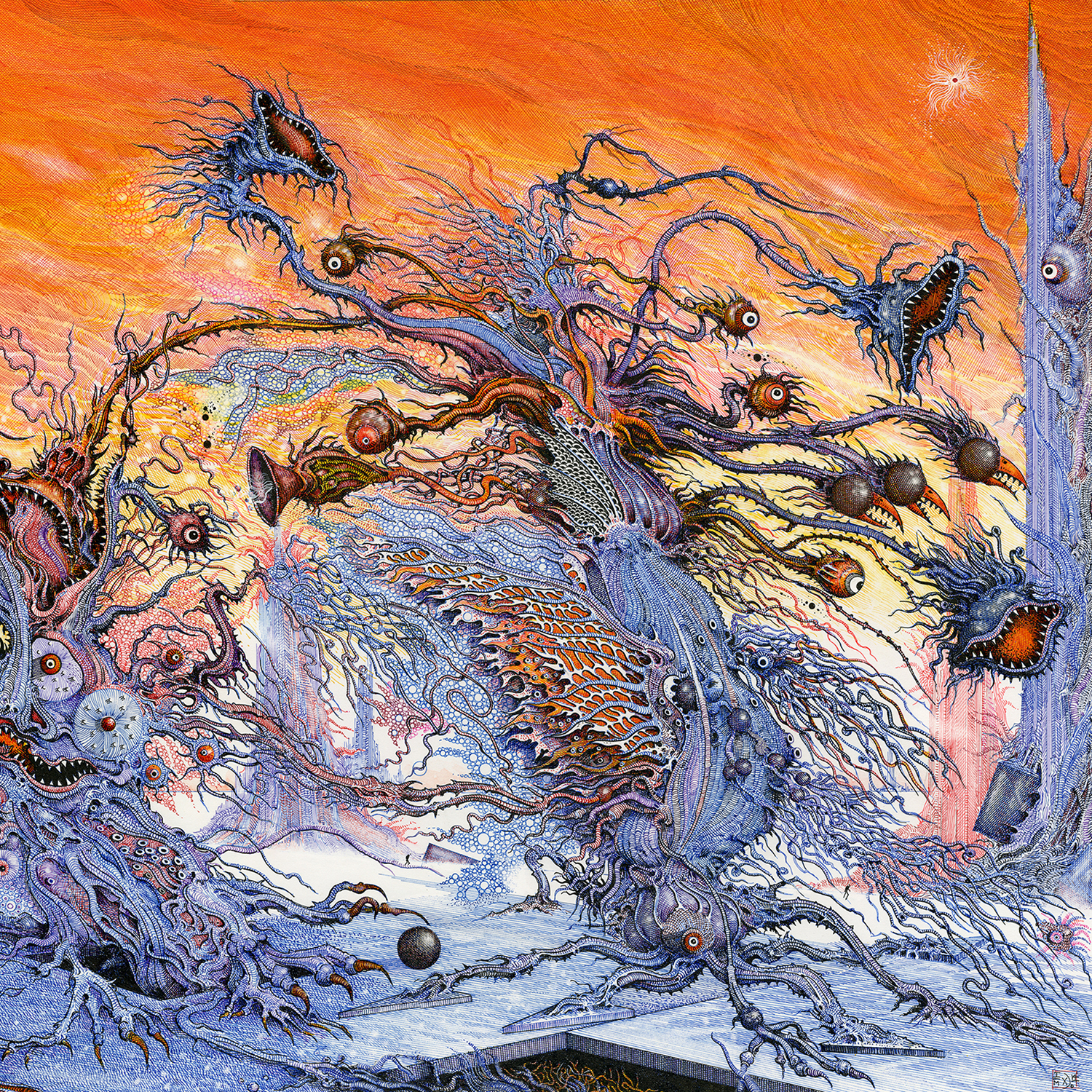 https://ulthar666.bandcamp.com
http://www.20buckspin.com
http://www.facebook.com/20buckspin
http://twitter.com/20buckspinlabel
http://listen.20buckspin.com