Now less than two weeks from its official North American release via Relapse, today Pitchfork premieres the latest single from ULCERATE's demoralizing fourth LP Vermis. Closing out the nearly hour-long LP from the death metal innovators, "Await Rescission" steals the last bit of life from the album's victims with a suffocating seven-and-a-half minute swelling attack of some of the most bludgeoning black-tinged technical tsunamis of riff and percussion ULCERATE have ever unleashed.
Go hear "Await Rescission"…. you will be crushed. DO IT HERE.
Also hear "Weight Of Emptiness" via Loudwire RIGHT HERE, view the art video for "Confronting Entropy" AT THIS LOCATION, and watch the in-studio video documenting the making of Vermis posted HERE.
ULCERATE also just announced their next round of live demonstrations in support of Vermis, with a barrage of new shows across Australia and their native New Zealand over the coming months. Stay tuned for additional live and tour actions to be declared in the weeks ahead.
ULCERATE Australasian Tour Dates:
10/12/2013 Churchills Live – Christchurch, New Zealand
11/01/2013 Whammy Bar – Auckland, New Zealand
11/02/2013 SFBH – Wellington, New Zealand
11/28/2013 Crowbar – Brisbane, Australia
11/29/2013 The Stag – Sydney, Australia w/ The Amenta
11/30/2013 Sonic Forge Festival – Melbourne, Australia
ULCERATE's relentlessly destructive methodology is in a class of its own, as proven on their previous LPs released by Neurotic and Willowtip as well as across the globe in the live setting, and on Vermis is at its most ominous and technical of the band's existence. Undeniably one of the most anticipated extreme underground albums of 2013, Vermis will see release September 17th in North America, preceded by September 13th in Germany and Benelux, and September 16th in the UK and rest of the world. Preorders for the CD and 2xLP versions are available HERE, and digital preorders HERE.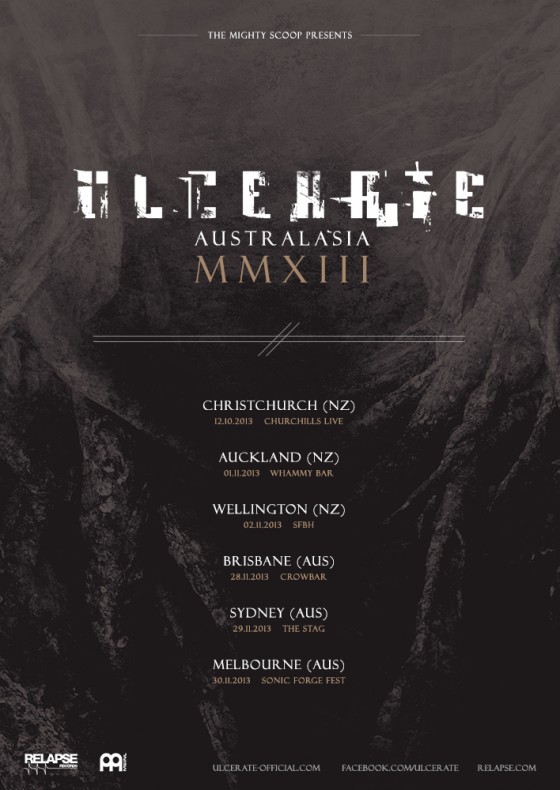 http://www.ulcerate-official.com
http://www.facebook.com/ulcerate
http://www.relapse.com
http://relapserecords.bandcamp.com
http://www.facebook.com/RelapseRecords