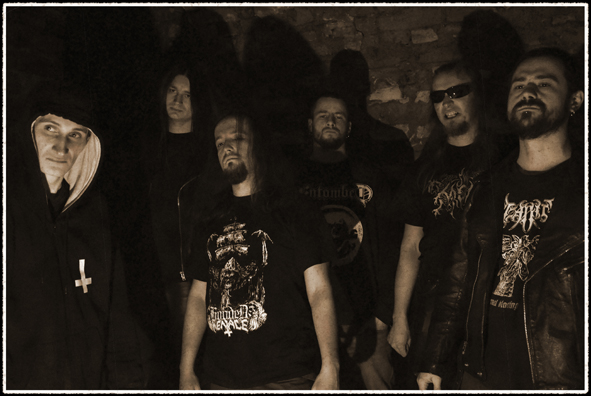 Polish death metallers ULCER, who recently joined Pulverised Records' crushing roster, are pleased to unveil the track-listing and cover art to their upcoming full-length, Grant Us Death. Recorded, mixed and mastered by Grzegorz Kulawiak at Sinquest Sound Studio in Lublin, Poland, the ten-track full-length features the stark but striking cover art of Bartlomiej Kurzok with a layout conceptualized by ULCER frontman D. (aka Sonneillon).
Grant Us Death Track Listing:
01. Grant Us Death
02. Devilspeed
03. Bloodpainted Salvation
04. The Love Song
05. Godcremation
06. Thanatoeuphoria
07. Devitalized
08. The Pact
09. My Lord Has Horns
10. When Horror Comes
Formed in 2006, the young ULCER consists of past and present members from Blaze Of Perdition, Squashed Bowels, Deivos and Abusiveness. The band recorded two demos in 2006 and a debut full-length album entitled Serpent Trinity in 2007.
To check out a preview of "The Love Song," the fourth track off Grant Us Death, visit the ULCER's official MySpace page:
http://www.myspace.com/ulcerdeathmetal
http://www.pulverised.net
http://www.myspace.com/pulverisedrecords