[photo by Francesca De Franceschi Manzoni]
Italy's mind-altering trio UFOMAMMUT marks their 20th Anniversary as a band this year. Having recently returned from their latest European and North American tours, the band has a new surprise for their amazing and loyal fans. On September 9th, Supernatural Cat will release a special anniversary box set, XX.
To be released on both CD and LP, the XX box set will feature nine UFOMAMMUT albums, all individually housed in sleeves with exclusive cover artworks, created specifically for this release. The box sets will include all eight studio albums; Godlike Snake, Snailking, Lucifer Song, Idolum, Eve, Oro, Ecate, and 8. Additionally, the box will include a new release, titled XX. This new recording features six revisited tracks – "Satan," "Plouton," "Lacrimosa," "Infearnatural," "Mars," and "Destroyer – which were re-recorded during the band's recent European tour. These special box sets will also include a 64-page book with original covers, photos, and lyrics to all songs with an additional poster, backpatch, and sticker.
The XX box sets are available for preorder at the new UFOMAMMUT official webstore along with other exclusive new merchandise RIGHT HERE.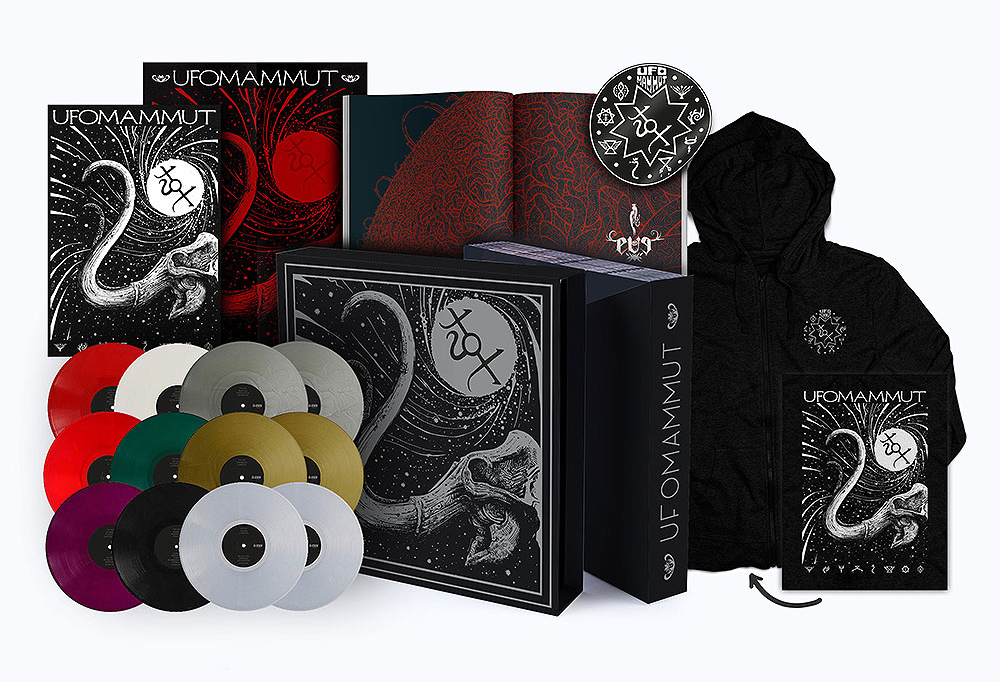 UFOMAMMUT has also just announced further European touring for later in the year, surrounded by one-off festival performances this summer, two gigs in Russia this September, with more tour dates to be announced over the months ahead, as the band celebrates their 20th Anniversary with their fans around the planet.
UFOMAMMUT 2019 Live Dates:
5/30/2019 Dunk! Festival – Zottegem, BE
9/11/2019 Aglomerat – Moscow, RU
9/12/2019 MOD – St. Petersburg, RU
9/26/2019 Le Fil – Saint Etienne, FR
9/27/2019 Petit Bain – Paris, FR
9/28/2019 The Garage – London, UK
9/29/2019 Magasin 4 – Brussels, BE
9/30/2019 Melkweg – Amsterdam, NL
10/02/2019 Vega – Copenhagen, DK
10/03/2019 Sticky Fingers – Göteborg, SE
10/04/2019 Høstsabbat – Oslo, NO
10/05/2019 – TBA
10/06/2019 Debaser – Stockholm, SE
10/08/2019 On The Rocks – Helsinki, FI
10/09/2019 Von Krahl – Tallinn, ES
10/10/2019 Melna Piektdiena – Riga, LV
10/11/2019 Narauti – Vilnius, LT
10/12/2019 Hydrozagadka – Warsaw, PL
10/13/2019 Zet Pe Te – Krakow, PL
10/15/2019 Rockhouse – Salzburg, AT
10/16/2019 Mochvara – Zagreb, HR
Heralded as one of the most cerebral and psychedelic audio/visual sensory experiences in the realms of the current extreme music scene, UFOMAMMUT has worked tirelessly for twenty years since their formation in 1999. The trio – founded by Poia, Urlo, and Vita, a lineup which has remained solid to this day – was formed in a small room in the middle of nowhere in the Italian countryside province of Alessandria. Their goal was simply to survive the boredom of living in a small town, while also hoping to reach other listeners all around the globe.
As their slow-motion seismic grooves and mammoth, supernatural/interplanetary tones caught on within the doom, stoner, and sludge scenes around the planet, UFOMAMMUT quickly developed an intensely loyal following in their early years. Their sonic alchemy has steadily continued to morph and expand with each album, with their productions becoming even heavier while also more psychedelic and expansive, a diverse flood of swirling effects and atmospheres permeate their conceptually based albums. Around this same time, members Poia and Urlo, as well as their close friend Lu, also launched their art collective, Malleus Rock Art Lab, creating detailed, hand-drawn and vibrant screen-printed artwork for each album. Malleus has expanded as well through the years, developing a very wide spectrum of clients and an impressive collective resume of intense artwork through record covers, fanzines and underground magazines' illustrations, images and logos for the web, concert posters, and more. Along with the band members, Lu's influence and work is vital to UFOMAMMUT's visual aspects, from albums to merchandise, live projections to official videos, and more.
The Malleus collective also launched their own label, Supernatural Cat Records, responsible for the release of such artists as MoRkObOt, Lento, Incoming Cerebral Overdrive, OvO, Zolle, and more in addition to UFOMAMMUT titles. UFOMAMMUT signed to Neurosis' label Neurot Recordings in 2012 where they've since released four albums, which has helped the band expand its grasp and reach even more new listeners. The band has also spawned several other side projects, including the psychedelic outfit Sonic Wolves which Vita has formed and who has issued several titles in addition to performing live over the past several years. The Mon, the solo project of Urlo, was launched in 2018 with its debut LP and live actions.
Watch for more news on UFOMAMMUT's ongoing 20th Anniversary actions to be issued in the weeks ahead.
http://www.ufomammut.com
http://www.facebook.com/ufomammutband
http://twitter.com/ufomammutmafia
https://ufomammut.bandcamp.com
http://www.instagram.com/ufomammut