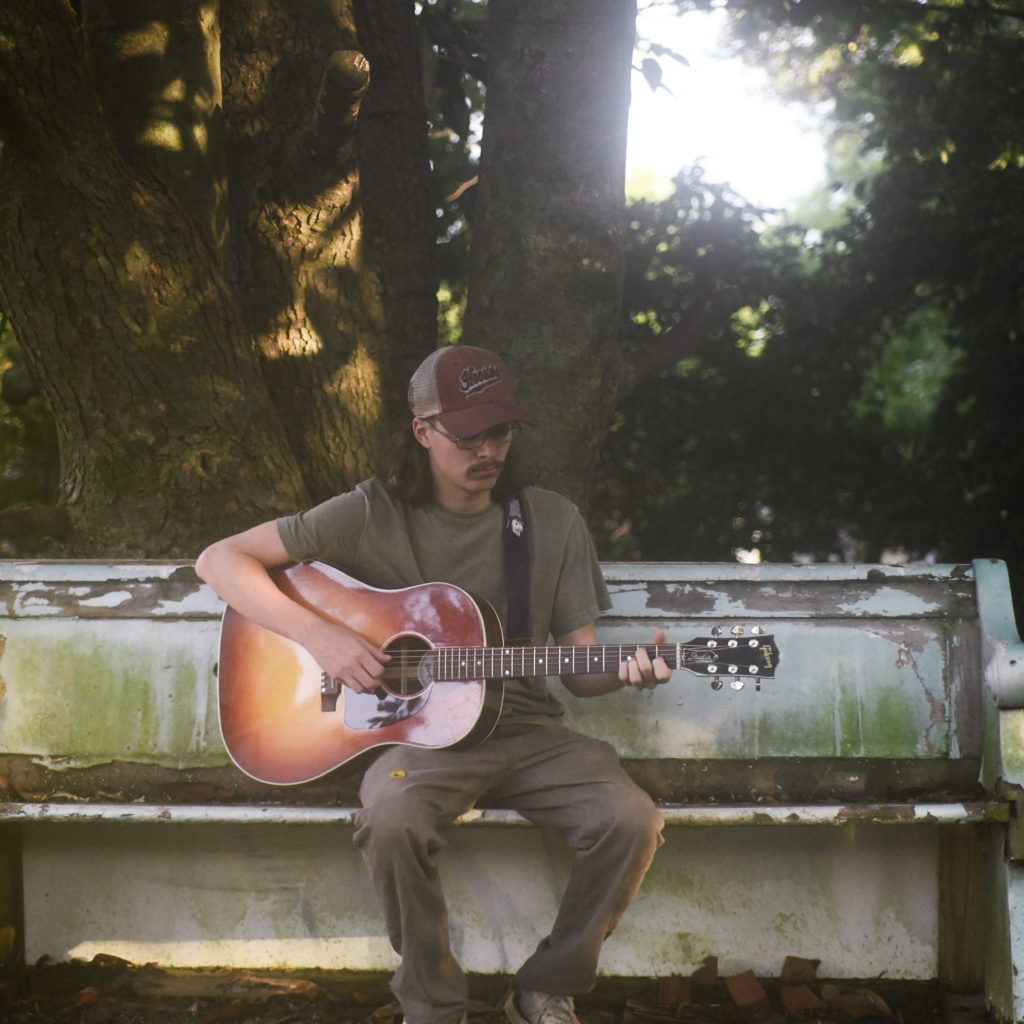 photo by Ericka Poore
The third season of Anti-Corporate Records' beloved The Magnolia Sessions presents its latest installment, today releasing a new record by Kentucky-based folk singer/songwriter TYLER HOOD. The song "Bulldoze My Love" is now playing through a piece at The Sleeping Shaman.
Launched in 2020, The Magnolia Sessions showcases bluegrass, dark country, and folk singer/songwriter acts, recorded live in an intimate outdoor setting by a large magnolia tree at the Anti-Corporate Music/Black Matter Mastering headquarters in Nashville, Tennessee, by owner Dan Emery. The series has yielded albums from The Lost Dog Street Band, The Hill Country Devil, Joe Wunderle, Cooper McBean, The Resonant Rogues, Matt Heckler, Jason Dea West, Johno Leeroy, Cristina Vane, Nick Hans, Casper Allen, Jeff Loops, Angela Autumn, and Austin Stambaugh, several of which have debuted on the Billboard Bluegrass Charts.
TYLER HOOD writes with sharp wit and bold sincerity. From heroic ballads of rural living to refreshing tales of deliciously mundane everyday life, he writes and sings the stories of the region that raised him.
With his contribution to The Magnolia Sessions, HOOD offers, "'Bulldoze My Love' is a yearning song for something just out of reach. The proverbial goal finds itself too far away but close enough you can almost touch it more often than not. I believe this is everyone's story.
"These nine songs were recorded in the heat of a Tennessee August night. The crickets asked to sing, and we obliged. The mosquitoes however, fought for silence until the last note faded out. I'm happy to share these songs that might not have seen the light of day outside of a stripped-down format like The Magnolia Sessions. I give many thanks to everyone involved."
Dan Emery adds, "Tyler was one of very few artists to come and pretty much record everything in one solid pass. He only retook one song, and we ended up not even using that take. All the songs were recorded in the order that they are presented here. The session was basically exactly how it runs on the release, with only a few seconds of dead time cut between some songs to keep the pace. Sessions like Tyler's are the ones that remind me of the reason I started doing this series. To present honest art in its most raw stripped-down nature."
Stream TYLER HOOD's "Bulldoze My Love" now at The Sleeping Shaman RIGHT HERE.
The Magnolia Sessions titles are available directly through Anti-Corporate Music's webshop HERE.
While the series has slowed down from monthly releases with a break over the Summer, The Magnolia Sessions will continue to release new installments every few months over the foreseeable future.
TYLER HOOD – The Magnolia Sessions Track Listing:
1. Kentucky Heartbeat
2. Better Days
3. Under Your Tree
4. Day Tomorrow Ends
5. Bulldoze My Love
6. Julissa
7. Tears And The Wine
8. Softball Game
9. Patriarchy Song
http://anticorporatemusic.com
http://facebook.com/anticorpmusic
http://www.blackmattermastering.com
https://www.facebook.com/blackmattermastering
https://www.instagram.com/black_matter_mastering