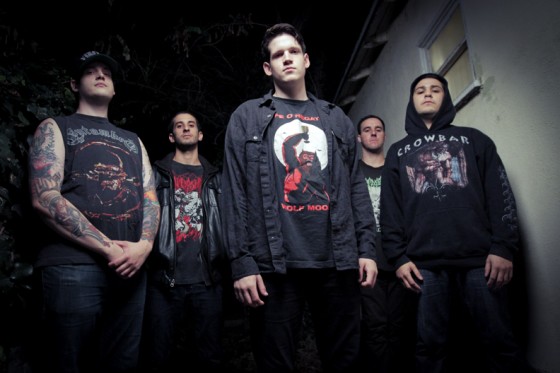 This Friday the 13th of September, TWITCHING TONGUES take their brooding metal-tinged, rocked-out hardcore to the North American masses on the brutal month-long On Tour There Is No Law 2013.
Touring in support of their triumphant second LP, In Love There Is No Law, released late in August via Closed Casket Activities, the new North American trek follows the band's extensive tour of Europe with Harm's Way this Summer, and will feature support from Downpresser and Angel Du$t on all shows and Stigmata and Turnstile on select dates. Along the way, TWITCHING TONGUES will take part in the fourth annual Reading, Pennsylvania-based East Coast Tsunami Fest with Hatebreed, E.Town Concrete, Terror, Breakdown, Cro-Mags, Shadows Fall, One Life Crew, Strife and countless more through the last weekend of the month.
Stream In Love There Is No Law at Lambgoat HERE and watch the video for the title track to the album RIGHT HERE.
Recorded, produced and mixed by guitarist Taylor Young at The Pit, then mastered by Brad Boatright at Audiosiege, TWITCHING TONGUES delivers nine despair-ridden and hate-fueled anthems all cleverly built upon the band's unique and dominating vocal approach infusing both clean and callous styles amidst vicious gang chants. Orders for the CD and LP versions of the album and other merch are available HERE.
TWITCHING TONGUES On Tour There Is No Law 2013:
w/ Stigmata (10/10-10/14), Turnstile (9/30-10/14), Downpresser, Angel Du$t
9/13/2013 RBU – Davis, CA
9/14/2013 Ft Ryland – Reno, NV
9/15/2013 The Salt Haus – Salt Lake City, UT
9/16/2013 The Office Space – Denver, CO
9/17/2013 The Jackpot Saloon – Lawrence, KS
9/18/2013 The Demo – St Louis, MO
9/19/2013 220 East – Waterloo, IA
9/20/2013 VFW Hall – Minneapolis, MN
9/21/2013 Knights Of Columbus – Arlington Heights, IL
9/22/2013 Refuge Skateshop – Dearborn, MI
9/23/2013 Parts & Labor – Toronto, ON
9/24/2013 Montgomery Legion – Ottawa, ON
9/25/2013 Theater St Catherine – Montreal, QC
9/26/2013 Bogies – Albany, NY
9/27/2013 Anchors Up – Haverhill, MA
9/28/2013 The Morgan – Brooklyn, NY
9/29/2013 The Reverb (Tsunami Fest) – Reading, PA
9/30/2013 Strange Matter – Richmond, VA
10/01/2013 The Oasis – Charleston, SC
10/02/2013 Epic Problem – Tampa, FL
10/03/2013 Talent Farm – Pembroke Pines, FL
10/04/2013 Atticus Bar – Jacksonville, FL
10/05/2013 The Handlebar – Pensacola, FL
10/06/2013 Walters – Houston, TX
10/07/2013 Sons Of Hermann Hall – Dallas, TX
10/08/2013 The Korova – San Antonio, TX
10/09/2013 El Paso, TX The War Room
10/10/2013 The Underground – Mesa, AZ
10/11/2013 Aladdin Jr – Pomona, CA
10/12/2013 Che Café – San Diego, CA
10/13/2013 Rock City Studios – Camarillo, CA
10/14/2013 Oakland Metro – San Francisco, CA
http://www.twitchingtongues.com
https://www.facebook.com/twitchingtongues
https://twitter.com/twtchngtongues
http://www.closedcasketactivities.com
http://www.facebook.com/closedcasketactivities
http://twitter.com/closedcasketact