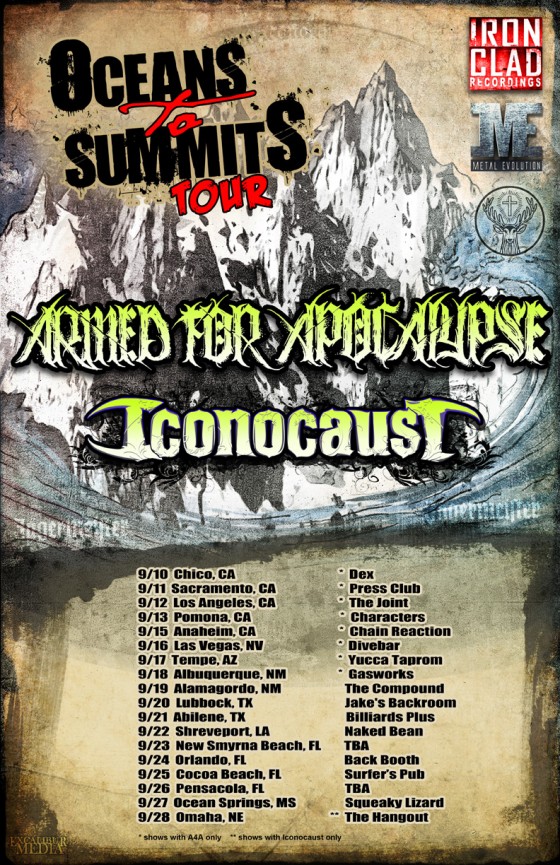 Today ARMED FOR APOCALYPSE brings their molten brutality to the stage on the official Oceans To Summit tour kickoff in Chico, California. Joined by Iconocaust on select dates, the trek will level over fourteen cities, with additional shows to be announced soon.
In related news, ARMED FOR APOCALYPSE will support 36 Crazyfists on a full tour of the UK this coming November marking the band's second trek through the territory!
ARMED FOR APOCALYPSE will be touring in support of their The Road Will End full-length. Released via Ironclad Recordings earlier this Summer, the record, which Thrash Hits accurately dubs a "no bullshit, jugular smashing sludge metal album," continues to captivate ears. Describes Stereokiller in a 4/5 review, "The quick and easy comparison is to say they have a lot of moments that sound like Pantera, Crowbar and Down. However, they don't limit themselves to the confines of the sludge sub-genre. They dip their toes into hardcore and metalcore that sounds right at home in California. They dabble into crusty d-beat parts that could earn them a patch on the jacket of some hobo with an iPhone. But their most impressive genre foray is when winding down songs go into post-metal territory." Adds Kerrang in a perfect five-K score, "[The Road Will End ] is the thickest, most punishingly-heavy aural savagery your ears will fall victim to in 2013," In a 4/5 rating, MetalSucks gushes, "Slow, fast, punk, thrash, doom… it's all in here, often at once. We may not know how the world ends, but at least, thanks to The Road Will End, we have an idea how it'll sound (and if sounds anything like the 1:10 mark of AFORA's "Drawing a Line," look the fuck out.). About.com agrees: "Aggression is off the charts. Great guitar work in the latter portions of the album. Heavy as hell, yet bolstered by a groove-infused vibe," while The Sludgelord proclaims the record, "possibly the outright most aggressive and just plain overwhelmingly pig-headedly heavy release of the year."
ARMED FOR APOCALYPSE
9/10/2013 DEX Records – Chico, CA
9/11/2013 Press Club Sacramento – CA
9/12/2013 The Joint – Los Angeles, CA
9/13/2013 Characters Sports Bar – Pomona, CA
9/14/2013 Sin Fronteras Fest – San Diego, CA
9/15/2013 Chain Reaction – Anaheim, CA
9/16/2013 Divebar – Las Vegas, NV
9/17/2013 Yucca Taproom – Tempe, AZ
w/ Iconocaust
9/19/2013 The Compound – Alamogordo, NM
9/20/2013 Jake's Sports Cafe and Backroom – Lubbock, TX
9/21/2013 Billiards Plus – Abilene, TX
9/22/2013 Naked Bean Cafe – Shreveport, LA
9/24/2013 Back Booth – Orlando, FL
9/25/2013 TBA – Cocoa Beach, FL
9/27/2013 The Squeaky Lizard – Oceans Springs, MS
w/ 36 Crazyfists
11/01/2013 Academy 2 – Birmingham, UK
11/02/2013 Academy 2 – Oxford, UK
11/03/2013 Rescue Rooms – Nottingham, UK
11/04/2013 Sugar Mill – Stoke, UK
11/05/2013 Academy 2 – Liverpool, UK
11/07/2013 Academy 3 – Manchester, UK
11/08/2013 King Tuts – Glasgow, UK
11/09/2013 Garage – Aberdeen, UK
11/10/2013 Academy 2 – Newcastle, UK
11/11/2013 The KLA – Bristol, UK
11/12/2013 Wedgewood Rooms – Portsmouth, UK
11/14/2013 Underworld – London, UK
11/15/2013 Road Menders – North Hampton, UK
11/16/2013 Cockpit – Leeds, UK
11/17/2013 Central Station – Wrexham, UK
11/18/2013 Underworld – London UK
ARMED FOR APOCALYPSE came from nowhere and nothing. The sludgy four-piece from the small Northern California college town of Chico have worked relentlessly to leave their imprint on metal. Through tours across Europe, around The States and up and down the West Coast, they've continued to spread their name in the best way possible: word of mouth. No triggers, no wanky "shredding," no posturing, no cowardice, no frills. They just play crushing songs that go from slow to slower, from muck to mire, from mosh to circle-pit. And sometimes they'll make a left turn and end up at epic. Simply put, it's rock 'n' roll music tuned way down and pissed way off.
Order your The Road Will End CD bundle at THIS LOCATION.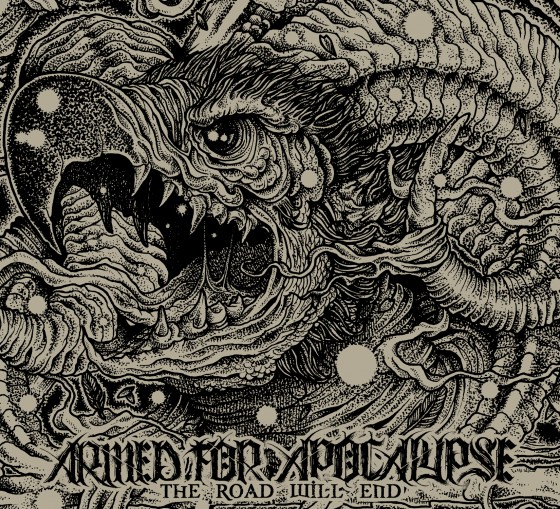 https://www.facebook.com/armedforapocalypse
http://www.a4aband.com
http://www.ironcladrecordings.com
http://www.facebook.com/ironcladrecordings
http://twitter.com/ironcladrex