As upstate New York-based Closed Casket Activities prepares to release the debut live release from Southern California's brutalizing clan, TWITCHING TONGUES, today Decibel Magazine lets the rabid World War LIVE LP off the chain.
Decibel's digital portal to the underworld, The Deciblog, is now streaming this melee in its entirety, stating that this delivery of TWITCHING TONGUES' distinctive style is "a venture into the format that serves the band's roiling, infectious Integrity-meets-old-school-Life-of-Agony sound shockingly well."
Get your fix and blast the entire record now at THIS LOCATION.
Closed Casket will release World War LIVE on CD, LP and digital download on August 12th. Recorded live in the Van Nuys stadium called The Pit in front of twenty screaming fans, this album is (not) a true testament to the event that occurs when TWITCHING TONGUES hits the stage. The band was tired of hearing "they're better live," so with a setlist comprised of songs from their latest LP, In Love There Is No Law, and earlier material, the nine-track World War LIVE virtually serves as a best-of the band in their current stage. The album cover was made by the legendary Sean Taggart (Carnivore, Crumbsuckers, Agnostic Front) and hardcopy buyers will regret their purchases slightly less with the addition of bonus material. Preorders for World War LIVE are now live RIGHT HERE.
TWITCHING TONGUES is confirmed to take part in this year's massive This Is Hardcore Fest in Philadelphia, running from July 24th through 27th, joining the massive lineup which includes sets from 100 Demons, Bad Luck 13, Blacklisted, Bl'ast, Bold, Converge, Crowbar, DropDead, Full Of Hell, Madball, Nails, Power Trip, Ringworm, Slapshot, Turmoil, Xibalba and tons more. Stand by for additional shows and more TWITCHING TONGUES actions to be announced through the months ahead.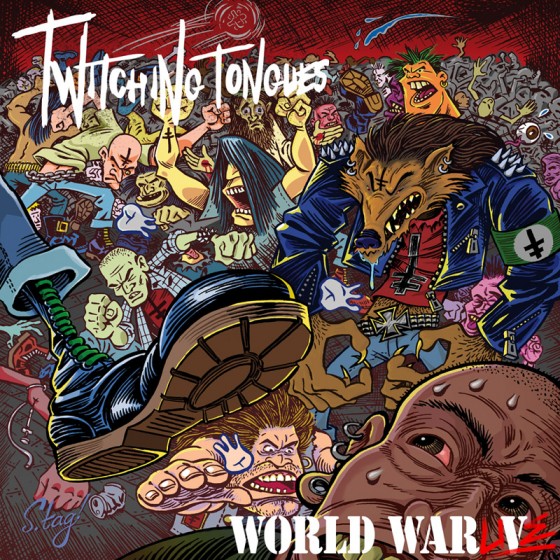 http://www.twitchingtongues.com
https://www.facebook.com/twitchingtongues
https://twitter.com/twtchngtongues
http://www.closedcasketactivities.com
http://www.facebook.com/closedcasketactivities
http://twitter.com/closedcasketact