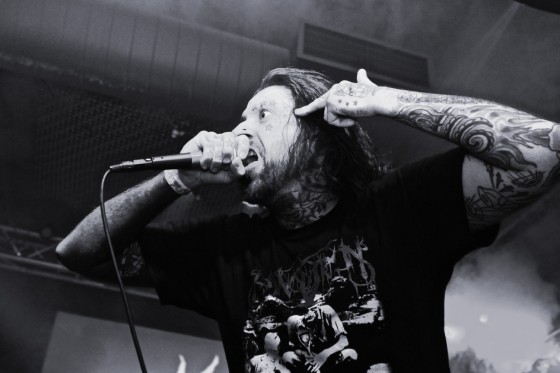 Louisville, Kentucky's ANAGNORISIS has just been confirmed to perform at this weekend's massive Gilead Festival in Oshkosh, Wisconsin. Joining the likes of The Body, Thou, Wolvserpent, Barghest, Uzala, Sea Of Bones, Kowloon Walled City, Loss, Mutilation Rites, Owlfood and many others on the three-day gathering, ANAGNORISIS takes Inter Arma's spot in the wake of the band being forced to cancel their tour to the gathering. The band is set to torch the audience with their intellectual, atmospheric and cutting-edge approach to black metal in the blazing live fashion they're becoming infamous for on the opening night of the festivities, this Friday, July 18th, alongside Oozing Wound, Hell, Ash Borer and the collaborative set between The Body and Thou.
In other news, ANAGNORISIS also confirms a shift in the band's lineup, parting ways with drummer Chris Smith last week. While Smith remains their close friend, the band will be implementing new drummers on their upcoming live gigs and recordings. Joining the lineup for their appearance at Gilead Fest this weekend will be Chicago-based Garry Naples. Additional updates will follow in the coming weeks.
With the inferno of their lauded, self-released, sophomore album, Beyond All Light, still smoldering following of its unveiling a year ago, ANAGNORISIS is already writing their third LP, which is being penned for a late 2014 release. Stand by for a label destination and other information on the imminent opus to be announced in the months ahead, in addition to sporadic local and regional performances from the band.
ANAGNORISIS Live:
7/18/2014 Oshkosh Masonic Center – Oshkosh, WI @ Gilead Fest w/ Oozing Wound, Thou/The Body collaboration, Hell, Ash Borer [info]
Explore and order ANAGNORISIS' previous releases, including the acclaimed Beyond All Light, at THIS LOCATION.
http://www.anagnorisis.com
http://www.facebook.com/anagnorisismetal
http://twitter.com/anagnorisis666
http://www.youtube.com/user/Anagnorisisband