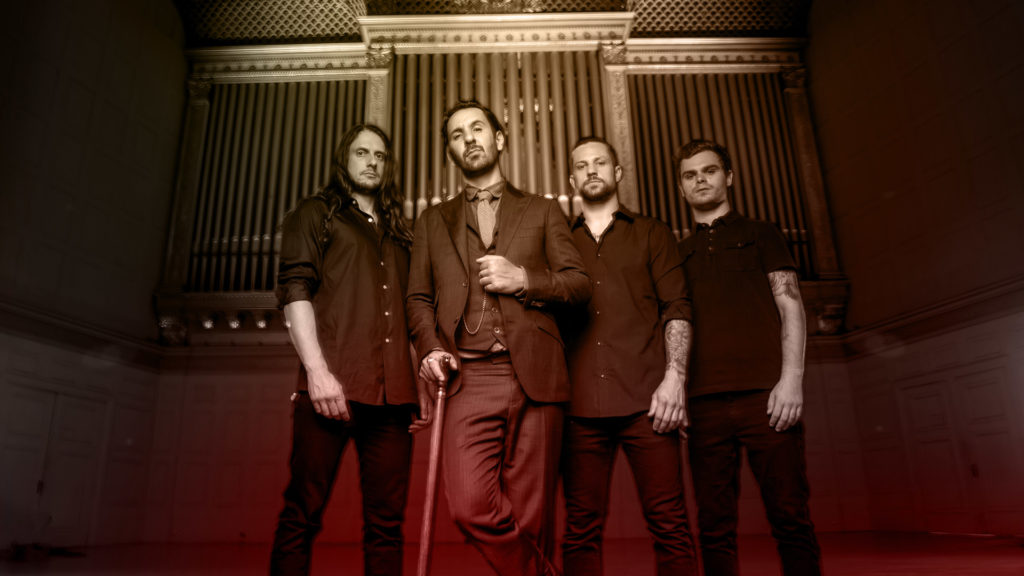 photo by Jeremy Saffer
Nefarious Industries presents enigmatic collective TRILLIONAIRE, a group of veterans hailing from a wide array of notable US rock and metal bands, who here pool their combined talents into a gleaming, infectious, bold blend of modern rock. The band will release its debut recordings in the form of their masterfully crafted Romulus LP in January.
Self-described as "Liberace's bastard child and five senator's sons," the nebulous roots of TRILLIONAIRE reach back nearly a decade, slowly materializing over numerous writing sessions and recordings taking place in Boston, Richmond, Nashville, and Seattle. TRILLIONAIRE's aptly-titled debut album Romulus features a staggering cast of contributors, uniting vocalist Renee Fontaine, bassist Matt St. Gelais, drummer Phil DuBois (Fuligin, ex-Revocation), and the triple-guitar attack of Andrew LaCour (Inter Arma, ex-Ken Mode), Drew Storks, and Kevin Savage, with live bass provided by Greg Meisenberg (Maid Myriad, A Fucking Elephant) and additional live guitar by Connor Harvey.
Romulus is a record as carnal as it is cosmopolitan – a spiritual soiree where the beautiful and elegant mingle with the crude and grotesque. Over a firestorm of guitars, bass, and percussion, Fontaine's vocal melodies shimmer like shattered glass glistening in the pale moonlight. Lyrics, sonics, and visuals seamlessly coalesce into a complex mystique rarely seen in the arena of heavy rock n' roll.
Romulus was engineered by Mikey Allred (Inter Arma, Yautja) at Dark Art Audio in Nashville, with the vocals recorded by John Taft at New Alliance in Boston. The record was mixed by Matt Bayles (Mastodon, ISIS, Nine Inch Nails) at Red Room in Seattle, and mastered by Ed Brooks at Resonant Mastering (Pearl Jam, Caspian, Minus The Bear) in Seattle, and is complemented by cover art, layout, and visuals from multimedia artist Josh Graham (Jay-Z, Madonna, Soundgarden).
TRILLIONAIRE's Romulus will see release in January through Nefarious Industries on CD, LP, and all digital platforms. Watch for audio previews of Romulus alongside preorders and more to post in the coming weeks.
https://www.instagram.com/trillionaire_band
https://www.facebook.com/trillionaireband
http://nefariousindustries.com
http://www.facebook.com/nefariousIndustries
http://www.twitter.com/nefariousInd
https://nefariousindustries.bandcamp.com