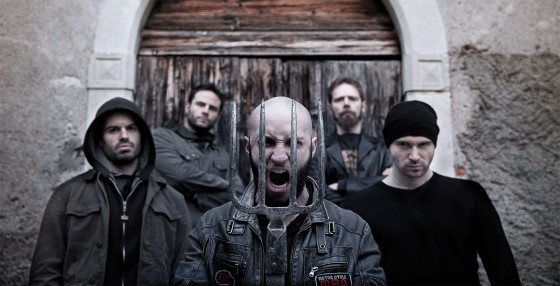 TRAGODIA, Brescia, Italy-based progressive metal practitioners, have this week released their sprawling third studio full-length, Mythmaker.
Out now worldwide on their native country's Kolony Records, Mythmaker is a glorious, challenging effort from the talented quintet, showcasing some of their most ambitious musicianship and beautiful solos, as well as some of their most torrid, crunching riffs yet, with nearly fifty minutes of powerful music packed into the album's ten tracks. Building on classic metal twin guitars attack and relentlessly pounding rhythmic structures, as well on a vocally inspired performance and haunting almost space rock-driven melodies, Mythmaker was recorded this Spring at Elfo Studio in Piacenza with producer Daniele Mandelli (Forgotten Tomb), and mastered at Sterling Sound in New York City by UE Nastasi (Lamb Of God, Gojira, Paradise Lost).
To celebrate Mythmaker's arrival, Metal Underground is now hosting a stream of the entire album, alongside an interview with guitarist Riccardo Tonoli on the creation of the opus; check it out AT THIS LOCATION.
Also view the band's in-studio video reports documenting the creation of Mythmaker as well as their lyric video for the tune "A Temple In Time" HERE.
Now that Mythmaker is on the streets worldwide, TRAGODIA is currently hatching tour plans, planning on taking to the streets of Italy and beyond in support of the album. Stay tuned for further updates in the coming months.
"…TRAGODIA add their own brand of catchiness and groove to make it their own. After all, the whole point of a progressive band is to be progressive and push genre boundaries… To sum up this work of metal mastery, TRAGODIA are simply one of the reasons Progressive and Power Metal are my two favorite genres of Metal, and do their home country of Italy proud… 10/10″ – Metal Temple
"If you enjoy melodic Metal that retains a sense of heaviness, includes a Thrash ethic, and has a touch of Progressive, you would do well to check out Mythmaker. 8/10" – We Love Metal
"…this album signals a significant change from 2012's Theomachy. The gothic stuff goes out the window and prog metal steps in to help the band find the gold. Power metal and prog with just a touch of Italianate groove dominate the album… Mythmaker has plenty to offer the faithful while welcoming new converts to the Euro-metal mainstream." – About.com
https://www.facebook.com/tragodia
http://www.twitter.com/tragodiaband
http://tragodia.bandcamp.com
http://www.kolonyrecords.com
http://www.facebook.com/kolonyrecords
http://twitter.com/kolonyrecords