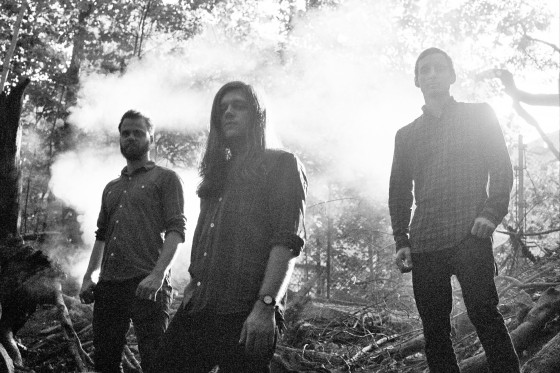 As the official unveiling of TIDAL ARMS' self-titled sophomore release draws near, today the gatekeepers at Revolver deliver second track "Mirrorbox" to the masses.
Self-produced and mixed by guitarist/vocalist Tom Tierney and Alex Mead-Fox at the band's own Spaceman Sound in Greenpoint, and mastered by renowned sound serpent Alan Douches (Converge, Torche, The Dillinger Escape Plan etc.) at West West Side Music, the fiery ten-track follow-up to 2011's critically adored The Sun Exploding full-length finds TIDAL ARMS expanding upon their grit-strewn, heterogeneous soundspace, integrating various elements of post-hardcore, noise rock and doom into their heaviest, most ethereal creation yet.
"Mirrorbox" sears through the speakers with prophetic insistence. Discordant and gristly, chock full of angular riffs, celestial interludes and the penetrating vocal tirades of Tierney, the tune serves as a true centerpiece track to the record.
Elaborates drummer Francis Mark, "'Mirrorbox' is all about musical reflections. It's possible that the flipped groove drum beat in the verses was inspired by the third verse of 'Just What I Needed' by the Cars, when David Robinson flips the beat. We named that part 'Mirrorbox,' then came up with the chorus guitar part. Someone joked that we should play the mirror image of the chorus riff, so of course we had to. We recorded the riff, played it back in reverse, then learned what we heard. The outro of 'Mirrorbox' is the chorus riff performed in reverse. Lyrically, the song is an abstract meditation on the end of an era, beckoning the beginning of another."
Delve head first into the "Mirrorbox," courtesy of Revolver, at THIS LOCATION.
In related news, TIDAL ARMS will bring their leathery serenades to the stage later this month with A special record performance at The Acheron as well as a stint at Glassland Gallery in December. Additional live abrasions will be announced in the weeks to come.
TIDAL ARMS Live:
11/22/2013 The Acheron – Brooklyn, NY *Record Release Show* w/ Tiger Flowers, Sleep Bellum Sonno, Cavallo, Mount Gomery
12/10/2013 Glasslands Gallery – Brooklyn, NY w/ Muscle Worship
In 2011, TIDAL ARMS self-released their The Sun Exploding debut to rave reviews. Said Alternative Press, "[TIDAL ARMS] manage to smear their own touch across it all for a wildly experimental and yet reigned-in sound that consistently spits out interesting moments." Added AbsolutePunk, "Stoner rock heads and time signature freaks will latch on like crazy. But it's the ones with a bit of musical background and salivating instrumental tastes that will savor this one the most… TIDAL ARMS does a wonderful job of making the album continually flow and progress in a steady manner, yet never ends up repeating a dull moment…" This record led the band on a national tour supporting Glassjaw, as well as performances with such notable acts as Coliseum, The Body, Caspian, Rosetta, Hull, Primitive Weapons and East of The Wall.
TIDAL ARMS will unleash a vinyl edition of the record via Black Numbers on the new date of November 26th, 2013. Preorders are currently available at THIS LOCATION. Additionally, fans can preorder a digital version of Tidal Arms at the band's official BandCamp page HERE where they will receive free downloads of "Gooski's Ladder" and "Mirrorbox" immediately.
"On their forthcoming self-titled sophomore album TIDAL ARMS promise to go 'further in all the directions we started down on the debut,' and judging by 'Gooski's Ladder' they've done it; it's noisier, its riffs are beefier, its atmospherics more grandiose, its songwriting more focused, its fuzzed-out vocals that much more powerful." – MetalSucks on the track "Gooski's Ladder"
http://tidalarms.com
http://tidalarmsmusic.bandcamp.com
http://facebook.com/tidalarms
http://instagram.com/tidalarms