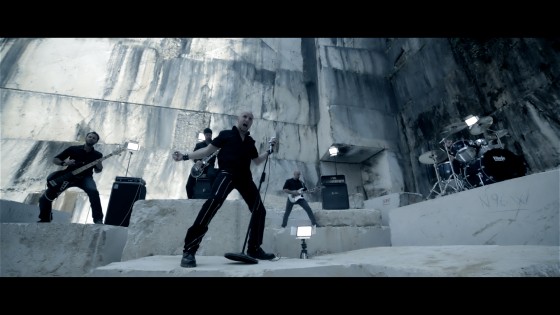 Brescia, Italy-based progressive metal outfit, TRAGODIA, has just released an official video from their third LP Mythmaker, which was released last November via Kolony Records.
Envisioned and constructed for Mythmaker's powerful opening anthem "A Cry Among The Stars," the new video was filmed in two locations in Italy, directed by Michele Sirigu of G-Studio Entertainment and assisted by Riccardo Frigoni. Featuring the TRAGODIA quintet performing their song at the base of a mammoth marble quarry with close-up and extremely high viewpoints of the members, the second location features talented dancer Veronica Calini performing in an abandoned warehouse, set in a completely different manner.
Revolver Magazine is now hosting the "A Cry Among The Stars" at THIS LOCATION.
Mythmaker is available for streaming and purchase at Kolony Records' Bandcamp HERE, and an in-studio documentary on Mythmaker and lyric video for "A Temple In Time" are playing HERE.
Since the release of Mythmaker, TRAGODIA has been performing live in Europe, including several live shows opening for bands such as Testament, Van Canto, White Skull and more. Mythmaker is a glorious, challenging effort from the talented quintet, showcasing some of their most ambitious musicianship and beautiful solos, as well as some of their most torrid, crunching riffs yet, with nearly fifty minutes of powerful music packed into the album's ten tracks. Building on classic metal twin guitars attack and relentlessly pounding rhythmic structures, as well on a vocally inspired performance and haunting almost space rock-driven melodies, Mythmaker was recorded at Elfo Studio in Piacenza with producer Daniele Mandelli (Forgotten Tomb), and mastered at Sterling Sound in New York City by UE Nastasi (Lamb Of God, Gojira, Paradise Lost).
Additional TRAGODIA news will be released in the coming months.
"…TRAGODIA add their own brand of catchiness and groove to make it their own. After all, the whole point of a progressive band is to be progressive and push genre boundaries… To sum up this work of metal mastery, TRAGODIA are simply one of the reasons Progressive and Power Metal are my two favorite genres of Metal, and do their home country of Italy proud… 10/10″ – Metal Temple
"If you enjoy melodic Metal that retains a sense of heaviness, includes a Thrash ethic, and has a touch of Progressive, you would do well to check out Mythmaker. 8/10" – We Love Metal
"…this album signals a significant change from 2012's Theomachy. The gothic stuff goes out the window and prog metal steps in to help the band find the gold. Power metal and prog with just a touch of Italianate groove dominate the album… Mythmaker has plenty to offer the faithful while welcoming new converts to the Euro-metal mainstream." – About.com
https://www.facebook.com/tragodia
http://www.twitter.com/tragodiaband
http://tragodia.bandcamp.com
http://www.kolonyrecords.com
http://www.facebook.com/kolonyrecords
http://twitter.com/kolonyrecords