Oakland punk supergroup, KICKER, who feature within its ranks members of Filth, Dystopia and Neurosis with infamous veteran road dog, Pete the Roadie, on vocals, will kick off a short rash of North American live assaults this week. Set to inaugurate on September 20th at Brooklyn's Burning Fest, KICKER will hammer their way through Philadelphia, Richmond, Washington DC, Pittsburgh, Toronto and Montreal before coming full-circle with a second stop in Brooklyn on September 27th. The trek marks the band's first time on East Coast soil. KICKER will be joined by the UK's Hard Skin on select dates.
Living by the slogan, "We're here to drink your beer, eat your chips and bludgeon your ears with punk," KICKER was forged on rainy night at 924 Gilman. They took refuge in the brewery bar across the street. Mauz [Dystopia], had a room full of musical equipment and an idea for a band. Dave [Edwardson, Neurosis] was looking for a new project. Pete the Roadie — who for over thirty years has roadied for the likes of Subhumans, Amebix, Jello Biafra, Neurosis and everyone in between — swore he would never cross over to the dark side. Somehow though, he was convinced. Toby, of crust punk legends Filth, was lured out of semi-retirement. They were all looking for something more than everyday life can provide. A few lyrics and some guitar riffs led to regular rehearsals and eventually a demo. Soon it was time for the first gig. As it turns out, Roadie is a natural. And the true spirit of punk rock lives on… Fans of Subhumans, Crass, Black Flag, and Rudimentary Peni pay heed.
KICKER released their Not You full-length in 2012 via Tankrimes currently available for a pay-what-you-want download at THIS LOCATION. Gushed Punknews of the release, "Their collective age is probably over 200, but they are not only playing these songs with the joy of 18-year-olds, but they play them with the raw expression of punk's first wave. KICKER doesn't seem to be concerned with making a big statement or seeming cool; they just want to rock out and sing about booze and bills. And, by doing so, they actually do make a larger statement. This is punk rock from punks who have been through multiple phases of the genres. They're old, broken down, boozed up and downright hilarious. What makes Not You so successful and so interesting is that only these punk rock veterans, through their experience, years and talent, are capable of making an album like this. When one applies the knowledge of the band members' various histories to their contemporary tales of drinking, fighting, and money woes, so much more becomes apparent than were one to read the lyrics alone."
KICKER:
9/20/2014 Brooklyn's Burning Fest @ The Wick – Brooklyn, NY w/ Doom **
9/21/2014 Kung Fu Necktie – Philadelphia, PA **
9/22/2014 Gallery 5 – Richmond, VA **
9/23/2014 Comet Ping Pong – Washington DC **
9/24/2014 Belvederes – Pittsburgh, PA w/ Submachine **
9/25/2014 S.H.I.B.G.B's – Toronto, ON
9/26/2014 Coop Katacombes – Montreal, QC
9/27/2014 The Grand Victory – Brooklyn, NY
** w/ Hard Skin (UK)
KICKER will release a brand new full-length via Tankcrimes next year. In the meantime, the band recently released a split 7″ with Pittsburgh punks Submachine out now on Mind Cure and Inimical Records.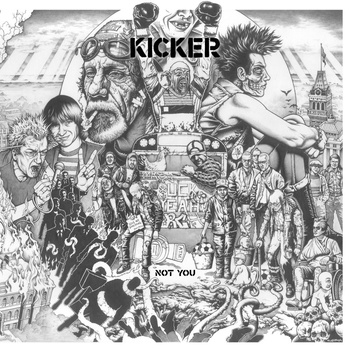 http://www.facebook.com/kickerpunks
http://www.tankcrimes.com