Crossover thrash unit TOXIC HOLOCAUST has teamed up with Lurkville Skateboards for a limited-edition Primal Future: 2019 skate deck!
Based in San Diego, California, Lurkville Skateboards has been skater owned and operated since 2011. Their mission is to provide every component you need to build a quality skateboard that takes on the toughest impacts. Constructed from seven ply maple, these traditional decks are designed for any age and skill level to ride. Lurkville Skateboard wheels are made from the finest urethane formula. Their wheels are ready to take on any terrain.
Comments Lurkville co-owner Julian Vasquez, "There's no better soundtrack to listen to than TOXIC HOLOCAUST for a good skate sesh. Now there's a board to go with that soundtrack and sesh!"

Limited to 100, the TOXIC HOLOCAUST Primal Future: 2019 skateboard is available at THIS LOCATION.
TOXIC HOLOCAUST will kick off their anticipated North American tour supporting Soulfly next week. The journey will commence February 3rd in Denver, Colorado, winding its way through nearly three dozen cities upon its conclusion March 12th in Houston, Texas. Additional support will be provided by X-Method, Madzilla, Skinflint, and Systemhouse 33. See all confirmed dates below.
TOXIC HOLOCAUST continues to tour in support of their latest full-length, Primal Future: 2019, released in October via Entertainment One ("eOne"). An ambitious new mission statement from founder/principal songwriter Joel Grind, TOXIC HOLOCAUST 2.0 detonates like doomsday all over Primal Future: 2019. A dystopian technological takeover drives the album thematically, but the passionately delivered music is vintage TOXIC HOLOCAUST, taking things all the way back to the band's early origins.
Stream TOXIC HOLOCAUST's Primal Future: 2019 at THIS LOCATION.
TOXIC HOLOCAUST's Primal Future: 2019 is available on CD, digital, and vinyl formats. For orders go to THIS LOCATION where the video for "Chemical Warlords" can be viewed.
TOXIC HOLOCAUST w/ Soulfly, X-Method, Madzilla, Skinflint, Systemhouse 33:
2/03/2020 The Marquis Theater – Denver, CO
2/04/2020 Black Sheep – Colorado Springs, CO
2/05/2020 Mesa Theater – Grand Junction, CO
2/06/2020 Backstage Bar & Billiards – Las Vegas, NV
2/07/2020 Alex's Bar – Long Beach, CA
2/08/2020 Phoenix Theater – Petaluma, CA
2/10/2020 El Corazon – Seattle, WA
2/11/2020 Hawthorne Theatre – Portland, OR
2/12/2020 Rickshaw Theatre – Vancouver, BC
2/14/2020 The Starlite Room – Edmonton, AB
2/15/2020 The Gateway – Calgary, AB
2/16/2020 The Exchange – Regina, SK
2/17/2020 The Park Theatre – Winnipeg, MB
2/19/2020 The Cabooze – Minneapolis, MN
2/20/2020 The Forge – Joliet, IL
2/21/2020 Route 20 – Racine, WI
2/22/2020 The Apollo Theatre – Belvidere, IL
2/23/2020 The Citadel Music Hall – Indianapolis, IN
2/24/2020 Crafthouse – Pittsburgh, PA
2/25/2020 Rec Room – Buffalo, NY
2/26/2020 Lee's Palace – Toronto, ON
2/27/2020 Poor Richards – Chicopee, MA
2/28/2020 Brighton Music Hall – Boston, MA
2/29/2020 Saint Vitus – Brooklyn, NY
3/01/2020 Stanhope House – Stanhope, NJ
3/03/2020 Cafe 611 – Fred, MD
3/04/2020 The Pour House Music Hall – Raleigh, NC
3/05/2020 Capone's – Johnson City, TN
3/06/2020 Masquerade Hell – Atlanta, GA
3/07/2020 Sound Bar – Orlando, FL
3/08/2020 Culture Room – Ft. Lauderdale, FL
3/10/2020 Tipitina's – New Orleans, LA
3/11/2020 Gas Monkey Bar & Grill – Dallas, TX
3/12/2020 Warehouse Live – Houston, TX
The band Terrorizer called, "a whirlwind of booze, denim jackets and riffs," began kicking out the corrosive jams in basements and bedrooms some twenty years ago, building a punishing legacy of mutant thrash and filthy street punk that's outlasted the heydays of the genres that spawned them; founder Joel Grind, the headband-wearing headbanger whose dedication to the one-man-band ethos gives the late Quorthon a run for his money, melting down the greatest punk metal crossover riff collection imaginable into nuclear ooze. With each successive release, Grind repurposes the most visceral strengths of speed, thrash, and punk through his own unique vision, making for new metal anthems that consistently reignite a circle-pitting feeding frenzy in the scene.
"Album six is on deck for TOXIC HOLOCAUST and they kick it off with the caustic 'Chemical Warlords.' Feral riffs and a gritty production back the snarling punk-thrash onslaught. Those gang chants in the mid-section elevate this track to a TOXIC HOLOCAUST best." – Loudwire; Best Metal Songs Of 2019…So Far
"…an album that has one foot in the future and one foot in the past." – Decibel
"Infused with the undying spirit of thrash and savage speed metal, Primal Future 2019 is yet another valiant ode to its founder's nostalgic 1980s influences." – Invisible Oranges
"Whether Grind's methodology is viewed through the lens of musical totalitarianism, artistic necessity, workaholic-ism run amok or what have you, the success TOXIC HOLOCAUST has experienced can't be denied." – Outburn
"…if you want to hear some real deal blood 'n' thunder that would make Lemmy glow with paternal pride, Joel Grind is still the man to provide it." – Blabbermouth
"It delivers everything we've come to know and love from the band: classic thrash and speed metal with a high dose of old-school energy." – MetalSucks
"'Chemical Warlords' fits right in with the band's legacy of riff-laden punkish metal with its declaratory refrain: 'You build it up, we'll tear it down.'" – Consequence Of Sound on "Chemical Warlords"
About eOne:
Entertainment One Ltd. (eOne) is a talent-driven independent studio that specializes in the development, acquisition, production, financing, distribution and sales of entertainment content. As part of global play and entertainment company Hasbro (NASDAQ: HAS), eOne's expertise spans across film, television and music production and sales; family programming, merchandising and licensing; digital content; and live entertainment. Through its extensive reach and scale, and a deep commitment to high-quality entertainment, eOne unlocks the power and value of creativity.
eOne brings to market both original and existing content, sourcing IP from Hasbro's portfolio of 1500+ brands, and through a diversified network of creative partners and eOne companies including: international feature film distribution company Sierra/Affinity; Amblin Partners with DreamWorks Studios, Participant Media, and Reliance Entertainment; Makeready with Brad Weston; unscripted television production companies Renegade 83, Daisybeck, Blackfin and Whizz Kid Entertainment; live entertainment leaders Round Room Live; world-class music companies Audio Network, Dualtone Music Group and Last Gang; and award-winning emerging content and technology studio Secret Location.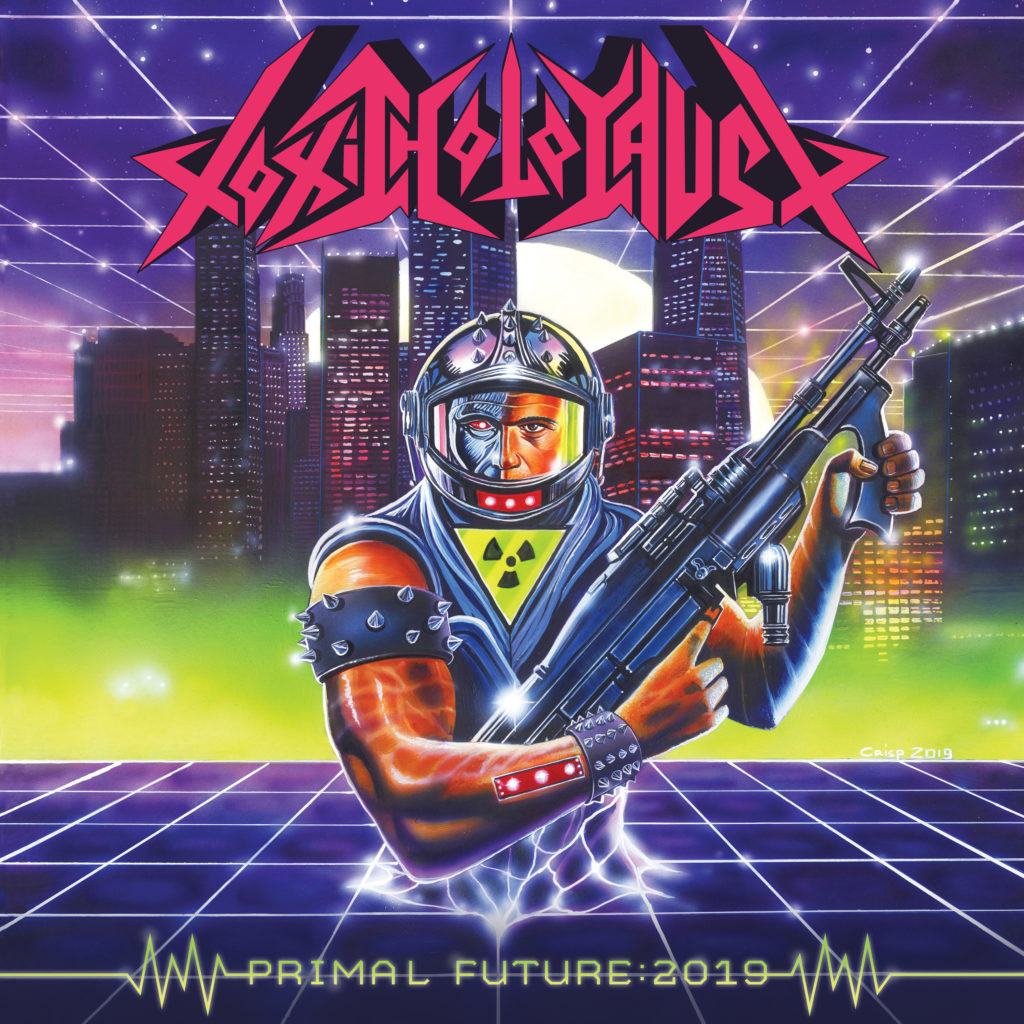 http://www.facebook.com/ToxicHolocaust
http://twitter.com/toxicholocaust
http://www.instagram.com/toxicholocaust_official
http://www.entertainmentone.com
http://www.facebook.com/eOneMusicUS
http://twitter.com/eonemusicus
http://www.instagram.com/eone_music