[photo by Maren Michaelis]
Germany's eclectic Exile On Mainstream welcomes countrymates GAFFA GHANDI to the label's roster for the springtime release of their impending debut album, Artificial Disgust. The new LP will see release in conjunction with the band's participation in the label's Exile On Mainstream RoadShow 2020 German mini-tour.
Artificial Disgust was recorded by Jan Oberg at Hidden Planet Studio, Robin Ravn at FKN Recording Studio, Alan Bittner at Frieders Livingroom, Georg Edert at Gaffa Ghandi Rehearsal Space, Torsten Lang at Torstens Livingroom, and Niklas Wenzel at Virtuose Vibes Studio. The record was mixed and mastered by Torsten Lang and is completed with photography and design by Maren Michaelis and layout by Benjamin Butter.
Exile On Mainstream will release Artificial Disgust on April 24th. The album features four tracks on the vinyl version with a bonus track from the archives on the CD and digital versions; the vinyl includes a download code. Watch for audio previews, preorder links, and other details to post in the coming days.
Artificial Disgust Track Listing:
1. Symphony Of Swag
2. Ancient Dominator
3. War On Fire
4. Progressive Concepts For A Modern World Of Multilayered Structural, Sociological And Individual Changeabilities
5. Phobophobie (CD/digital bonus track)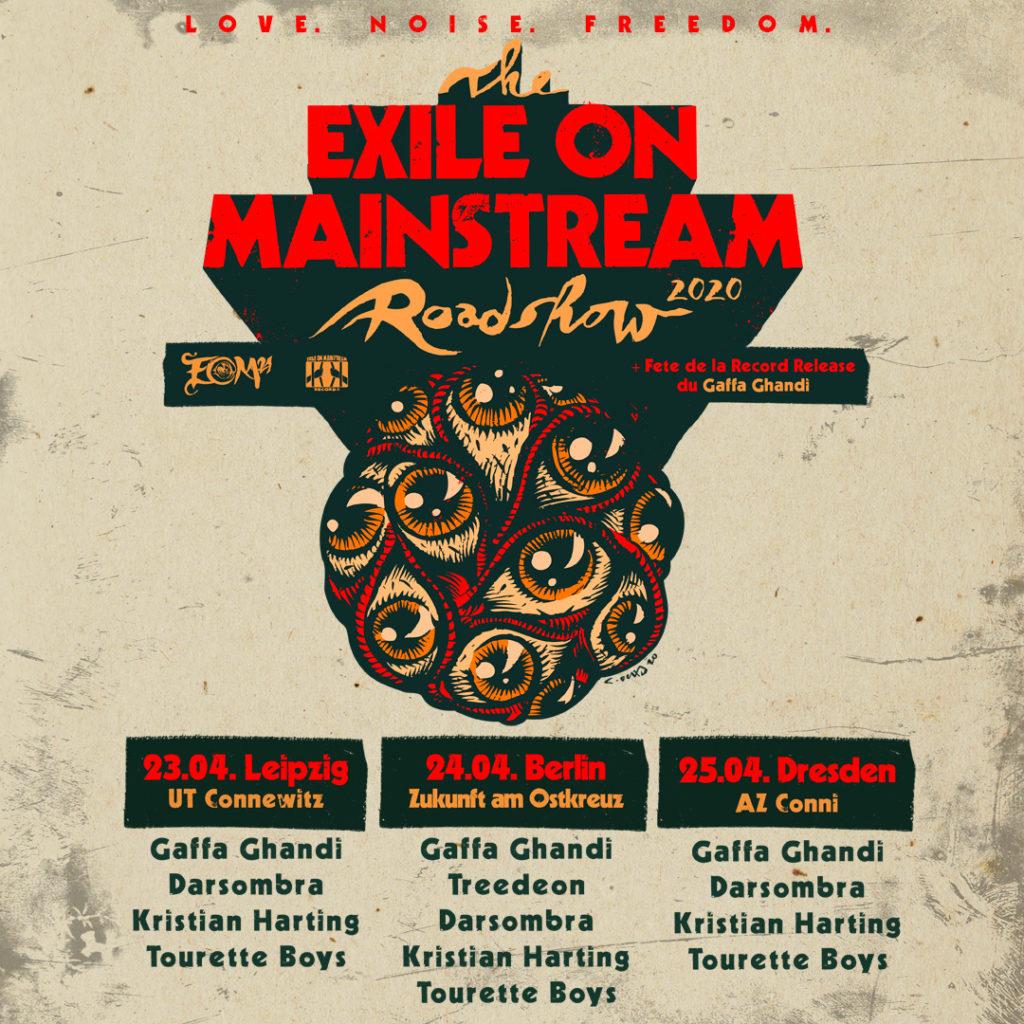 The label will celebrate the LP's release with a run of three shows called the Exile On Mainstream RaodShow 2020, running from April 23rd through the 25th. The tour will play through Leipzig, Berlin, and Dresden, with GAFFA GHANDI joining Darsombra, Kristian Harting, and Tourette Boys on all shows, and the mighty Treedeon also performing at the Berlin show. Watch for additional tour dates to post over the weeks ahead.
GAFFA GHANDI on The Exile On Mainstream RoadShow 2020:
4/23/2020 UT Connewitz – Leipzig, DE w/ Darsombra, Kristian Harting, Tourette Boys
4/24/2020 Zukunft am Ostkreuz – Berlin, DE w/ Treedeon, Darsombra, Kristian Harting, Tourette Boys
4/25/2020 AZ Conni – Dresden, DE w/ Darsombra, Kristian Harting, Tourette Boys
After years of brooding over ideas, scrapping them, re-formulating and discarding again, more than once neck-deep in despair and confusion, it finally happens, unexpected for some, welcomed by a fair few: GAFFA GHANDI will release their first ever official full-length in their tenth year of existence. Honed by the musical tension between the vibrant underground scenes of Dresden and Berlin where either half of the members live the four-piece lay some astonishing riffage to tape and record. Artificial Disgust features four tracks illustrating the band's musical history to perfection, putting it in a blender and sugars up the brew: straight riffage meets prog-laden structures, wrapped in psychedelic amalgam, breathing towards all sides but remaining compact enough to be played while driving through the rush hour. Disgustingly beautiful.
Irony remains the strongest weapon for the cynical generation the band represents and here it gets its soundtrack. You want name-dropping? Forget it. Early educated and skilled GAFFA GHANDI puzzles together some psychedelic craze made from desert rock, proggy syncopism, and thus qualify for bringing the term crossover back from its stale taste. Yes, one must be some dreamer to appreciate this. A dance on a rope between the cracks, above the abyss of taste, honoring the untenable circumstances.
GAFFA GHANDI:
Georg Edert – drums
Lucas Kazzer – bass
Frieder Ackermann – guitar
Alan Bittner – guitar
http://www.gaffaghandi.de
https://gaffaghandi.bandcamp.com
https://www.facebook.com/gaffaghandi
http://www.mainstreamrecords.de