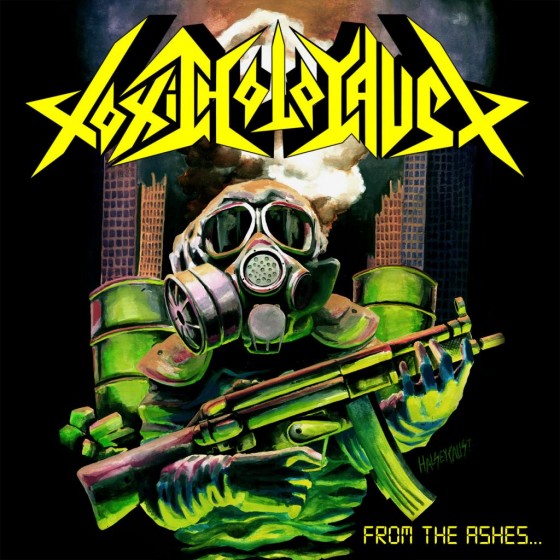 Portland's favorite punk/metal delinquents TOXIC HOLOCAUST recently unleashed a new lyric video for "Agony of the Damned." Initially featured on the band's 2011 Conjure and Command full-length, "Agony Of The Damned" makes an "updated" appearance on the From The Ashes Of Nuclear Destruction compilation, set for release via Relapse Records next month.
Elaborates band mastermind Joel Grind: "This version of 'Agony of the Damned' was recorded in September of 2010 with a drum machine a few months before we stepped into the studio to record the one that appears on Conjure and Command. When making an album, I usually demo out the entire thing before I step into a studio. This keeps costs low and gives me time to sit with it to iron out the details. Since Conjure and Command was the first TOXIC record to feature a full band, this demo served the purpose of familiarizing everyone with the new material and is previously unreleased."
From The Ashes Of Nuclear Destruction is a gargantuan 22-track anthology that compiles over a decade's worth of TOXIC HOLOCAUST rarities into one raging compilation of antagonistic bliss. Amassing the band's many contributions to various comps and vinyl-only splits with the likes of Municipal Waste, Midnight and others, alongside demo versions of treasured TOXIC classics, From The Ashes Of Nuclear Destruction is a historic romp through the history of one of today's most revered, gritty, old-school metal bands.
From The Ashes Of Nuclear Destruction will see release through Relapse Records on April 2nd in North America, March 29th in Germany, Austria, Switzerland, Finland and Benelux and April 1st in the UK. Additionally, you can check out the From The Ashes Of Nuclear Destruction teaser video and ordering info HERE.
TOXIC HOLOCAUST is currently in the studio working on the as-yet-untitled follow-up to their 2011 Conjure And Command full-length. Praised for its "nuclear reactive riffage and Repo Man punk attitude," by Revolver and commended for its "tar-thick riffage, staggering breakdowns, and a corroded dose of self-loathing," by The Onion's A.V. Club, Conjure And Command continues to reap hails from fans and critics globally. As an added bonus, the band closed the year with the honor of having the song "Bitch" rear its sonic apocalyptic menace in an episode of high-rated FX drama series Sons Of Anarchy (season 5; episode 11).
TOXIC HOLOCAUST mutated into existence in 1999, when Joel Grind merged his love for classic punk and metal into his ideal band. Like his influences – Bathory, Venom, English Dogs, Possessed, Broken Bones – TOXIC HOLOCAUST offers up blazing riffs, gravel-throated vocals, and a deadly fixation on the evil in man and a post-apocalyptic world wrapped in a DIY attitude.
http://www.facebook.com/ToxicHolocaust
http://www.myspace.com/toxicholocaust
http://www.relapse.com