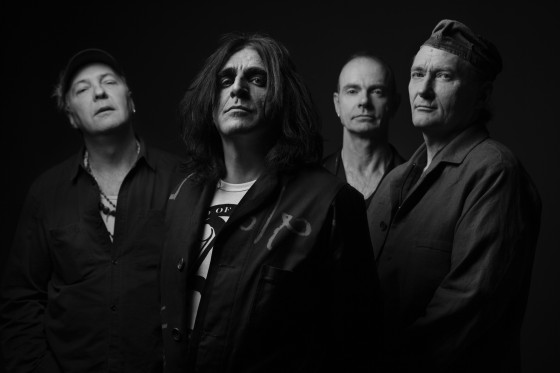 In celebration of their soon-to-be-released three-disc anthology and long anticipated North American tour, Decibel Magazine is offering up a rare stream of KILLING JOKE's "Timewave" demo! Previously unreleased, the track was recorded during the Absolute Dissent studio sessions and comes by way of The Singles Collection 1979-2012.
Capturing KILLING JOKE's enormous ever-evolving story with a series of dark, apocalyptic songs that have successfully combined disco, funk and shamanic wisdom with the dark side of the punk rock fall-out, The Singles Collection 1979-2012 offers up thirty-three career-spanning singles over two CDs with an additional third disc of rarities, including previously unreleased studio tracks. The three-CD version will be limited in number, reverting to two CDs containing the singles tracks. The Singles Collection 1979-2012 is set for release via Spinefarm/Universal on May 14, 2013 with the digital version dropping two weeks prior on April 30th.
Check out "Timewave" courtesy of Decibel Magazine at THIS LOCATION.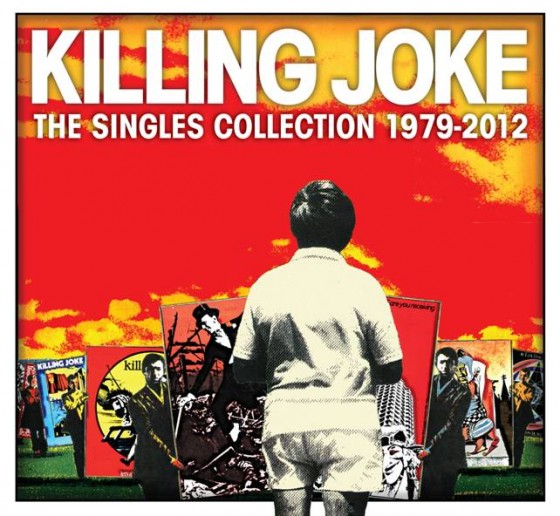 Disc 1:
1. Nervous System
2. War Dance
3. Requiem
4. Follow The Leaders
5. Empire Song
6. Chop-Chop
7. Birds Of A Feather
8. Let's All Go (The The Fire Dances)
9. Me Or You?
10. Eighties
11. A New Day
12. Love Like Blood
13. Kings And Queens
14. Adorations
15. Sanity
16. America
Disc 2:
1. The Beautiful Dead
2. Money Is Not Our God
3. Exorcism
4. Millennium
5. Pandemonium
6. Jana
7. Democracy
8. Loose Cannon
9. Seeing Red
10. Hosannas From The Basements Of Hell
11. In Excelsis
12. Fresh Fever From The Skies
13. European Super State
14. Ghosts of Ladbroke Grove
15. In Cythera
16. Corporate Elect
Bonus Disc 3:
1. Drug (from the Mortal Kombat soundtrack)
2. Hollywood Babylon (from the Showgirls soundtrack)
3. Our Last Goodbye (from the Free The West Memphis 3 soundtrack)
4. Sixt Sun (unreleased track from the Absolute Dissent sessions)
5. Timewave (demo – unreleased track from the Absolute Dissent sessions)
6. Feast Of Fools (unreleased track from the Absolute Dissent sessions)
7. Zennon (B side of the Loose Cannon DVD single)
8. Four Stations Of The Sun (studio version)
9. Money Is Not Our God (radio edit)
10. Pandemonium (Aotearoa Mix – Full-length version)
As a precursor to the release, KILLING JOKE will embark on a North American run of live dates set to commence April 19 in New York City. The special tour will coast through ten more cities before coming to a close on May 5th in Los Angeles. See the updated itinerary below.
KILLING JOKE The Singles Tour 2013:
4/19/2013 Irving Plaza – New York, NY
4/20/2013 Paradise – Boston, MA
4/21/2013 Union Transfer – Philadelphia, PA
4/23/2013 Cafe Campus – Montreal, QC
4/24/2013 Lee's Palace – Toronto, ON
4/26/2013 Empty Bottle – Chicago, IL
4/27/2013 Empty Bottle – Chicago, IL
4/30/2013 Neumos – Seattle, WA
5/01/2013 Rickshaw Theatre – Vancouver, BC
5/03/2013 Fillmore – San Francisco, CA
5/04/2013 Brick By Brick – San Diego, CA
5/05/2013 Henry Fonda – Los Angeles, CA
With a fierce intelligence combined with a thirst for esoteric knowledge that matches a sound that is visceral and almost spiritual in its primal spirit, KILLING JOKE are like no other. This is a group spawned from punk rock that set out on one of the most remarkable and idiosyncratic journeys ever. Their influence has been enormous, with an unlikely roll-call of musicians taking their cues from the KJ catalog, from Nirvana to most modern American metal to many DJs and dance music mavericks. With their original line-up of Jaz Coleman, Geordie, Youth and Big Paul continuing to hold firm, KILLING JOKE have something sulphurous and strong that few bands have come close to matching the band's innate power. Details on a new full-length to be announced in the coming months. Stay tuned.
http://www.killingjoke.com
http://www.facebook.com/killingjokeofficial
http://spinefarmrecords.com/usa
http://www.facebook.com/SpinefarmRecordsUS