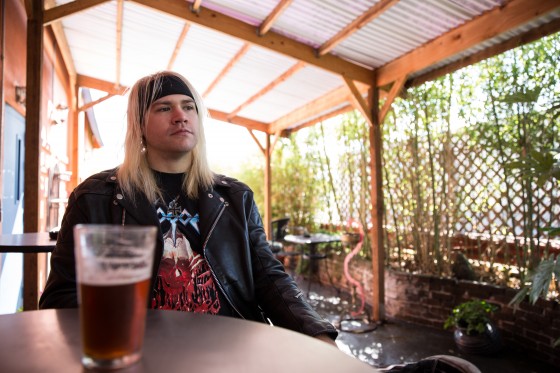 Portland's favorite metal/punk hooligans, TOXIC HOLOCAUST, today confirm details of their US headlining tour. Set to commence November 16th in Trenton, New Jersey, the 15-date expedition will find TOXIC HOLOCAUST spreading their contagion through much of the Northeast, coming to a close December 1st in Island Park, New York. The band will be joined by Ramming Speed and In Defence. Additionally, TOXIC HOLOCAUST will perform a special Halloween procedural in Portland on October 31st with Stovokor. See a confirmed listing of dates below. European takeovers will be announced in the coming weeks.
TOXIC HOLOCAUST will be touring in support of their impending new beast of a long player, Chemistry Of Consciousness. Recorded by the band, mixed with Kurt Ballou (Converge) at GodCity Studio and mastered by Brad Boatright (Sleep, From Ashes Rise, Nails) at Audiosiege Engineering, Chemistry Of Consciousness pays tribute to the likes of Anti-Cimex, Warfare, Infernal Majesty, GBH, Discharge, Autopsy and Chaos UK without replicating them and has already raised the eyebrows of critics nationally. Loudwire calls Chemistry Of Consciousness,"one of thrash's most exciting modern bands," MetalSucks equates the record to "…the aural equivalent of a cobra with a chest tattoo of a double helix and syringes for fangs getting ready to strike amidst two flesh-like walls of anxious, bloodshot eyes…" while Axis of Metal gushes, "This album is the result of Discharge, GBH and Motorhead meeting old school thrash metal and having a demented baby. The riffs are super-fast, and have that classic d-beat aggressiveness to them. It's delicious…this album is one of the best TOXIC HOLOCAUST albums to date."
Too antsy to wait for the record? Snatch a FREE download of opening track "Awaken The Serpent," courtesy of the new Relapse Records sampler, at THIS LOCATION. Additionally, you can incite a riot to the sounds of "Out Of The Fire," via the TOXIC HOLOCAUST BandCamp page, HERE.
Chemistry Of Consciousness will drop in North America on October 29th (October 25th in Benelux/Germany/Finland and October 28th in UK/World) on CD, LP and digitally. Preorder packages are available now HERE. For iTunes preorders, point your browser HERE.
TOXIC HOLOCAUST
10/31/0213 White Owl Social Club – Portland, OR w/ Stovokor
w/ Ramming Speed, In Defence
11/16/2013 Championship – Trenton, NJ
11/17/2013 Dusk – Providence, RI
11/18/2013 Nectars – Burlington, VT
11/19/2013 Sounds Asylum – Middletown, NY
11/20/2013 Mojo Main – Newark, DE
11/21/2013 Metro Gallery – Baltimore, MD
11/22/2013 Gallery 5 – Richmond, VA
11/23/2013 The Foundry – Lakewood, OH
11/24/2013 Rockstar Pro Arena – Dayton, OH
11/25/2013 Magic Stick – Detroit, MI
11/26/2013 Reggie's – Chicago, IL
11/27/2013 The Shop – Pittsburgh, PA
11/29/2013 St. Vitus – Brooklyn, NY
11/30/2013 Cherry St. Station – Wallingford, CT
12/01/2013 No Fun Clubn – Island Park, NY
TOXIC HOLOCAUST mutated into existence in 1999, when Joel Grind merged his love for classic punk and metal into his ideal band. Like his influences – Bathory, Venom, English Dogs, Possessed, Broken Bones – TOXIC HOLOCAUST offers up blazing riffs, gravel-throated vocals, and a deadly fixation on the evil in man and a post-apocalyptic world wrapped in a DIY attitude.
"…a thoroughly dynamic piece, delivering an evil intensity truly captivating in approach. Of course, the guitar rushes in for a blistering solo, bridging the song towards a conclusion with plenty of muscle." – Loudwire on the track "Rat Eater"
http://www.facebook.com/ToxicHolocaust
http://www.toxicholocaust.bandcamp.com
http://www.relapse.com