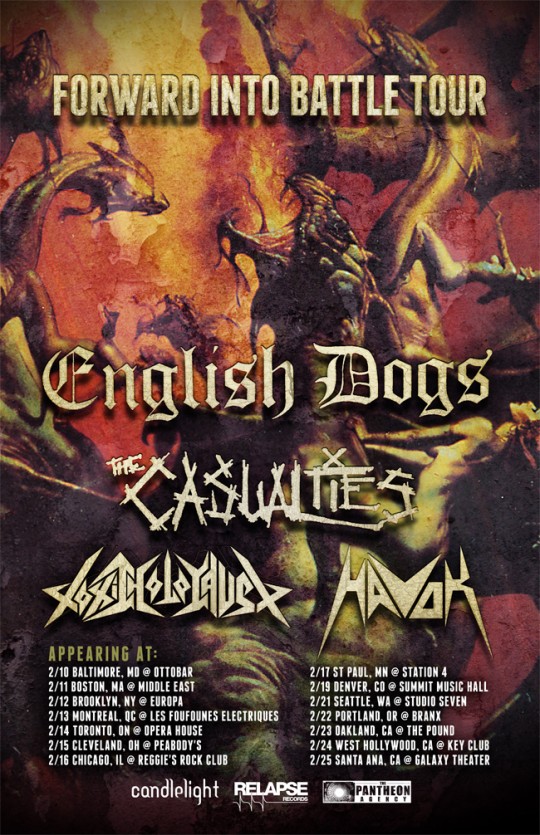 Portland, Oregon's punk metal behemoths TOXIC HOLOCAUST will hit the road again in 2012 for a two-week stretch of dates alongside English Dogs, The Casualties and Havok! The tour will commence on February 10 in Baltimore at the Ottobar and pillage its way towards the West Coast, coming to a close February 25 in Santa Ana at the Galaxy Theatre.
TOXIC HOLOCAUST Winter 2012 Tour:
w/ English Dogs, The Casualties, Havok
2/10/2012 Ottobar – Baltimore, MD
2/11/2012 The Middle East – Boston, MA
2/12/2012 Europa – Brooklyn, NY
2/13/2012 Les Foufounes Electriques – Montreal, QC
2/14/2012 The Opera House – Toronto, ON
2/15/2012 Peabody's – Cleveland, OH
2/16/2012 Reggie's Rock Club – Chicago, IL
2/17/2012 Station 4 – St Paul, MN
2/19/2012 Summit Music Hall – Denver, CO
2/21/2012 Studio Seven – Seattle, WA
2/22/2012 Branx – Portland, OR
2/23/2012 The Pound – Oakland, CA
2/24/2012 Key Club – West Hollywood, CA
2/25/2012 Galaxy Theater – Santa Ana, CA
TOXIC HOLOCAUST will be touring in support of their critically-lauded Conjure And Command full-length released via Relapse Records earlier this year.
Commented About.com of the release: "Masters of the hook and the earworm, TOXIC HOLOCAUST will have Conjure And Command playing in my head for a long time." Cvlt Nation noted: "TOXIC HOLOCAUST have given fans a record that they will be able to devour now and for fucking years to come," while The Onion's A.V. Club added: "sweetly redolent of thrash, d-beat, and raw sewage, the album simmers with tar-thick riffage, staggering breakdowns, and a corroded dose of self-loathing. If this is what TOXIC HOLOCAUST's next decade is going to look like, bring it on." The Washingcity Paper agreed: "…it's refreshing to hear a thrash band that is so single-minded about its whirlwind riffs and pastor-baiting lyrics."
Conjure And Command is out now internationally and available across several formats including a limited edition, deluxe CD and DVD set that includes a full TOXIC HOLOCAUST live show. The album is available for purchase through Relapse HERE and iTunes HERE. In addition, Conjure And Command is streaming in its entirety at THIS LOCATION.
The band is currently crushing skulls in Europe on a five-week adventure with Kvelertak, Trap Them and Wolves Like Us.
TOXIC HOLOCAUST
w/ Kvelertak, Trap Them, Wolves Like Us [remaining dates]:
11/17/2011 Sticky Fingers – Gothenburg, Sweden
11/18/2011 Logo – Hamburg, Germany
11/19/2011 Underground – Koln, Germany
11/20/2011 Doornroosje – Nijmegen, Holland
11/21/2011 02 Academy 2 – Oxford, UK
11/22/2011 02 Academy 3 – Birmingham, UK
11/23/2011 The Speakeasy at Queens – Belfast, Ireland
11/24/2011 ABC – Glasgow, UK
11/25/2011 Roadhouse – Manchester, UK
11/26/2011 Underworld – London, UK
11/27/2011 Muziekodroom – Hasselt, Belgium
11/28/2011 Le Ferraileur – Nantes, France
11/29/2011 Le Nouveau Casino – Paris, France
11/30/2011 Substage – Karlsruhe, Germany
12/01/2011 Abart – Zurich, Switzerland
12/02/2011 New Age Club – Roncade, Italy
12/03/2011 Szene – Wien, Austria
12/04/2011 Conne Island – Leipzig, Germany
12/05/2011 Exit Chmelnice – Prague, Czech Rep.
12/06/2011 Festsaal Xberg – Berlin, Germany
12/07/2011 Colos Saal – Aschaffenburg, Germany
12/08/2011 Backstage – Munchen, Germany
12/09/2011 Hirsch – Nurnberg, Germany
12/10/2011 Sputnikhalle – Munster, Germany
12/11/2011 Voxhall – Aarhus, Denmark
12/12/2011 Vega – Copenhagen, Denmark
12/13/2011 Kulturbolaget – Malmo, Sweden
http://www.facebook.com/ToxicHolocaust
http://www.myspace.com/toxicholocaust