This week, AOL Music will be hosting an exclusive TOTIMOSHI listening party! Check out the band's upcoming new full-length, Avenger, in its entirety HERE. The stream will run from August 8 through to August 15.
Produced by Toshi Kasai (Melvins, Shrinebuilder, Tool), mastered by John Golden (Melvins, Mike Watt, OM) with appearances by Dale Crover (Altamont, The Melvins, Shrinebuilder), Brent Hinds (Mastodon) and Scott Kelly (Neurosis, Shrinebuilder), Avenger will officially hit streets on August 16 via At A Loss Recordings.
Preorder info available at THIS LOCATION.
The eclectic California trio kicked off their long-awaited North American tour last week in Scottsdale, Arizona. The band will spread its unique brand of heavy desert death rock across nearly 30 cities, before winding down on September 3, 2011 in Tucson, Arizona. Check for dates in your area below!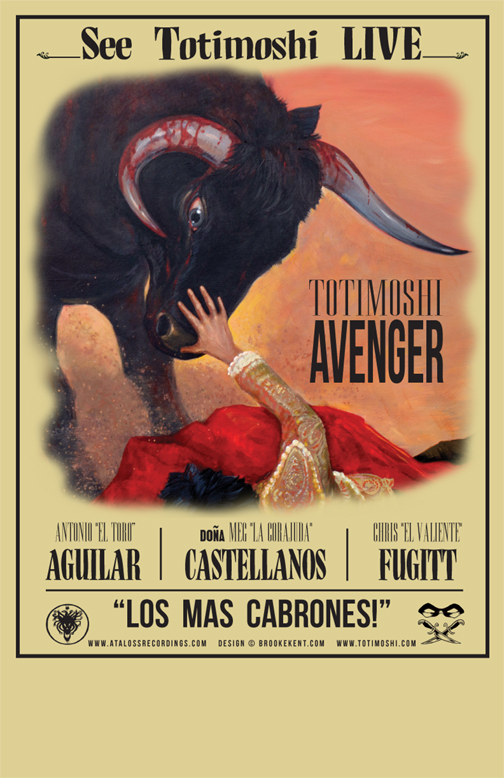 TOTIMOSHI U.S. Tour 2011 [remaining dates]:
8/08/2011 Off Minor – Dubuque, IA
8/09/2011 Garibalid's – Milwaukee, WI w/ Sleestak, Like Like The Death Deaths
8/10/2011 The Frequency – Madison, WI
8/11/2011 Ultra Lounge – Chicago, IL
8/12/2011 Mac's Bar – Lansing, MI
8/13/2011 Stone Tavern – Kent, OH w/ Rebreather, The Unclean
8/14/2011 Hard Luck – Toronto, ON
8/15/2011 TBA – Montreal, QC
8/17/2011 O'Brien's – Cambridge, MA
8/19/2011 TBA – Providence, RI
8/20/2011 Saint Vitus – Brooklyn, NY
8/21/2011 Golden West – Baltimore, MD
8/22/2011 Strange Matter – Richmond, VA
8/23/2011 The Casbah – Durham, NC
8/26/2011 Milestone – Charlotte, NC w / Music Hates You
8/27/2011 The Drunken Unicorn – Atlanta, GA w/ Zoroaster
8/28/2011 Hi Tone Café – Memphis, TN
8/29/2011 Siberia – New Orleans, LA
8/30/2011 The Mink – Houston, TX
8/31/2011 Scoot Inn – Austin, TX w/ Vaz, Pygmie Shrews
9/01/2011 Korova Basement – San Antonio, TX
9/03/2011 Vaudeville – Tucson, AZ
"…one of the finest releases I've heard yet in 2011." — The Bone Reader
"Occasionally a band comes along defying trends and classifications and just rocks without pretense. Raw, honest music that fills you full of hope again. Music that makes you think and rethink what you know about it too. One such band is TOTIMOSHI… " – Metal Army America
"Sludge metal meets alternative metal meets 70s hard rock… an album which – with the presence of elements from a number of different rock genres – probably will have a broad appeal among fans of alternative rock/metal, sludge metal, psychedelic heavy rock, progressive hard rock and perhaps even dark progressive metal along the lines of Psychotic Waltz." – Sea Of Tranquility
http://www.totimoshi.com
http://www.facebook.com/totimoshi
http://www.atalossrecordings.com
http://www.facebook.com/atalossrecords