photos by Colin Medley
Following its surprise digital release last month, physical editions of The Enduring Spirit, the fourth LP from Toronto, Ontario death metal outfit TOMB MOLD, are now available through 20 Buck Spin
After releasing three albums in three years and then spending the next four years in the wilderness, TOMB MOLD has been reborn on their fourth album, The Enduring Spirit, a thoroughly unabashed step into vast new territories. Yet for all its frenetic daring and audacious exploration, The Enduring Spirit is never anything other than unmistakably TOMB MOLD.
What was already inarguably one of the most anxiously awaited metal albums of the year is now one of the most acclaimed and revered, as The Enduring Spirit reigns supreme among critics and fans alike. A band with boundless creative energy, as TOMB MOLD is, was certain to expand the scope of their vision, and on The Enduring Spirit they've shaped a record with a cinematic environment that offers unlimited avenues of exploration, both for themselves and the listener.
The Enduring Spirit was recorded at Boxcar Sound Recording by Sean Pearson (Tomb Mold, Dream Unending), and mixed and mastered by Arthur Rizk (Tomb Mold, Dream Unending, Kommand, Gravesend, Power Trip). The album's artwork was handled by Jesse Jacobi who was also responsible for the Planetary Clairvoyance artwork, with additional artwork by Karmazid, layout and design by Chimère Noire, and photography by Colin Medley.
Stream TOMB MOLD's The Enduring Spirit everywhere including YouTube HERE and Bandcamp HERE.
The Enduring Spirit is now available on CD, MC, and both LP and the label's first picture disc LP ever – both vinyl versions including a four-panel insert and huge 36×24-inch poster – at the label webshop HERE and Bandcamp HERE.
The November issue of Decibel Magazine is out now, featuring TOMB MOLD on the cover! Pick up the issue HERE.
Following two crushing release shows for the album, TOMB MOLD was just announced as headliners of the inaugural Austin Death Fest in Austin, Texas on April 27th and 28th alongside Mortiferum, Outer Heaven, and Phobophilic, with the full lineup to be announced shortly. Watch for updates to post in the weeks ahead.
TOMB MOLD Live:
4/27-28/2024 Austin Death Fest @ Mohawk – Austin, TX [tickets]
"Hereby clinching – no, crushing – their first Decibel cover, TOMB MOLD are back with The Enduring Spirit, their most ambitious and most awesomely realized album to date… This album delivers on a promise made to themselves. Colorful, brighter, and all-around more technically and compositionally advanced than we ever dreamed possible, the astonishing return of the once-prolific purveyors of weird death metal lands like a gift from the gods of death metal." – Decibel Magazine
"Like Cynic, TOMB MOLD are seekers, fascinated by metal's transcendental potential as much as its flesh-and-blood physicality. On The Enduring Spirit, they frequently sound ecstatic, as though they're a riff away from discovering the music of the spheres. Trollish black metal kids in Scandinavia used to take the piss out of death metal bands by calling their music "life metal." For TOMB MOLD, that epithet would likely come as a compliment." – Pitchfork
"The main business is killing, of course, and business is very good. It's one of the reasons why TOMB MOLD are among the most respected names in the new school of old school. But by allowing their own ideas to run wild atop it all, they're also comfortably one of its most creative. 4/5" – Kerrang!
"It is way out there—not here on Earth—where TOMB MOLD sounds most at home." – Bandcamp Daily Album Of The Day
"The Enduring Spirit is a comet, delivered from somewhere deep within the cosmos and channeled through this unassuming band of musical iconoclasts. Artistic, intelligent (but not overly intellectualized), and executed with a skill and care many of us can only hope to comprehend, The Enduring Spirit is this year's best metal album, and one of the best albums of 2023, period, full stop. 10/10" – Exclaim!
"…The Enduring Spirit is less concerned with death metal's reality. On it, TOMB MOLD repackage their ferocity into the ethereal and experimental, meaning the album is as blissful as it is crushing." – Consequence
"It's fun to see a band create music that's both unexpected and phenomenal, thus swiftly moving into the next phase of their journey as a band. TOMB MOLD are undeniably onto a gleamingly fresh stylization with The Enduring Spirit, being no doubt a record that any fan of cerebrally written heavy music must hear. 9/10" – Dead Rhetoric
"With nary a week to anticipate what to expect, The Enduring Spirit makes a mockery of anyone who doubted TOMB MOLD's ability to deliver on a surprise announcement. Not only did they deliver; they feel worlds ahead of pretty much everyone else." – Ghost Cult Magazine
"…this album has incredible depth, a work which bears a lasting and repeatable sense of inspiration which now appears daunting in execution and effect next to TOMB MOLD's past work… Highest possible recommendation. 100/100" – Grizzly Butts
"There are plenty of newer death metal acts out there worshipping Cynic and an entirely different school aping early Autopsy, but (as far as I know) TOMB MOLD are the only ones doing both at once." – Heavy Blog Is Heavy
"Their streamlined prog attack boasts an impressive range, but we'll have to keep going back to the replays to see if all those new moves really stick." – Last Rites
"…TOMB MOLD actually do deserve the hype. And, more importantly, they keep on proving it – pushing their own boundaries and challenging themselves to grow and evolve with each new release, no matter how long, or what form, it may take." – No Clean Singing
"The Enduring Spirit feels like a cataclysmic event, and while first impressions (or sixth or seventh impressions, depending on how many times you've listened so far) can feel so important, there's a veritable onslaught to take in, rewarding a deeper connection, guttural disgust, cosmic evaporation, and all that lies between." – Post-Trash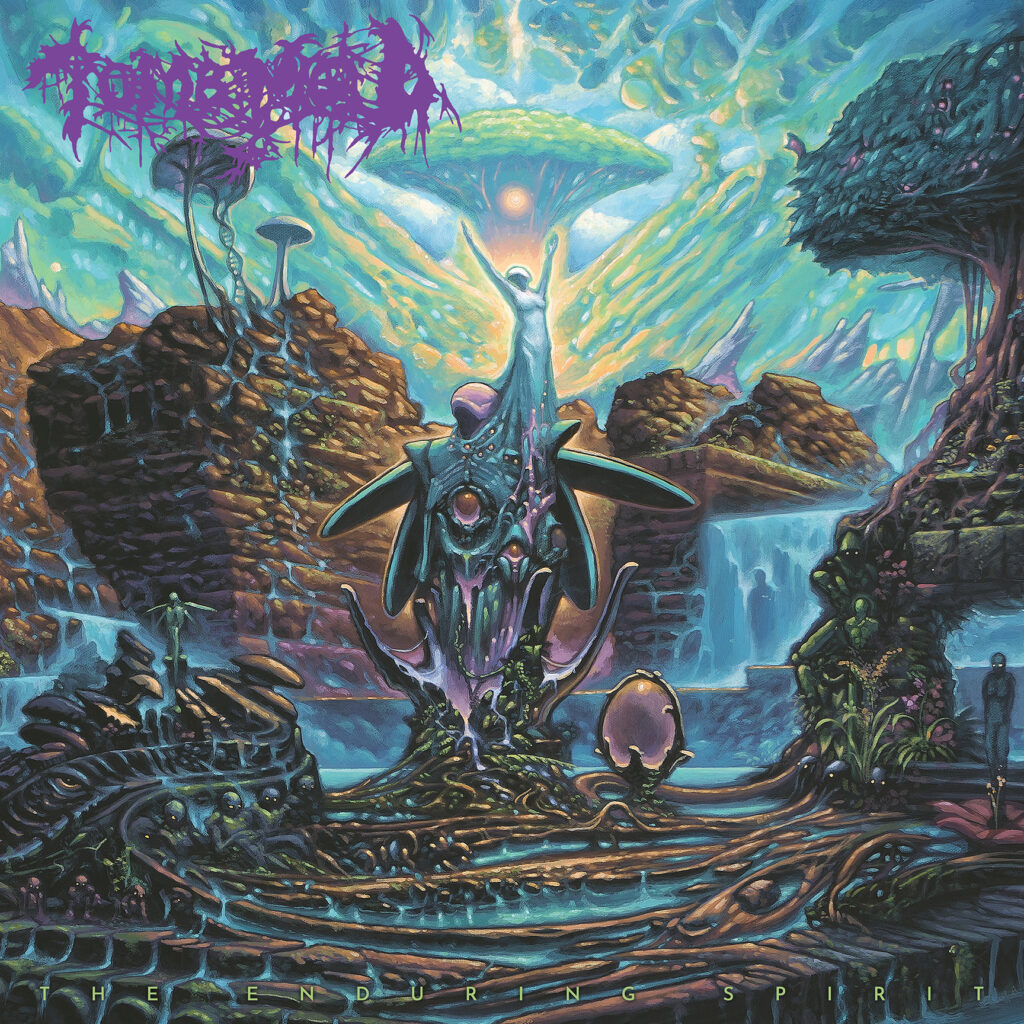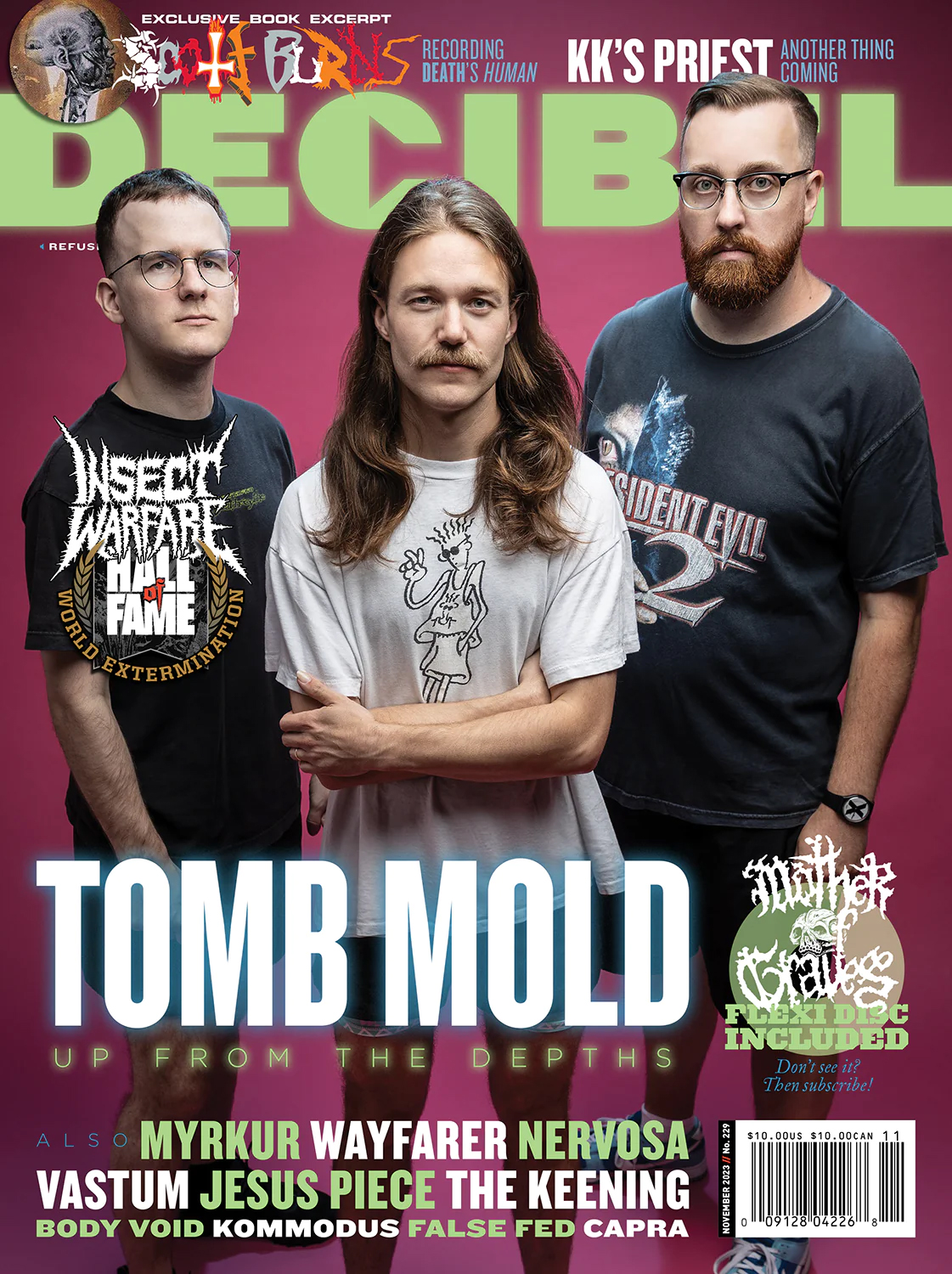 https://linktr.ee/tombmold
https://tombmold.bandcamp.com
https://www.instagram.com/tombmoldband
https://www.facebook.com/tombmold
https://www.20buckspin.com
https://listen.20buckspin.com
https://www.facebook.com/20buckspin
https://twitter.com/20buckspinlabel
https://www.instagram.com/20buckspinlabel