TODAY IS THE DAY has announced a run of US tour dates for August, with shows leading up to and following their performance at the crushing Psycho Las Vegas festival.
2017 saw TODAY IS THE DAY celebrating the twentieth anniversary of their seminal Temple Of The Morning Star LP with a reissue of the album an an extensive tour. Earlier this year, the band toured across North America again supporting Nailbomb.
As the band continues to record their next album, the newly-announced TODAY IS THE DAY tour will begin August 13th in Erie followed by shows in Cleveland, Dubuque, and Dallas on their way to Nevada. Set to take place at the Hard Rock Hotel & Casino in Las Vegas, this year's installment of Psycho Las Vegas runs from August 16th through 19th and will see TODAY IS THE DAY joining over seventy artists including Dimmu Borgir, The Hellacopters, Witchcraft, Sunn O))), Godflesh, Enslaved, Goblin, Eyehategod, Dvne, Necrot, and dozens more. TODAY IS THE DAY plays Saturday, August 18th on the Vinyl Stage alongside All Pigs Must Die, Primitive Man, Venomous Maximus, Uada, and more. Following their fest performance, the band will play Salt Lake City, Colorado Springs, Kansas City, and Bloomington on their return to the East Coast. Watch for additional tour dates to be announced in the weeks ahead.
TODAY IS THE DAY Tour Dates:
8/13/2018 Basement Transitions – Erie, PA
8/14/2018 Now That's Class – Cleveland, OH [info]
8/15/2018 The Lift – Dubuque, IA
8/16/2018 Renos Chop Shop – Dallas, TX
8/18/2018 Hard Rock Hotel & Casino – Las Vegas, NV @ Psycho Las Vegas [info]
8/19/2018 Metro Music Hall – Salt Lake City, UT
8/20/2018 Triple Nickel – Colorado Springs, CO
8/21/2018 The Riot Room – Kansas City, MO
8/22/2018 Nightshop – Bloomington, IL
TODAY IS THE DAY reigns as one of the most influential extreme bands of the past two decades. The band's violent and anthemic style, which blends metal, noise, psychedelia, and rock, has received worldwide acclaim ever since the debut album, Supernova, was released in 1993. Ten studio albums have been released on such labels as Amphetamine Reptile, Relapse, and Southern Lord — including modern-day classics like Willpower, Temple Of The Morning Star, and In The Eyes Of God. The band's lineup has included such musicians as Brann Dailor and Bill Kelliher, who would later go on to form Mastodon. TODAY IS THE DAY has toured the world with Motörhead, Helmet, The Melvins, Morbid Angel, Converge, Napalm Death, Neurosis, Eyehategod, Unsane, Coalesce, and many more. Steve Austin has made a name for himself as a producer, helping create seminal albums for Lamb Of God, Converge, Deadguy, among others, in addition to producing nearly all of TODAY IS THE DAY's releases. Austin is featured in the Color Of Noise Documentary about Amphetamine Reptile Records, is the centerpiece of the intense documentary The Man Who Loves To Hurt Himself, which was screened at the International Filmmaker Festival of World Cinema in Nice, France, an offshoot of the world-famous Cannes Film Festival, has scored several independent films, and much more.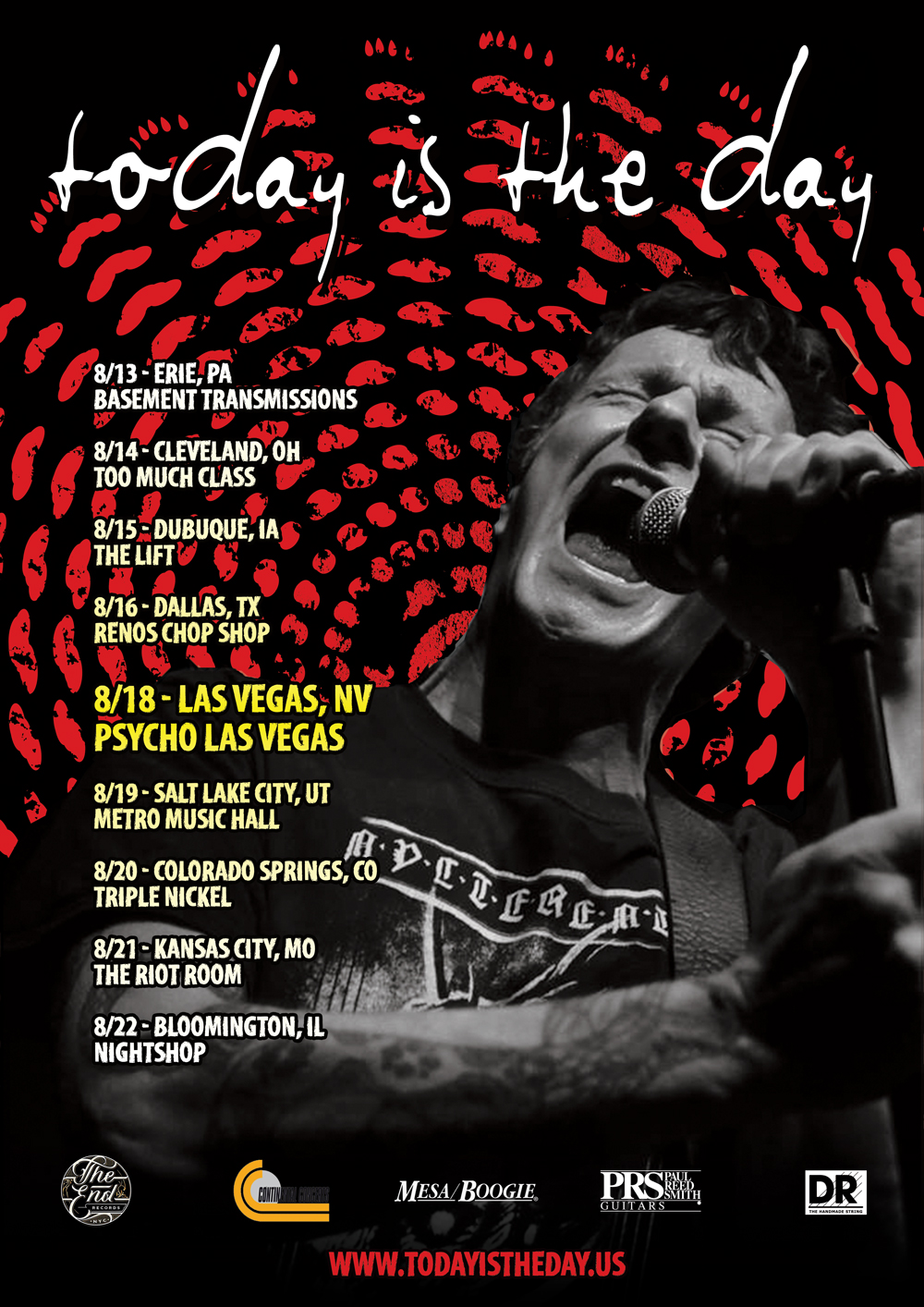 http://www.todayistheday.us
http://www.todayistheday.bigcartel.com
http://www.todayistheday.bandcamp.com
http://www.facebook.com/todayisthedayofficial
http://www.theendrecords.com
https://www.facebook.com/theendrecords
https://twitter.com/theend
https://www.instagram.com/theendrecords