[photo by Nathaniel Shannon]
The latest barrage of live actions from the visionary metal trio known as TODAY IS THE DAY has been declared, as the outfit prepares to take their mesmerizingly insane end-time anthems back out to the streets of North America.
The latest tour from TODAY IS THE DAY will see them storming stages alongside Abigail Williams, the thirty-date trek originating in Salt Lake City on Friday, September 11th and running through most of the US and into Canada and ending on October 16th in San Francisco. With bassist Trevor Thomas and drummer Douglas Andrae currently flanking founding guitarist/vocalist, Steve Austin, this will be the second major North American offensive from TITD this year, having already destroyed on a Spring North American tour with Lazer/Wulf.
TODAY IS THE DAY's tenth studio full-length, and first for Southern Lord, Animal Mother unloads nearly an hour of the band's creepiest and heaviest chaos in years, its wrath recalling elements of their seminal Y2K-era albums, as always in their unclassifiable, prophetic style of metal. The album was recorded, produced and mastered at the frontman's Austin Enterprises in Maine, and has reaped international critical acclaim since its release in October. Massive touring followed through the remainder of 2015 until a brutal van accident the week of Thanksgiving which forced the band into recovery mode for almost a half a year. In addition to their tour schedule, TODAY IS THE DAY released official videos for the album's tracks "Masada" and "Heathen," and will release a new official video for "Animal Mother" in the coming weeks preceding the tour.
TODAY IS THE DAY's "Heathen" video is playing RIGHT HERE and their "Masada" video HERE.
Animal Mother is available on CD colored vinyl LP including bundles via Southern Lord HERE, and via BandCamp HERE.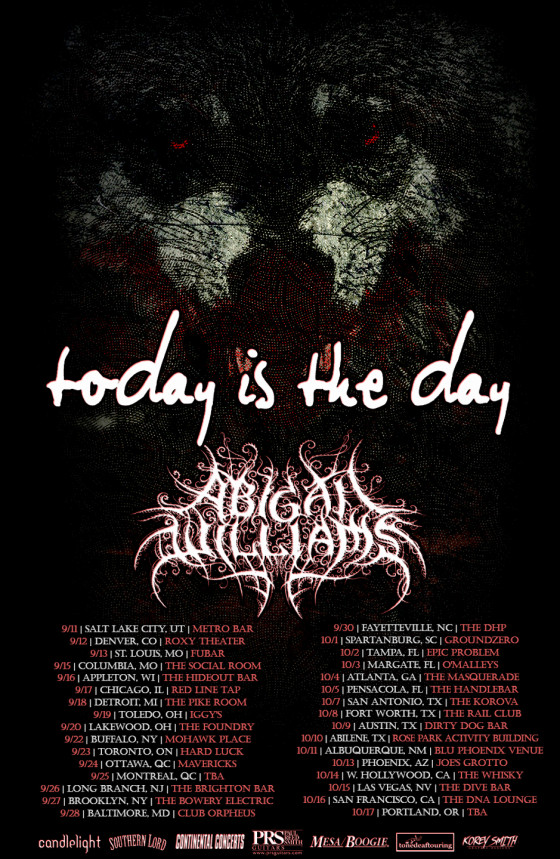 TODAY IS THE DAY w/ Abigail Williams:
9/11/2015 Metro Bar – Salt Lake City, UT
9/12/2015 Roxy Theater – Denver, CO
9/13/2015 Fubar – St. Louis, MO
9/15/2015 The Social Room – Columbia, MO
9/16/2015 Hideout Bar – Appleton, WI
9/17/2015 Red Line Tap – Chicago, IL
9/18/2015 The Pike Room – Detroit, MI
9/19/2015 Iggy's – Toledo, OH
9/20/2015 The Foundry – Lakewood, OH
9/22/2015 Mohawk Place – Buffalo, NY
9/23/2015 Hard Luck – Toronto, ON
9/24/2015 Maverick's – Ottawa, QC
9/26/2015 Brighton Bar – Long Branch, NJ
9/27/2015 Bowery Electric – Brooklyn, NY
9/28/2015 Club Orpheus – Baltimore, MD
9/30/2015 Ziggy's – Winston-Salem, NC
10/01/2015 Ground Zero – Spartanburg, SC
10/02/2015 Epic Problem – Tampa, FL
10/03/2015 O'Malley's – Margate, FL
10/04/2015 The Masquerade – Atlanta, GA
10/05/2015 Handlebar – Pensacola, FL
10/07/2015 Korova – San Antonio, TX
10/08/2015 Rail Club – Ft. Worth, TX
10/09/2015 Dirty Dog Bar – Austin, TX
10/10/2015 Rose Park Activity Bldg. – Abilene, TX
10/11/2015 Blu Phoneix Venue – Albuquerque, NM
10/13/2015 Joe's Grotto – Phoenix, AZ
10/14/2015 The Whiskey – W. Hollywood, CA
10/15/2015 Dive Bar – Las Vegas, NV
10/16/2015 DNA Lounge – San Francisco, CA
Within the avalanche of critical acclaim for TODAY IS THE DAY's Animal Mother LP surrounding its Fall release, Exclaim! Magazine's featured 9/10 review offered, "While reminiscent of the band's late-'90s works Temple of the Morning Star and In the Eyes of God, the new album includes gorgeous melodic elements." Terrorizer Magazine's outstanding review included, "Ten albums in, TODAY IS THE DAY still stand as the ultimate rebuke to genre-obsessed boilerplate metal, wrenching exorcisms into artworks and imbuing them with a heaviness that goes right down to the marrow," and Last Rites proclaimed Animal Mother is, "the most depressing album since Sadness Will Prevail by a longshot. It may even out-sad Sadness… It's some of Austin's more masterful work in a career already lined up with minor classics." Lambgoat informs the masses, "For the few of you that haven't heard TITD at some point, you've most certainly heard something just one step away. Do you like Converge? Austin produced their When Forever Comes Crashing album. How about Lamb Of God? Austin produced New American Gospel. What about that obscure band Mastodon? Well, Mastodon's rhythm section was once TODAY IS THE DAY's rhythm section. Alright, I'm sure you get it. Austin is a lifer, and TODAY IS THE DAY has been a faithful component of our little scene for two decades…" Following two months of solid touring, on the way to begin another month on the road, Steve Austin and the band's tour merchandise handler, Trevor Thomas, were involved in a serious van accident, halting all live actions until the band gets back on its feed. But when they do, goddammit watch out, because they'll be on the warpath. Come on down and get saved!
http://www.todayistheday.us
http://www.todayistheday.bandcamp.com
http://www.facebook.com/todayisthedayofficial
http://www.southernlord.com
http://www.southernlord.bandcamp.com
http://www.facebook.com/SLadmin
http://www.twitter.com/twatterlord