Phoenix, Arizona metal miscreants TOAD are set to embark on a live takeover next month. The punishment will begin on March 2 in Tempe and wind its way through 15 cities before coming to a ceremonial close in Las Cruces, New Mexico. The band will be joined by a host of eclectic bands throughout the tour including Lo-Pan, Sons Of Tonatiuh, Black Market Ministry and more.
Commented the band in a collective statement: "TOAD has long been preparing for this moment, and the time has finally come. This journey will lead us into uncharted territory and will spark the widespread corruption of anyone and everyone that is either willing or unfortunate enough to participate. We are confident that this experience will be only the beginning of the debauchery and mayhem that is yet to come."
TOAD – short for "Take Over And Destroy" – will be touring in support of their criminally underrated five-track Rotten Tide EP, self-released last year. Flaunting a fully analog recording, the monolithic offering was produced by Bob Hoag at Flying Blanket Recording and features the exclusive use of vintage gear from the '60s and '70s to create "a true rock 'n' roll sound." An underground masterwork of sorts, Rotten Tide has created a stir amongst scene diehards in the know. Said Metal Storm in a 9.4/10 review: "It's got that raw, grooving rock n roll appeal that you'll find with the likes of Bison B.C. combined with the grim psychedelic feel offered by few others than Nachtmystium." Added The Sleeping Shaman: "Rotten Tide comes across like the bastard son of Entombed with its spit-in-your-eye attitude and brash swagger. It's rough and raw, whilst managing to sound decently produced…it grooves, it has dark psychedelia, it's catchy, it's unhinged; there is a mash up of punk, black metal, crazy treble picking, utterly abrasive and yet catchy." The Obelisk agreed: "Rotten Tide blends a variety of styles from bombastic hardcore metal to post-Mastodonic technicality, and – perhaps most curiously of all – a preference for analog recording that's almost entirely absent from the larger scope of modern metal. "
TOAD Tour Dates 2012:
3/02/2012 Palo Verde – Tempe, AZ
3/03/2012 Lyzards – Prescott, AZ
3/04/2012 Burt's Tiki Lounge – Salt Lake City, UT w/ OldTimer
3/05/2012 Curtis Street Pub – Denver, CO w/ Low Gravity, Backwoods Payback
3/06/2012 Kelly's Irish Pub – Wichita, KS
3/07/2012 JR's Lightbulb Club – Fayetteville, AR w/ Left Holding The Gun, Perpetual Werewolf
3/08/2012 Downtown Music – Little Rock, AR w/ Crankbait, Lost Coves
3/09/2012 The Buccaneer – Memphis, TN w/ Lo-Pan
3/10/2012 WonderRoot – Atlanta, GA w/ Sons Of Tonatiuh, Canopy
3/11/2012 TBA
3/12/2012 The Tiki Bar – Shreveport, LA w/ Black Market Ministry
3/13/2012 Tsunami – Monroe, LA w/ Black Market Ministry
3/14/2012 TBA
3/15/2012 TBA – New Orleans, LA
3/16/2012 The Saturn Bar – New Orleans, LA w/ PonyKiller, Brain
3/17/2012 TBA – Austin, TX
To offer help with any TBA dates please contact Earsplitpr2@aol.com or takeoveranddestroy@gmail.com.
A maniacal six-piece, TOAD formed in 2008 and has rapidly evolved into a complex entity. TOAD's sound is hardly definable but rather a divine amalgamation of and elaboration upon all things heavy within the last four decades of rock music. Though obviously influenced by the Scandinavian death and black metal movements of the 1990s, the band ensures that every song pulsates with the groove established by metal's forefathers – bands like Black Sabbath and Judas Priest. With the addition of former Slut Sister and Drone Throne guitarist Alex Bank Rollins, and the replacement of original guitarist Danny Labarbera by former Queen Beast member Nate Garrett, the band has solidified a group that is road-ready and unstoppable in both its creative output and self-promotion. Rounding out the lineup are original members Andy Leemont on vocals, Shane Taylor on drums, Trey Edwin on bass, and Pete Porter on organ. TOAD strive to be at the forefront of the progression of the genre, alongside bands that are pushing metal into new territory, such as Ghost, Kvelertak, and Watain. TOAD are carrying the American torch in this exhilarating new movement.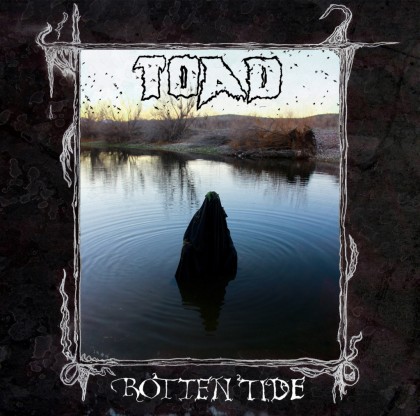 https://www.facebook.com/TOADmusic
http://takeoveranddestroy.bandcamp.com