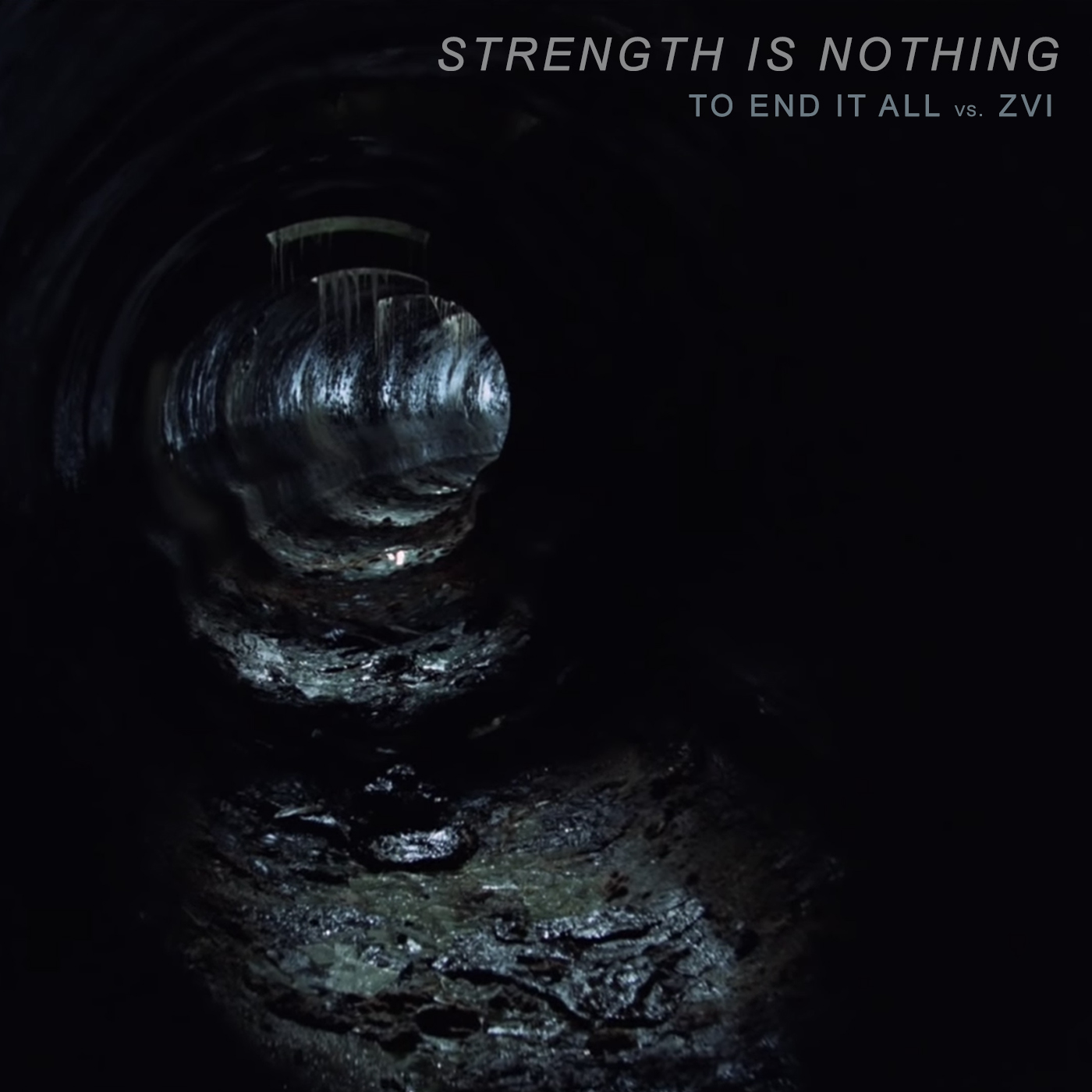 "…weakness is a great thing, and strength is nothing. When a man is just born, he is weak, and flexible. When he dies, he is hard and insensitive. When a tree is growing, it's tender and pliant. But when it's dry and hard, it dies. Hardness and strength are death's companions. Pliancy and weakness are expressions of the freshness of being. Because what has hardened will never win." – Andrei Tarkovsky (Stalker)
Avant-garde/death industrial duo TO END IT ALL has collaborated with ZVI (Ron Varod of Kayo Dot, Sabbath Assembly) to create a partial soundtrack for Andrei Tarkovsky's 1979 masterpiece Stalker for the Frozen In Time series from Bay Area label Black Horizons. Today they release an excerpt from this session as a digital single, entitled "Strength Is Nothing." The track features cello compositions, piano, synth, and vocals by Joy Von Spain, guitar, bass, and electronics by ZVI, and Masaaki Masao on samplers. The piece was recorded and mixed by Marc Tweed and mastered by MS Waldron (irr. app. (ext.), Nurse With Wound).
TO END IT ALL writes of the new single, "We are constantly reminded that adaptations, shifting modes of thought, and changes of the body are the signs of life. Rigidity of the mind and body is a signal of death. Our ode to Tarkovsky's famous soliloquy in Stalker comes to life in this new collaboration with ZVI… the complete exploration of this theme is slated for release in 2021 as a three-cassette box-set along with several other artists. We thank you for listening."
Stream "Strength Is Nothing" at THIS LOCATION.
Formed in the autumn of 2016, long-time collaborators noise artist Masaaki Masao and vocalist Joy Von Spain began to create new work as TO END IT ALL, forging songs from rhythmic harsh noise, sampling, keyboards, and voice. The duo's Scourge Of Woman full-length, released last fall via Scry Recordings, draws inspiration from death industrial and black noise acts like Pig Heart Transplant, Blue Sabbath Black Cheer, and Sutekh Hexen, as well as artists like Onielar, Diamanda Galas, and Cosey Fanni Tutti. The album features the artwork of Anima Nocturna (C.Melgoza) in collaboration with Joy Von Spain. The duo released two tour tapes in 2017 prior to releasing their full-length record. TO END IT ALL are also members of Eye Of Nix. View TO END IT ALL's previously released videos for "Beast Filth" and "Lure" at THIS LOCATION and live videos from Litha Cascadia and Azoth at THIS LOCATION.
New York City-based ZVI is the eclectic solo project of Ron Varod from Kayo Dot, Asva, Sabbath Assembly, Psalm Zero, So Is The Tongue, and more. The past several years have seen ZVI embark on several tours throughout the United States, Canada, and Europe opening for acts such as The Black Queen, Mouth Of The Architect, Jonah Matranga (Far, etc.), and Telefon Tel Aviv, as well as a slot on the 2018 Roadburn Festival in Tilburg, Netherlands alongside Converge, Godflesh, Zola Jesus, and Godspeed You! Black Emperor.
http://toenditall.bandcamp.com
http://www.scryrecordings.com/posts/artist/to-end-it-all
http://www.instagram.com/to_end_it_all
http://www.facebook.com/TEIAnoise
https://www.facebook.com/ronzvivarod
https://ronzvivarod.bandcamp.com