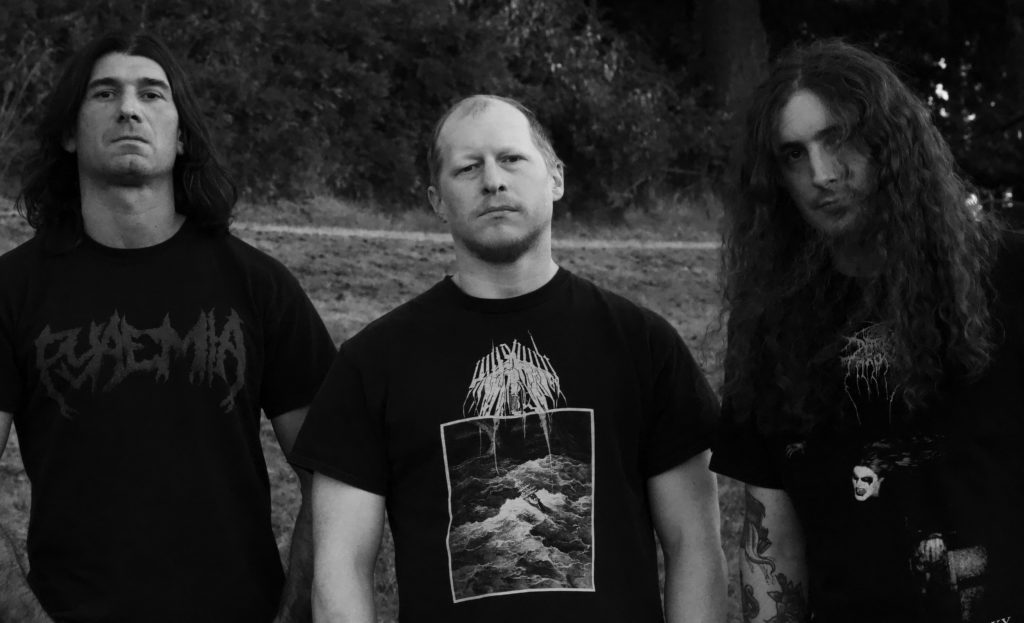 photos by Taylor Robinson
Portland, Oregon blackened grind trio TITHE has launched their cross-country tour to the East Coast and back in support of their second LP, Inverse Rapture, out now on Profound Lore Records.
Running from tomorrow, September 15th, through September 30th, TITHE's cross-country trek begins in Milwaukee and stomps through the Midwest, down the East Coast, and back through the middle of the country, hitting sixteen cities in two weeks. See the confirmed routing below.
TITHE Eastern USA 2023:
9/15/2023 Cactus Bar – Milwaukee, WI
9/16/2023 Krishna Den – South Bend, IN
9/17/2023 Outer Limits Lounge – Detroit, MI
9/18/2023 Ottawa Tavern – Toledo, OH
9/19/2023 No Class – Cleveland, OH
9/20/2023 Rock Room – Pittsburgh, PA
9/21/2023 Bug Jar – Rochester, NY
9/22/2023 QXT's – Newark, NJ
9/23/2023 O'Brien's – Boston, MA
9/24/2023 The Runaway – Washington, DC
9/25/2023 Bonk Bar – Philadelphia, PA
9/26/2023 Blind Bob's – Dayton, OH
9/27/2023 Black Circle – Indianapolis, IN
9/28/2023 The Bishop – Bloomington, IN
9/29/2023 Sinkhole – St. Louis, MO
9/30/2023 Reggies – Chicago, IL
Conceived in 2017 by vocalist/guitarist Matt Eiseman and drummer Kevin Swartz, TITHE constructs an unorthodox amalgamation of death metal, black metal, and grind without straying too far from the fundamentals of aggressiveness and depravity. The band spent its first years writing and releasing a self-titled EP before finding bassist Alex Huddleston at the end of 2018. This lineup went on to release their debut LP, Penance, in May 2020, which was well-received despite the challenge of releasing in the middle of the Covid-19 pandemic.
TITHE's second album, Inverse Rapture is a relentless auditory nightmare of human suffering. A journey of intense rhythmic interplay where disgusting blackened death chokes on shards of grind, while drowning in hypnotic delirium. Inverse Rapture evolves upon the themes of Penance and morphs into a more angry, raw, and dissonant form. The band's most incendiary material to date, Inverse Rapture maintains the blazing tempos the trio is known for with dreary, lowering passages strewn throughout. Produced/mixed by Fester (Usnea, Stoneburner, Nux Vomica), mastered by Adam Gonsalves, and featuring the macabre art of Abomination Hammer, Inverse Rapture is a complete exhibition of viciousness and despair beginning to end.
TITHE's Inverse Rapture is streaming everywhere including YouTube at THIS LOCATION and Bandcamp HERE. Find it on LP, CD, CS, and digital via Profound Lore Records HERE.
"TITHE's blistering second album Inverse Rapture is many things but is not easy listening. It's an angry and relentless record with a palpable touch of grief… Inverse Rapture is not just an album about grief but a full-frontal attack on the hypocrisy of religion and humanity's selfishness." – Decibel Magazine
"…sounds of hideous suffering, and they eventually discharge a mad storm of bullet-spitting percussion, feverishly writhing guitars, and furious blood-spraying screams… This is a bone-smasher to be sure, but if you also want something that captures in stroke-inducing terms the madness of violence and the delirium of agony, you've come to the right place." – No Clean Singing
"…tornado of black metal, death metal, and grindcore." – BrooklynVegan
"Inverse Rapture thrives on the raw noise of black metal, the blue-collar fury of grindcore, and the complexities of death metal. Your blood levels will skyrocket, and your eyes could burst their vessels if you allow yourself to be immersed. The choice might not be yours." – Scream Blast Repeat
"The personal grief and analytical perspective on death flows through this record. It's viciously dark, agonizing, and oppressive material that's not for the faint hearted. The crushing power is manic and unrepentant but met with barrels of atmosphere, especially when the group utilize sludgy elements on their sound, it's hard not to be drawn into the darkness with vitriolic intrigue." – The Sleeping Shaman
"…their best material to date, and by no small margin… Inverse Rapture marks a huge step up from Penance, with the music being far more varied and technically proficient, and the songwriting blending the various elements in the band's sound far more effectively, allowing the band to create a more eclectic and expansive sound…" – Distorted Sound Magazine
"Inverse Rapture is equally aggressive as it is psychedelic at times, almost hypnotizing, and this is going to stick with me through the rest of the year for sure." – Ghost Cult Magazine
"Evolving from their first record, TITHE offers up an even angrier and dissonant record… While the white-hot tempos remain, as the trio traverse their complex compositions at lightning speed, blazing through incredible passages, they also insert towering but melancholy-soaked sections into tracks, creating a highly effecting natural juxtaposition that adds further dynamism to their overall sound." – Echoes And Dust
https://www.instagram.com/tithe.pdx
https://tithepdx.bandcamp.com
https://profoundlorerecords.com
https://www.profoundlorerecords.bandcamp.com
https://www.instagram.com/profoundlorerecords
https://twitter.com/profound_lore
https://www.facebook.com/profoundlorerecords