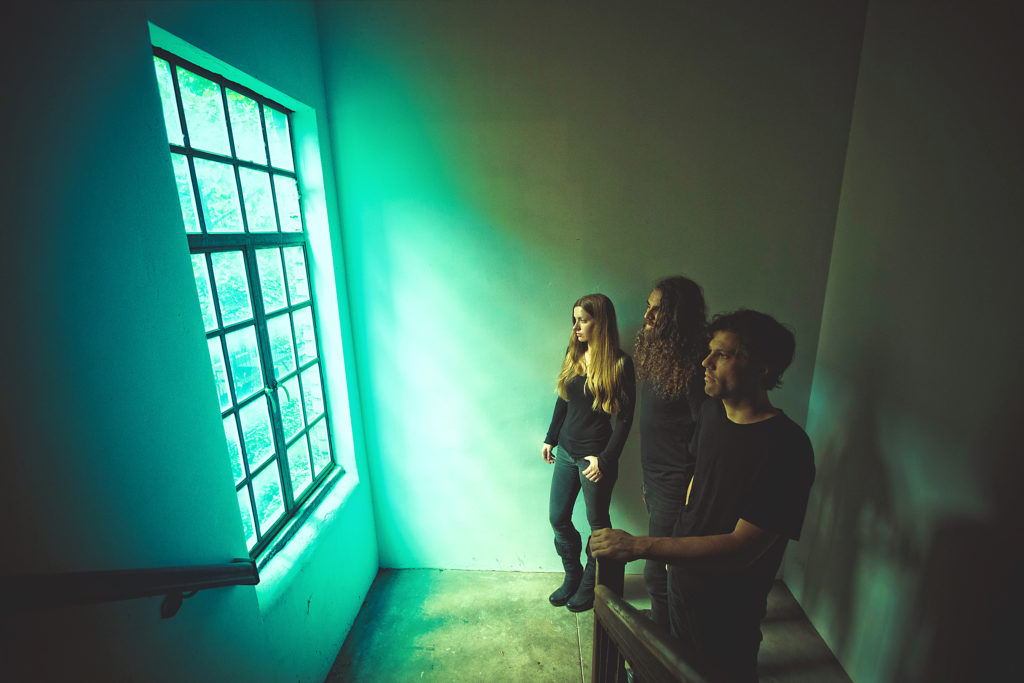 [photos by Karen Jerzyk]
Newly formed trio TITAN TO TACHYONS has joined the ever-expanding Nefarious Industries roster for the release of the band's impending debut album late this spring.
TITAN TO TACHYONS is led by guitarist Sally Gates (ex-Orbweaver, ex-Gigan), backed by the powerhouse rhythm section of Kenny Grohowski (Secret Chiefs 3, Imperial Triumphant, Brand X) and Matt Hollenberg (Cleric, John Zorn). Instrumentally depicting the realms of surrealistic sci-fi, the band makes use of angular and experimental passages, juxtaposed by fluid grooves and metallic flurries.
On the heels of their first performances in their home base of New York City last year, the trio tracked a debut album at Colin Marston's Menegroth Studios. The album features guest musician Trevor Dunn (Mr. Bungle, Fantômas, Secret Chiefs 3) on bass for a structured improvisational piece.
See two TITAN TO TACHYONS multi-camera live tracks HERE.
Watch for full details on TITAN TO TACHYONS' debut to be announced in the weeks ahead, and new live performances to be posted regularly throughout the year.
TITAN TO TACHYONS Live:
3/10/2020 NuBlu 151 – New York, NY w/ Kilter
TITAN TO TACHYONS:
Sally Gates – guitar
Matt Hollenberg – bass VI
Kenny Grohowski – drums
https://titantotachyons.com
https://titantotachyons.bandcamp.com
https://www.facebook.com/titantotachyons
https://www.instagram.com/titantotachyons
http://nefariousindustries.com
http://www.facebook.com/nefariousIndustries
http://www.twitter.com/nefariousInd
https://nefariousindustries.bandcamp.com