photo by Ale Gasso
As Gainesville, Florida-based melodic sludge/rock trio THUNDERCLAP prepares to release a new two-song 7″ through Ashtray Monument next month, BrooklynVegan is hosting an exclusive premiere of the band's new video for the EP's namesake track, "Morkkis."
THUNDERCLAP's new video for "Morkkis" was shot and edited by the band during the pandemic in 2020/21. The video showcases some familiar Gainesville bars and venues as they struggled to find ways to stay open during the toughest times.
The band's Ale Gasso delves, "'Morkkis' was written during the lockdown period of the pandemic. It was sort of an homage to the places we missed and the memories we were holding onto during the most isolated time of our lives. The video highlights memories of our many years living in Gainesville. We filmed it ourselves at home, sometimes virtually, and when things started opening back up we ventured out into the heart of the city to showcase the places we missed the most. Some didn't make it and we were sad to see them go. This song/video is dedicated to them."
BrooklynVegan describes "Morkkis" as, "a catchy sludge-pop song that recalls THUNDERCLAP's fellow Florida brethren Torche."
Tune in to see THUNDERCLAP's "Morkkis" video first only through BrooklynVegan now at THIS LOCATION.
Morkkis will see release on September 17th on 7″ vinyl and digital platforms through Ashtray Monument. Find preorders at the label webshop HERE and Bandcamp HERE.
Formed by Todd Rockhill, Ale Gasso, and Salmon Nason – veterans of the Florida punk/underground scene who have played with the likes of Discount, The Draft, Unitas, The Future Now, House On Fire, Black Cougar Shock Unit, and others – THUNDERCLAP melds elements of doom and punk into emotive and impassioned music that has the potential to cross genres and reach multiple audiences. In 2019, THUNDERCLAP released their Inebriocean debut LP through Financial Ruin to positive reactions from fans and media alike amidst solid runs of East Coast shows with Meatwound and more. Trying to maintain some of that positive traction when the 2020 lockdowns went into effect, the band went to work on new material.
Featuring the lead track "Morkkis" and B-side track "March Of The Wombats," the new 7″ captures the band's mood as the world was raging with wildfires, protests and riots, racism and bigotry, and the onset of a deadly global pandemic. The songs feature hints of the members' punk roots, blended with the usual THUNDERCLAP style of heavy, melodic, doomy riffs and tones. There is anger, there is sadness, and there is a hope and longing for a better future. Morkkis was produced by Roger Lima of Less Than Jake at The Moathouse in Gainesville.
Having recently returned to playing live in recent weeks, THUNDERCLAP has confirmed several new shows across Florida in September and October. Additional live dates and more news will be issued throughout the remainder of 2021 as the band continues writing material for their second LP.
THUNDERCLAP Live:
9/11/2021 Loosey's – Gainesville, FL w/ Stunner [info]
9/24/2021 The Bark – Tallahassee, FL w/ Unico, Swamp, Torchmouth [info]
10/23/2021 Monufest – New Port Richey, FL [info]
10/31/2021 The Fest – Gainesville, FL [info]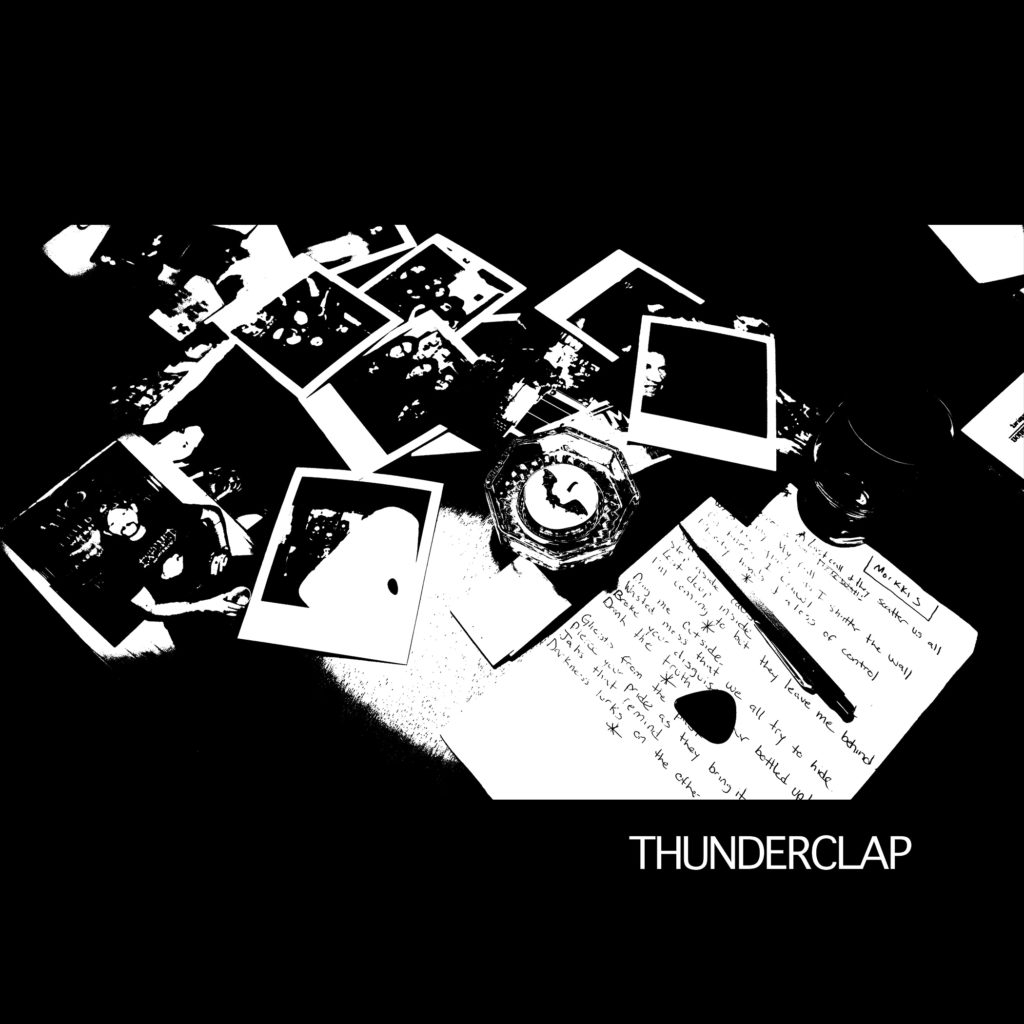 https://www.facebook.com/ThunderclapGVL
https://thunderclap666.bandcamp.com
https://www.instagram.com/thunderclap_gvl
https://https://www.facebook.com/ashtraymonumentfl
https://www.ashtraymonument.com
https://www.instagram.com/ashtray_monument