by Carmen Canchola
"…it's an enticingly repulsive track–an offering to the sick that's eagerly devoured, maggots and all." – Invisible Oranges
Invisible Oranges is hosting the exclusive premiere of "At One With The Earth And Worms," the latest scourge to be emitted from Phelan, California death metal collective, RUIN. Delivered in the form of a grisly video, the track precedes the release of the band's third album, Spread Plague Death, which is looming on its release next Friday through Nameless Grave Records.
Boasting thirteen tracks of savage death metal, RUIN's Spread Plague Death was recorded at Trench Studios by John Haddad and The Church Of Sacrifice by Carsten LaRoque in late 2020 and early 2021, with mixing handled by LaRoque at The Church Of Sacrifice as well as at the Ascension Falls Blk/Str Cabin at Apache Junction/Helican Gate. With mastering handled by Dan Randall at Mammoth Sound Mastering and completed with original paintings by Janine Wunsch and photography by Carmen Canchola/CSGF and The Death Metal Cult Spread Plague Death features additional assistance with soundscapes by Scott Lee Martin and Alex Allenruso.
With the premiere of the final disparate single preceding the release of the album, founding vocalist Mihail Jason Satan reveals, "An important part of our process is making sure that there's enough variety that an unwary listener can never get complacent when listening to an album, and 'At One With The Earth And Worms' is one of the fastest songs on the album as a way to offset the slower songs around it. Morbid melodies, hypnotic tremolo rhythms, and dynamic sections of pummeling finish off the song to draw listeners into the world of murder, killing, death, and total madness that we want to bring you into! The putrid music is bookended with our typical creepy samples to twist things even further into the darkness."
Invisible Oranges dissects RUIN's "At One With The Earth And Worms" single as, "simply designed to dismantle brains and not so meant to cultivate thought as much as primordial loathing: sluggish riffs burrow their way through this track, joined by revolting harmonies and mocking growls. As confirmed by the video accompanying the track, it's an enticingly repulsive track–an offering to the sick that's eagerly devoured, maggots and all."
Watch RUIN's brutalizing "At One With The Earth And Worms" video first only through Invisible Oranges RIGHT HERE.
Spread Plague Death will see release via Nameless Grave Records next Friday, August 27th on vinyl and digital, on cassette through Nero One Records and Death Metal Cult, and on CD through Goat Throne Records. Find preorders for all formats HERE.
RUIN has also been confirmed to host a guest DJ session with Gimme Metal on Wednesday, September 8th! The carnage will proceed at 1pm Eastern/10am Pacific. Seek further intel and tune in HERE.
RUIN was spawned in 1991 by Mihail Jason Satan (Dead Conspiracy, ex-Gravehill). Many band members came and went and after incarcerations, deaths, and disappearances, the band went on an extensive hiatus until 2015, when MJS decided to get this dismal and rotting corpse back up and ready to kill again. Former member Phobic One was on board to release the demo Spread Plague Hell on his label Nero One Records in 2015. Live assaults started that year, and the band has since released a massive number of EPs, splits with Violation Wound, Anarchus, Anthropic, Absconder, Anatomia, and more, and two full-length albums, Drown In Blood and Human Annihilation. With MJS on vocals, the RUIN lineup currently is currently fleshed out with drummer D-Muerte (Aeternum, Oscuros, ex-Mictlantecuhtli), bassist Spine, and guitarists Carsten Brix (Destroyed in Seconds, ex-Gravehill) and Bodybag.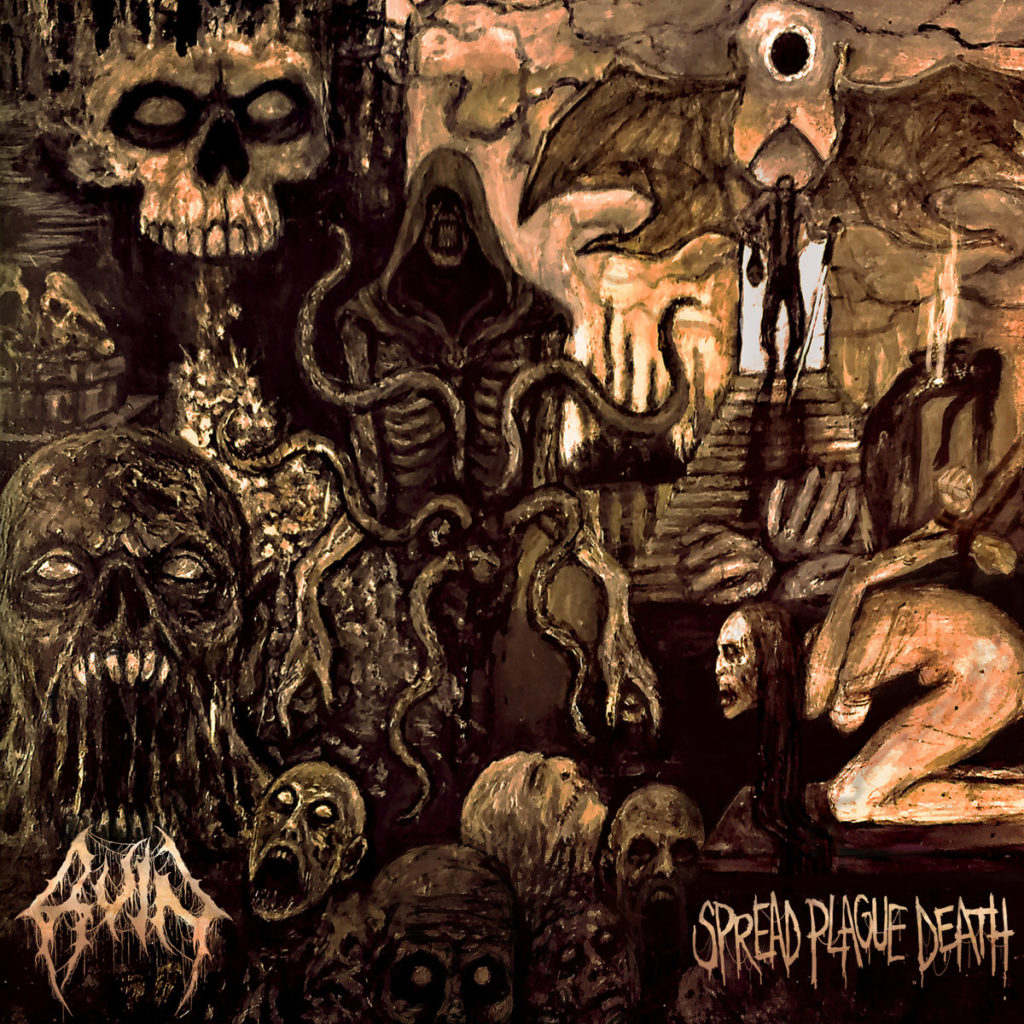 https://thedeathmetalcult.bandcamp.com
https://www.instagram.com/ruin_death_metal_cult
https://www.facebook.com/SPREADPLAGUEDEATH
https://www.facebook.com/NamelessGraveRecords
https://www.instagram.com/namelessgraverecords
https://namelessgraverecords.bandcamp.com