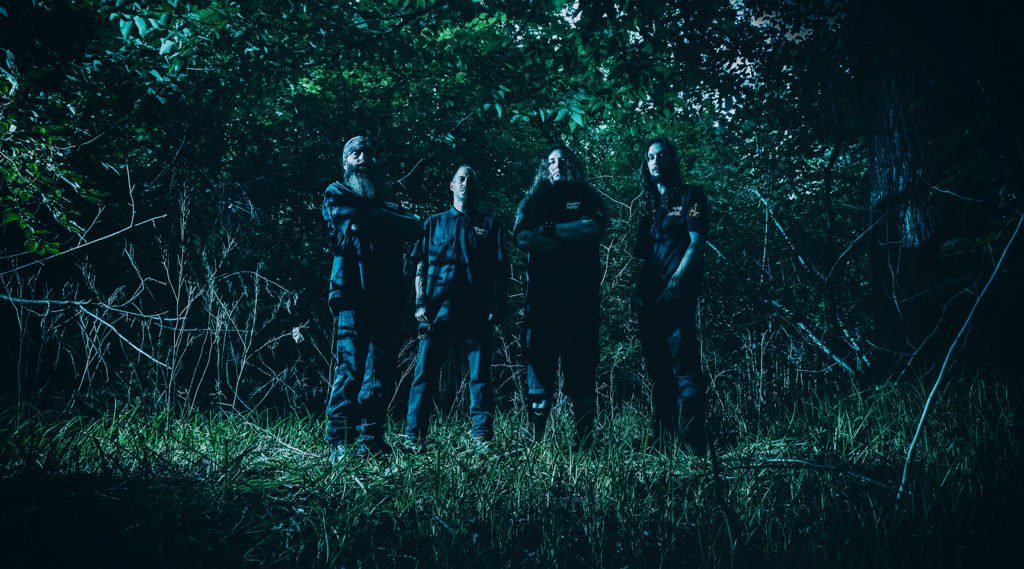 Grimoire Records prepares to release Maryland-based THONIAN HORDE's Downfall this Friday, and Heavy Blog Is Heavy now offers the album for streaming ahead of its street date.
Downfall is the third full-length release of blackened, metallic doom in as many years from the productive THONIAN HORDE, which is comprised of scene veterans who play with the likes of Admiral Browning, Pale Divine, Faith In Jane, Weed Is Weed, Bailjack, and other known acts throughout the region.
With their advance streaming of the album, Heavy Blog Is Heavy offers in part, "Not only is this a really great sound, Downfall is a really fun record. It's not very often you get to label a black metal band as 'fun,' but THONIAN HORDE deserves it. It's a more energetic record than we usually get from bands of this nature. There's a certain drama to the record that black metal bands don't normally have. It's just a fun sense of dark timing that any regular reader of Heavy Blog should listen to and probably enjoy."
Stream THONIAN HORDE's venomous Downfall via Heavy Blog Is Heavy RIGHT HERE.
Downfall will see release as a limited-edition CD and through all digital networks this Friday, May 24th through Grimoire Records. Preorders can be placed at Bandcamp HERE.
THONIAN HORDE formed in 2016 in the backwoods of Boonesboro, Maryland by bassist/vocalist Ron "Fezz" McGinnis (Pale Divine, Admiral Browning), guitarists Darren "Dirty" Waters (Weed Is Weed) and Dan "D-Mize" Mize (Faith In Jane), and drummer Tyler "The Beast" Lee (Weed Is Weed). As a self-described "black & roll" outfit, the band seamlessly blends stoner rock grooves with scathing vocals ripped straight from the frostbitten black metal tundra, but what sets them apart from their peers is the highly acrobatic death metal drum work perforating the mix. Since recording their second album, Inconnu, with Grimoire Records in 2017, the band has spent little idle time in the intervening years.
THONIAN HORDE's Downfall features ten new tracks of thrashy, blackened rock/metal. As with their prior album, Inconnu, the tracking for Downfall was done mostly live in the Grimoire Studio with label head Noel Mueller, with minimal overdubbing. The cover art was provided by Gilbert Miranda for Lingua Mortis Artwork, and the CD layout was finished by Mueller. On Downfall, fans of Immortal, Satyricon, and Dissection, as well as the stoner/doom throngs who frequent the members' other projects, will all find something to sink their teeth into.
Watch for new shows and more to be announced over the weeks ahead.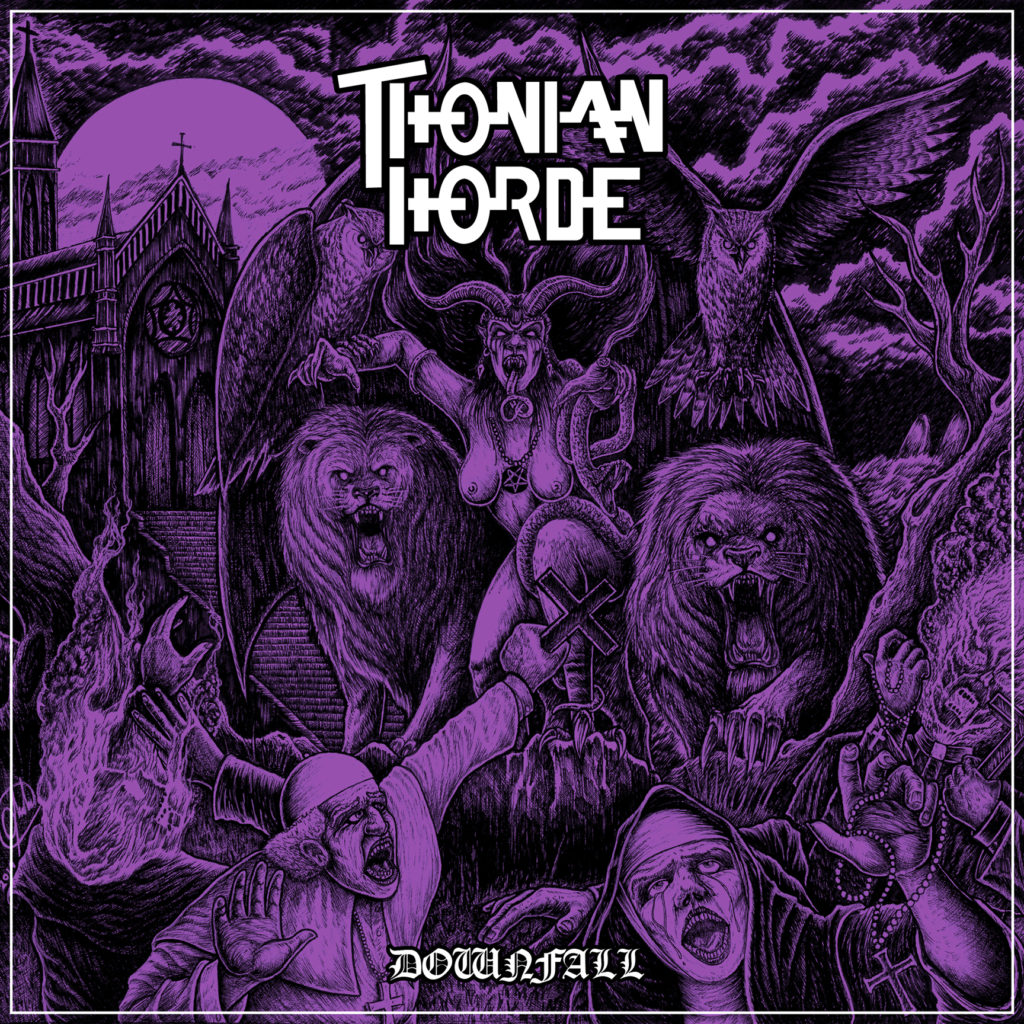 http://www.facebook.com/thonianhordeofficial
https://thonianhorde.bandcamp.com/releases
http://www.grimoirerecords.com
http://grimoirerecords.bandcamp.com
http://www.facebook.com/GrimoireRecords
http://twitter.com/grimoiremetal