Instrumental/post-rock veterans THIS WILL DESTROY YOU today reveal details of their US headlining tour this fall. Slated to begin November 8th in New Orleans, Louisiana, the trek will wind its way through sixteen cities, drawing to a close on November 24th in San Antonio, Texas. The journey follows the band's previously announced western US tour, set to kick off next month in Las Vegas, Nevada. See all confirmed dates below.
THIS WILL DESTROY YOU continues to tour in support of their stunning New Others Part One and Two companion full-lengths, released last year via Dark Operative. Captured by Grammy award-winning producer John Congleton, the records feature core members Jeremy Galindo and Christopher King with the addition of drummer Robi Gonzalez and carry on THIS WILL DESTROY YOU's tradition of a familiar, but evolved ethos wherein the memorable melodic component present in their early work once again soars atop progressive sonic territories for the band and listener alike.
Stereogum lauded, "a heavy sprawl with some moments of outright beauty and others of gut-churn heaviness." Brooklyn Vegan wrote, "[New Others Part One] instantly scratches the itch that TWDY's classics do, and it reminds you how diverse their palette of sounds is, from stuff that nears minimal electronic music to stuff that nears metal." Glide Magazine celebrated, "a restrained journey through contemplative layers of sound." Added Noisey, "…though the world is absolutely still ending, most of America is still bathed in sunshine. So you'll have to listen to New Others Part Two…with the blinds closed. It's another seismic record, building to the dissociative ambient track 'New Promise Land Inc.' and the eleven-minute closer, 'Provoke.'"
Stream New Others Part One and Two in full via Spotify at THIS LOCATION. View THIS WILL DESTROY YOU's "Lie Down In The Light" video, illustrated and animated by Lil Fuchs and originally premiered on Adult Swim's "Toonami," at THIS LOCATION.
New Others Part One and Two are available on CD, LP and digitally. For physical orders, go to THIS LOCATION. For digital orders, go to the Dark Operative Bandcamp page HERE.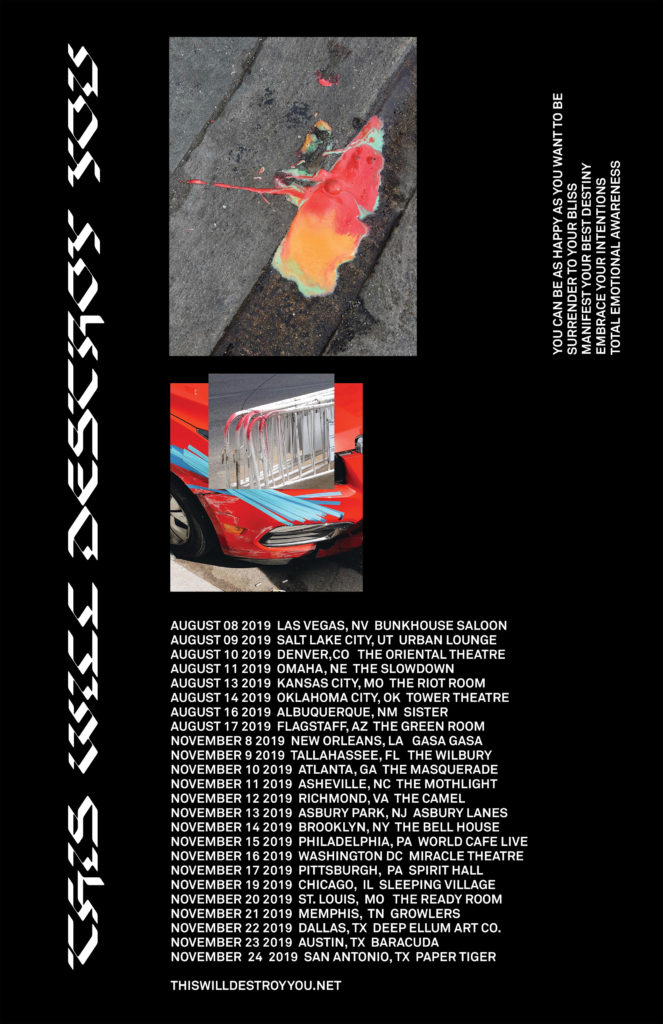 THIS WILL DESTROY YOU w/ Brin:
8/08/2019 Bunkhouse Saloon – Las Vegas, NV [tickets]
8/09/2019 Urban Lounge – Salt Lake City, UT [tickets]
8/10/2019 The Oriental Theatre – Denver, CO [tickets]
8/11/2019 The Slowdown – Omaha, NE [tickets]
8/13/2019 The Riot Room – Kansas City, MO [tickets]
8/14/2019 Tower Theatre – Oklahoma City, OK [tickets]
8/16/2019 Sister – Albuquerque, NM [tickets]
8/17/2019 The Green Room – Flagstaff, AZ [tickets]
End Tour
11/08/2019 Gasa Gasa – New Orleans, LA [tickets]
11/09/2019 The Wilbury – Tallahassee, FL
11/10/2019 The Masquerade – Atlanta, GA
11/11/2019 The Mothlight – Asheville, NC [tickets]
11/12/2019 The Camel – Richmond, VA [tickets]
11/13/2019 Asbury Lanes – Asbury Park, NJ [tickets]
11/14/2019 The Bell House – Brooklyn, NY [tickets]
11/15/2019 World Cafe Live – Philadelphia, PA [tickets]
11/16/2019 Miracle Theatre – Washington, DC [tickets]
11/17/2019 Spirit Hall – Pittsburgh, PA [tickets]
11/19/2019 Sleeping Village – Chicago, IL [tickets]
11/20/2019 The Ready Room – St. Louis, MO [tickets]
11/21/2019 Growlers – Memphis, TN [tickets]
11/22/2019 Deep Ellum Art Co.- Dallas, TX [tickets]
11/23/2019 Barracuda – Austin, TX [tickets]
11/24/2019 Paper Tiger – San Antonio, TX [tickets]
http://www.thiswilldestroyyou.net
http://www.facebook.com/thiswilldestroyyou
https://twitter.com/_twdy_
http://www.darkops.site
http://www.facebook.com/darkoperativemusic
https://twitter.com/dark0perative?