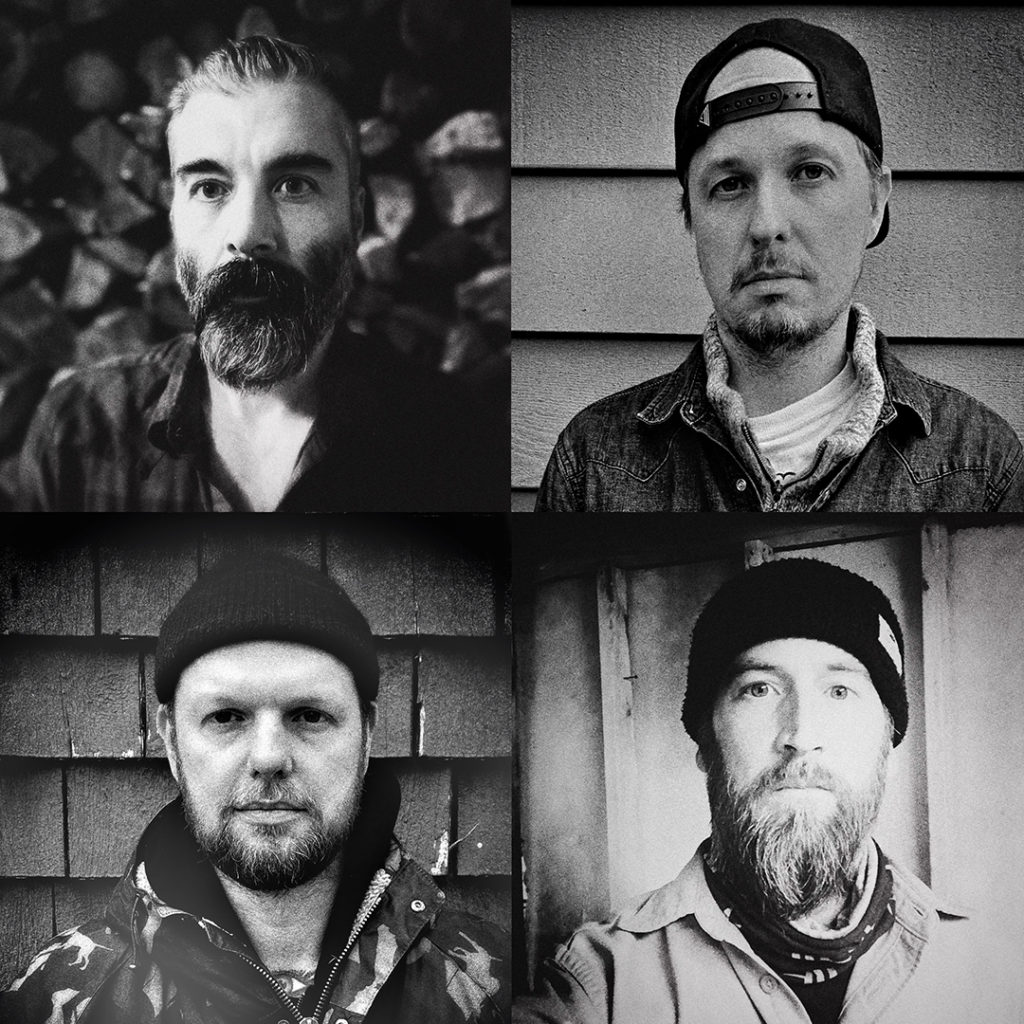 photo by Erin McCown
Turn-of-the-millennium-era label Iodine Recordings announces its triumphant return after seventeen years off the grid. The label is excited to present Somnambulists, the celebrated album from Massachusetts-based THERE WERE WIRES, on vinyl for the first time ever, as a split release with Tor Johnson Records
THERE WERE WIRES was an underground hardcore/metal band from Boston that formed in the late '90s. They quickly gained notoriety in New England for their intense and chaotic live shows, playing played regularly throughout the early 2000s, sharing stages with prominent bands like Mastodon, Converge, and The Dillinger Escape Plan, along with successful tours with Daughters (Ipecac Records) and Zombi (Relapse Records). One of the early pioneers of the doom-metal genre, the band became an influential giant that would pave the way for a wave of slow, heavy music that would follow the band's demise. Members of THERE WERE WIRES later went on to play in Doomriders (Deathwish Inc.) and Disappearer (Dark Operative), among others.
Originally released on Iodine Recordings in 2003, Somnambulists was THERE WERE WIRES' second album. The record was a departure from their original fast and thrashy sound, which was dominant on their self-titled debut. For this release, the band worked with producer Matt Squire at Camp Street and Q-Division studios. By this time, THERE WERE WIRES had matured as song writers and constructed songs considerably longer and more intricate than anything previously written. These tracks belied much of the frenetic energy of earlier works, moving glacially at times, winding tension with extended buildups and clean vocals while still maintaining its intensity.
Somnambulists was not only a dramatic departure from the punchy abruptness of THERE WERE WIRES' earlier sound, but a welcomed one, as well, and the record was met with much acclaim from fans and critics alike. A full-album experience that combines heavy, droning, and bluesy riffs with atmospheric interludes, Somnambulists follows a theme of loss, regret, sleepwalking, and darkness.
Eighteen years after its initial delivery, Iodine re-releases Somnambulists in grand vinyl format for the first time, remastered for optimal listening, presented as a co-release with their allies at fellow New England label Tor Johnson Records. The LP features all-new artwork with a gatefold jacket and included download and contains a previously unreleased cover of "Tunic" by Sonic Youth as a bonus track exclusive to this release. The record will see release in a range of exclusive variants for each party involved, including THERE WERE WIRES (Black and White Merge w/ Rainbow Splatter), Iodine Recordings (Bone White w/ Black and Gold Splatter) and Tor Johnson Records (Clear w/ Black and White Splatter), as well as mailorder partners Deathwish Inc. (Black and Silver Pinwheel), RevHQ (Gold), a small record stores pressing (White), and Limited To One NYC (White w/ Alternate hand numbered covers).
Fans of Neurosis, Converge, Isis, Pageninetynine, American Nightmare, Botch, Old Man Gloom, and Doomriders should not miss this one.
See a brief teaser for THERE WERE WIRES' Somnambulists reissue RIGHT HERE.
Iodine Recordings will release the Somnambulists LP on April 16th. Preorders are now live through Iodine HERE, Tor Johnson HERE, Deathwish HERE, and RevHQ HERE.
Somnambulists Track Listing:
1. New Doom
2. His Talk, Her Teeth
3. Walking
4. Get Cryptic
5. Waking
6. Black Magic Rabbit
7. Gasp
8. Tunic (Sonic Youth cover)
Following the reissue of Somnambulists, reunion shows will be announced for late 2021/early 2022, whenever regular touring safely resumes across the country.
In addition to THERE WERE WIRES, Iodine Recordings was responsible for releases by Gregor Samsa, Smoke Or Fire, Brand New, Orange Island, Garrison, and many others until they went dormant in 2004. Now that the label is back in action, additional backcatalog reissue titles and other new signings and releases are also in the works. Watch for further updates from the label in the months ahead.
photo by Aaron Pepelis
https://www.instagram.com/therewerewires
https://iodinerecords.com
https://www.instagram.com/iodinerecordings
https://twitter.com/iodinerecords
https://iodinerecordings.bandcamp.com