Seattle death grinders, THEORIES, will kick off the New Year with a cross country stage decimation with legendary death metal veterans Decapitated and hometown death metal quintet Black Breath. The Winter takeover begins January 27th in Denver, Colorado and will trample its way through ten cities, coming to a close February 6th in Frederick, Maryland.
THEORIES w/ Decapitated, Black Breath:
1/27/2016 Marquis Theater – Denver, CO
1/28/2016 Leftys – Des Moines, IA
1/29/2016 Skyway Theatre – Minneapolis, MN
1/30/2016 Reggies – Chicago, IL
1/31/2016 Agora Ballroom – Cleveland, OH
2/01/2016 Mod Club – Toronto, ON
2/02/2016 Le Cercle – Quebec City, QC
2/03/2016 Fete Ballroom – Providence, RI
2/04/2016 Marlin Room at Webster Hall – New York, NY
2/05/2016 Voltage – Philadelphia, PA
2/06/12016 Café 611 – Frederick, MD
THEORIES – featuring within its ranks current and former members of Samothrace, Skarp, and Book Of Black Earth among others – continues to grind their way into diseased hearts with the ravaging sounds of their Regression full-length, released earlier this year via Metal Blade Records. Tracked at The Red Room and The Boiler Room with producer/engineer Derek Moree (The Sword, Pelican, Minus The Bear et al) with mixing and mastering conducted by Visceral Sound's Scott Hull (Pig Destroyer, Agoraphobic Nosebleed), the record reaped the hails of critics both stateside and abroad. Heavy Blog Is Heavy notes, "THEORIES hits so many right notes on Regression that it would be easy to presume this was their third or fourth record." Metal Injection concurs, "Regression is a honed, utterly off-the-wall experience that is a blast to listen to from both a technical standpoint, and one that's just looking to rage… Those into death metal or grindcore will find THEORIES much akin to bands like Misery Index, Cattle Decapitation and Pig Destroyer." Last Rites issues, "THEORIES is a band that knows how to let an idea form, shape it, and then kill it in lieu of sewing odd parts together without envisioning what the final form will be," further elaborating, "These are songs and grind at the same time, and that's what puts this one on a pedestal amongst not only other grind bands at the current, but also their tech-ier, death-ier labelmates. Sleep on this at your own peril," While No Clean Singing notes, "Regression is not only a superbly performed assault on your senses, but more importantly, one with more substance and memorable moments than you will find on most records within the genre." Adds Cvlt Nation simply and accurately, "Get this fucking album."
Regression is available NOW via Metal Blade Records: http://www.metalblade.com/theories.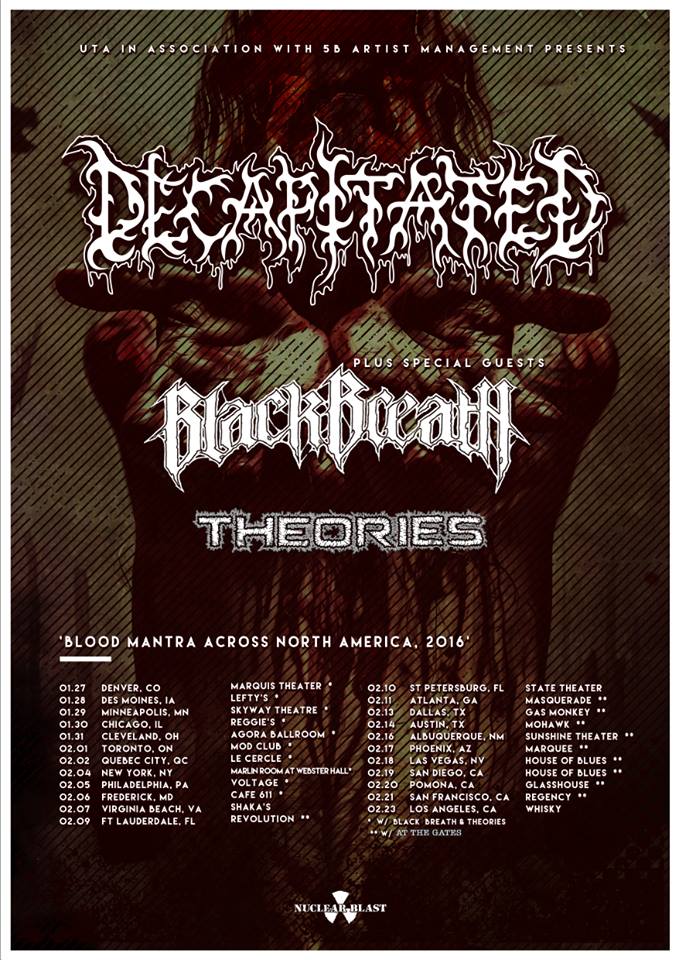 http://www.facebook.com/theoriesgrind
http://www.theoriesgrind.blogspot.com
http://www.metalblade.com/theories