Pacific Northwest death grind unit, THEORIES, is readying to kick off an epic run of live takeovers this Summer. Set to initiate on June 6th in Houston, the band will conquer the stages of over three dozen venues throughout North America alongside headlining labelmates, Goatwhore, with additional support provided by Ringworm and Black Breath.
THEORIES will be touring in support of the debilitating fruitage of their Regression full-length released earlier this Spring via Metal Blade Records. Captured at The Red Room and The Boiler Room with producer/engineer Derek Moree (The Sword, Pelican, Minus The Bear et al) with mixing and mastering conducted by Visceral Sound's Scott Hull (Pig Destroyer, Agoraphobic Nosebleed), Regression delivers ten violent psalms of antagonistic, crust-infused death grind centered on the wanton truths of a society gone terribly wrong. "Regression is a honed, utterly off-the-wall experience that is a blast to listen to from both a technical standpoint, and one that's just looking to rage," issues Metal Injection of the offering, further enthusing, "Those into death metal or grindcore will find THEORIES much akin to bands like Misery Index, Cattle Decapitation and Pig Destroyer." No Clean Singing agrees, "Regression is not only a superbly performed assault on your senses, but more importantly, one with more substance and memorable moments than you will find on most records within the genre. Highly recommended." "Get this fucking album," encourages Cvlt Nation. "Put it on constant rotation at the highest fucking decibel level you can handle, and then turn it up even higher. Blow out the windows of your house and break down a few walls. Destroy a few precious objects while cursing out your loved ones. Because without a doubt, the arrival of Regression warrants such a violent outburst and response from us all." HeavyBlogIsHeavy notes, "THEORIES hits so many right notes on Regression that it would be easy to presume this was their third or fourth record. This is a creative and energetic debut from a young band already well versed in this art. Metal Blade really does know how to pick them." Adds Invisible Oranges, "The ethos 'more is more' informs THEORIES' take on the genre: more guitar solos per song, more disturbing vocal samples, more ignorant breakdowns than the typical-blast-then-pause grind record. Scott Hull of Pig Destroyer and Agoraphobic Nosebleed mixed the album, and punched every instrument into the red. The bass sounds like a guitar and the guitar sounds like the death squeal of some huge cybernetically enhanced boar. Drummer Joe 'Grindo' Axler's snare drums sound as if they could break coconuts, and his cymbals sound like they're made of Gillette razorblades. Even by grind standards it's an intense listening experience."
Check out Regression now at iTunes or Spotify.
THEORIES w/ Ringworm:
6/06/2015 Walters – Houston, TX
w/ Goatwhore, Ringworm:
6/07/2015 Paper Tiger – San Antonio, TX
w/ Goatwhore, Ringworm, Black Breath:
6/08/2015 Inside @ Red 7 – Austin, TX
6/09/2015 Tricky Falls – El Paso, TX
6/10/2015 Launchpad – Albuquerque, NM
6/11/2015 Club Red – Mesa, AZ
6/12/2015 Soda Bar – San Diego, CA
6/13/2015 Stummer's – Fresno, CA
6/14/2015 The Roxy Theatre – West Hollywood, CA
6/15/2015 The Catalyst Atrium – Santa Cruz, CA
6/16/2015 Oakland Metro Operahouse – Oakland, CA
6/17/2015 Duffy's Hangar – Salem, OR
6/18/2015 The Crocodile – Seattle, WA
6/19/2015 The Rickshaw Theatre – Vancouver, BC
6/20/2015 Level Upstairs – Kelowna, BC
6/21/2015 Dickens Pub – Calgary, AB
6/22/2015 The Starlite – Edmonton, AB
6/23/2015 O'Brian's Event Centre – Saskatoon, SK
6/24/2015 The Exchange – Regina, SK
6/25/2015 The Zoo Cabaret – Winnipeg, MB
6/26/2015 Triple Rock Social Club – Minneapolis, MN
6/27/2015 Reggie's Rock Club – Chicago, IL
6/28/2015 Majestic Jr. – Detroit, MI
6/29/2015 Now That's Class – Cleveland, OH
6/30/2015 The Altar Bar – Pittsburgh, PA
7/01/2015 The Lost Horizon – Syracuse, NY
7/02/2015 Hard Luck Bar – Toronto, ON
7/03/2015 Les Foufounes Electriques – Montreal, QC
7/04/2015 Mavericks – Ottawa, ON
7/05/2015 Brighton Music Hall – Allston, MA
7/06/2015 Saint Vitus Bar – Brooklyn, NY
7/08/2015 Underground Arts: Black Box – Philadelphia, PA
7/09/2015 Rock & Roll Hotel – Washington, D.C.
7/11/2015 New Brookland Tavern – West Columbia, SC
7/12/2015 The Earl – Atlanta, GA
w/ Black Breath:
7/13/2015 Jackpot – Lawrence, KS
7/14/2015 Moon Room – Denver, CO
7/15/2015 Kilby Courty – Salt Lake City, UT
7/16/2015 The Shredder, Boise, ID
THEORIES
features within their ranks current and former members of Samothrace, Skarp, and Book Of Black Earth among others.
Regression
is available now via Metal Blade Records:
http://www.metalblade.com/theories
.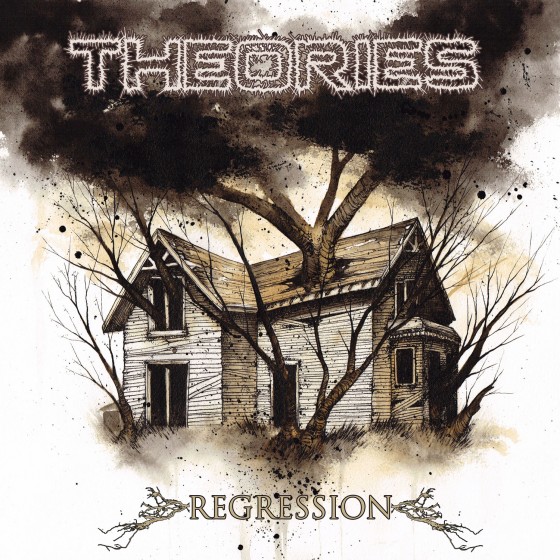 http://www.facebook.com/theoriesgrind
http://www.theoriesgrind.blogspot.com
http://www.metalblade.com/theories