[photo by Robert Fortenberry]
Following the late Springtime release of their debut full-length album, Karma Sown, Washington DC-area modern progressive trio IRIS DIVINE has confirmed a mid-Summer four-city tour through the Northeastern US. Touring alongside their friends in MindMaze, the outfit will begin the trek in Worcester, Massachusetts on July 30th, followed by show in New York City and Baltimore over the next two nights, before the tour closes down in Pittsburgh, Pennsylvania on August 2nd.
IRIS DIVINE Summer Tour w/ MindMaze:
7/30/2015 Ralph's Diner – Worcester, MA
7/31/2015 Gussy's – New York, NY
8/01/2015 Club Orpheus – Baltimore, MD
8/02/2015 Howler's – Pittsburgh, PA
On March 31st, IRIS DIVINE's proud debut Karma Sown saw release via New Jersey-based Sensory Records, the album met by widespread critical acclaim from all levels of the diehard metal media. Though a mere trio, vocalist/guitarist Navid Rashid, drummer/programmer Kris Combs and bassist Brian Dobbs unload waves of dynamic, top-tier progressive metal with dark, crunching undertones and intense storylines. The record was produced by the band, engineered by Drew Mazurek and Farhad Hossain, mixed by Drew Mazurek, and mastered by Brian J. Anthony, and its cover art conceived by Kris Combs and executed by Visual Decay.
Karma Sown is playing alongside an interview with the band via BraveWords RIGHT HERE.
Physical orders for Karma Sown can be placed via Laser's Edge HERE and digital HERE.
Nova Metal Review praised IRIS DIVINE's debut in an early review with a perfect review: "Most often I would pick a couple of tracks as favorites, but in this case that is a pointless exercise. All the tracks are standout and I can play them in any order and still walk away with a smile on my face… it is a no-brainer to score this a straight 10/10." Hardrock Haven championed the record with an early 9/10 review, including, "when you hear them you're simply stunned that they're not signed to a major label and making a huge impact on the scene. They're immensely talented, not content to stay within the genre lines, and have released an album that can go head to head with any of the 'name' prog metal albums this year." MetalSucks excitedly previewed the album issuing, "If bands like King's X, Porcupine Tree and to a slightly lesser extent Dream Theater get you all hot n' bothered you're absolutely gonna LOVE IRIS DIVINE, as I do… The most impressive thing to me is that their ear for songwriting is uncanny: their songs are just so fucking immediate, but without being corny or heavy-handed about it, and though the members are all clearly phenomenal musicians they don't beat you over the head with that fact." In an 8.5/10 review, Dead Rhetoric wrote, "Not very often in the progressive/alternative metal wrold do you find a set of musicians subscribe to a less is more membership philosophy. We all know about the power trio groups like King's X and Rush through the years, but normally the heavier acts require four to six-piece lineups to create their sonic elements the meld together. Northern Virginia based IRIS DIVINE are one of the rare breed three-piece acts that on their new album Karma Sown fill the aural space as if there were twin doubles amidst the eight songs." We Love Metal's glowing 9/10 review of the album offered in part, "There isn't a single song, or even a moment, that isn't interesting. The more I listen to Karma Sown, the more I find, from incredible riffs, tremendous instrumental interplay, superbly executed vocal harmonies, and some of the best prog songwriting I've heard in a while… The band's use of syncopation is a thread that runs throughout Karma Sown, whether in the riffs or the drumming. It isn't necessarily something never heard before, but IRIS DIVINE's use is well done and is guaranteed to keep your attention. Their mastery of the odd time signature is killer."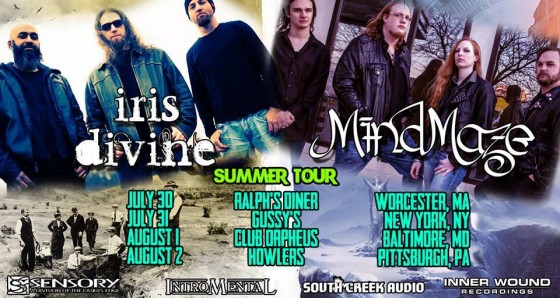 http://www.irisdivine.bandcamp.com
http://www.facebook.com/irisdivine
http://twitter.com/irisdivineband
http://www.lasersedgegroup.com/labels/sensory-records
http://www.facebook.com/TheLasersEdge
http://twitter.com/thelasersedge