Today,Pacific Northwest death grind miscreants, THEORIES, offer up the molten fruitage of their impending Regression full-length in its scathing entirety via Invisible Oranges.
Captured at The Red Room and The Boiler Room with producer/engineer Derek Moree (The Sword, Pelican, Minus The Bear et al) with mixing and mastering conducted by Visceral Sound's Scott Hull (Pig Destroyer, Agoraphobic Nosebleed), Regression flaunts ten vehement tracks of jagged, confrontational, crust-infused death grind centered on the wanton truths of social discontent, economic uncertainty, environmental catastrophes, and the inevitable cycle of decay.
Elaborates drummer Joe Axler of THEORIES' upcoming release, "We are very fucking stoked to unleash this record onto all of y'all and feel like at this time, in 2015, with a lot of metal being released in genres that we enjoy but don't play, we wanted to make sure to make as pissed off a record as we could. Due to what seems like a lack of grind and death grind bands around right now, we hope this will make its mark and bring something to the table in the genre/scene we fit into."
Adds Invisible Oranges, "The ethos 'more is more' informs THEORIES' take on the genre: more guitar solos per song, more disturbing vocal samples, more ignorant breakdowns than the typical-blast-then-pause grind record. Scott Hull of Pig Destroyer and Agoraphobic Nosebleed mixed the album, and punched every instrument into the red. The bass sounds like a guitar and the guitar sounds like the death squeal of some huge cybernetically enhanced boar. Drummer Joe 'Grindo' Axler's snare drums sound as if they could break coconuts, and his cymbals sound like they're made of Gillette razorblades. Even by grind standards it's an intense listening experience."
Witness Regression in all its maniacal glory at THIS LOCATION.
In other THEORIES-related developments, on Saturday March 21st, 2015, the band will be hosting KISW 99.9 Metal Shop. Stream it live at THIS LOCATION from 10:00pm – 2:00am PST. On Tuesday, March 24th,, the day Regression drops, Axler and bassist Kush Karimi will be hosting a DJ night at Linda's Tavern 9:00pm till 2:00am PST in Seattle where they'll be spinning the record in its entirety as well as other metal and non-metal tunes. Additionally, THEORIES is honored to level the stage of the Showbox in Seattle March 31st as area openers for the mighty Decibel Tour. Featuring At The Gates, Converge, Pallbearer and Vallenfyre, the performance will serve as the band's CD release show.
The THEORIES takeover continues on April 18th (Record Store Day) at Silver Platters in Seattle where the band will take part in a special in-store performance at 2:00pm PST, followed by a meet and greet and record signing. The following month, THEORIES will be headlining the Seven One Grind Fest in Colorado Springs with Capitalist Casualties, Weekend Nachos, Samothrace and more with further onstage debauchery to be announced in the coming weeks.
THEORIES:
3/24/2015 Linda's Tavern – Seattle, WA *Regression Listening Party
3/31/2015 The Showbox at the Market – Seattle, WA * Decibel Tour w/ At The Gates, Converge, Pallbearer, Vallenfyre [tickets]
4/18/2015 Silver Platters – Seattle, WA in-store performance
5/29/3015 Seven One Grind Fest – Colorado Springs, CO w/ Capitalist Casualties, Weekend Nachos, Samothrace more [info]
THEORIES features within their ranks current and former members of Samothrace, Skarp, and Book Of Black Earth among others. Regression will be available for public ingestion on March 24th, 2015 via Metal Blade Records. Preorder bundles are currently available at: http://www.metalblade.com/theories.
"Having a sound that is best described as spastic death grind, their attack is focused and tight and always relentless. They echo aspects of early Dropdead, Siege, Terrorizer, and Repulsion, but still keeping the music inherently modern and, for all its illusory simplicity, surprisingly sophisticated." – No Clean Singing
"THEORIES takes the innovations of bands like Misery Index and Kill The Client and add a little Northwestern crust flavor…" – Noisey
"If you are looking for something that's good and angry and bound to leave you feeling miserable and irritated when all is said and done, THEORIES could be your band." – Meat Mead Metal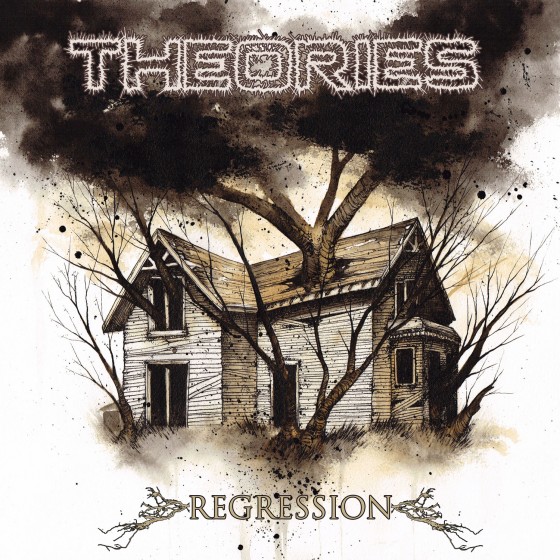 http://www.facebook.com/theoriesgrind
http://www.theoriesgrind.blogspot.com
http://www.metalblade.com/theories