[photo by Gretchen Heinel]
New York City-area dark ambient/industrial act, THEOLOGIAN, is in the process of constructing multiple new recordings which will see release over the coming months in the form of several new titles.
THEOLOGIAN is wrapping up work on the expansive Dregs, which initially was to bear only a half-hour of music, and has since expanded. The "EP" now amassing a demoralizing eighty minutes of new material, with 9 new molten tracks, showing the development of the project's current lineup, with the main songs created by architect Lee Bartow with Daniel Suffering (Whorid, Slavernij) and Dave Brenner (Militia Men, Heidnik), and with additional offerings from BJ Allen (Full Scale Riot) and Gretchen Heinel.
Black Fire Theology is a collaborative release with THEOLOGIAN initiated by Russell McEwan of Glaswegian doom act BLACK SUN, Drum Major of Black Sun Drum Korps. Vocal tracks and additional source material was delivered to Theologian Prime, who excavated a bedrock of heavy-duty noise-synths and distorted rhythms. The release culminates in an operatic, dubbed-out interpretation of Black Sun Drum Korps' production, "Invokation Of Lady Macbeth," and includes a mini-poster with artwork by McEwan.
Both Dregs and Black Fire Theology will be delivered on CDR and digital formats through Annihilvs Power Electronix on December 30th.
An unmastered preview version of Dregs' "Just Another Dose" and preorders are live RIGHT HERE, and an in-progress version of "Black Fire – Black Fire Theology" and preorders for Black Fire Theology HERE.
THEOLOGIAN continues forging the upcoming Contrapasso full-length which is writhing into one of the act's most gnarled and haunting collections of audio purgatory yet, the LP to host a wide array of notable guest musicians. The record will be released in Spring of 2016, its label destination and final details to be announced soon.
With significant tour planning underway for next year, THEOLOGIAN continues to book new shows regionally, the band to perform at The Omega Order in Brooklyn this Friday, December 4th with Whorid, Spreaders, Wolverine Carcass, Tombstom. And a newly-booked show on December 30th, presented by Apex and Earsplit PR, will see the band taking part in Trans Pecos' month-long two-year anniversary celebration, the show also including Sire, TO.M.B. and Pyrrhon.
2016 will see THEOLOGIAN touring stateside several times, including an East Coast run with Gnaw Their Tongues in October, West Coast tour dates, several festival appearances, and likely shows in external territories including Canada and Europe. The band is also preparing to announce additional new recordings for next year including a soundtrack, a new collaborative LP with a band to be announced and much more.
THEOLOGIAN Live:
12/04/2015 The Omega Order – Brooklyn, NY w/ Whorid, Spreaders, Wolverine Carcass, Tombstom [info]
12/30/2015 Trans Pecos – Queens, NY @ The Future w/ Pyrrhon, T.O.M.B. Sire [info]
3/05/2016 The Depot – Baltimore, MD @ Altered States w/ T.O.M.B., Snakefeast, Darsombra, The Owls Are Not What They Seem [info]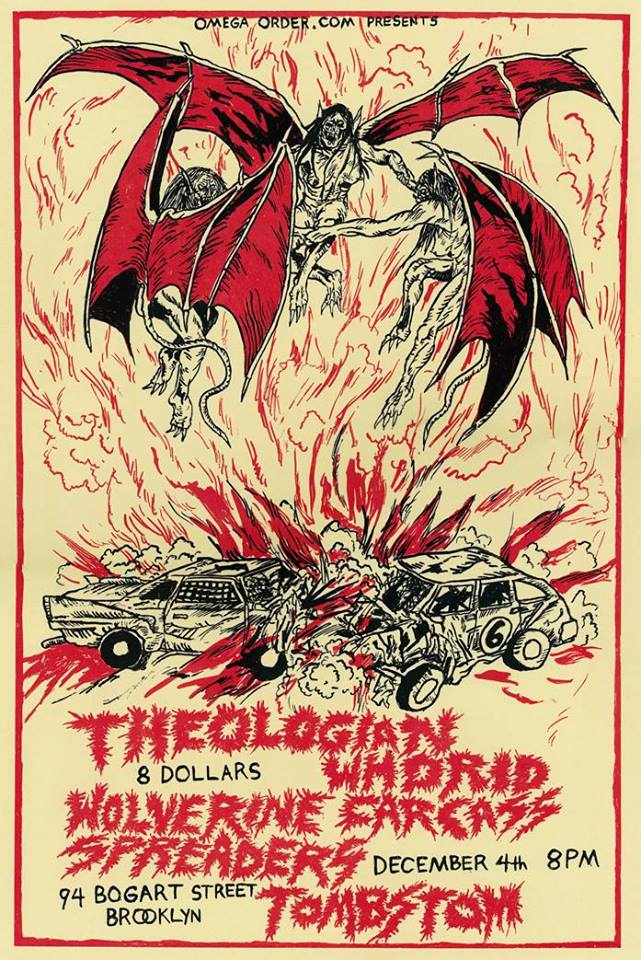 http://www.facebook.com/theologianprime
http://www.facebook.com/Annihilvs
http://www.annihilvs.net
http://www.soundcloud.com/annihilvs
http://www.redscrollrecords.com
http://www.crucialblast.net
http://www.facebook.com/malignantrecords