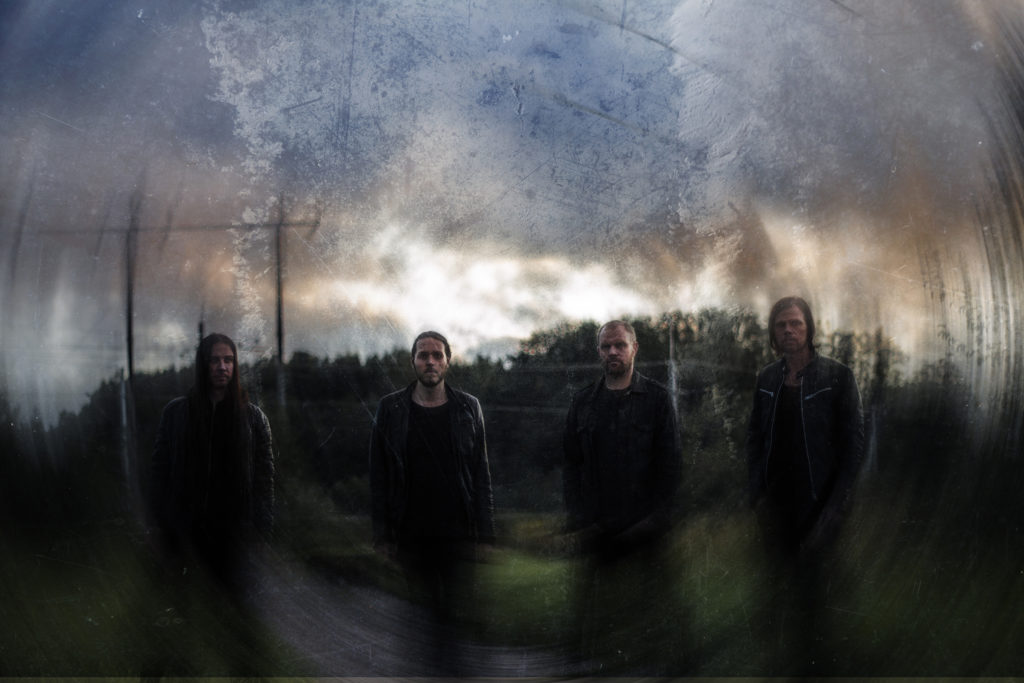 Pale Season, the second album from Sweden's melancholic progressive act THENIGHTTIMEPROJECT is out now through Debemur Morti Productions. The band features brothers Fredrik and Mattias Norrman of Katatonia and October Tide, as well as Alexander Backlund and Jonas Sköld from Letters From The Colony.
Since its release, Pale Season has seen its share of rave reviews from metal, prog, and mainstream media outlets around the globe. In recent days, Fred Norrman made a Top 30 Metal Albums list, including a small comment on each album. See the feature posted HERE. Also see the band's epic video for "Final Light" HERE.
THENIGHTTIMEPROJECT's Pale Season is out now worldwide through Debemur Morti Productions, available on CD, LP, and all digital platforms. Find the album at the label's North American webshop HERE, the Euro shop HERE, and Bandcamp HERE.
THENIGHTTIMEPROJECT has also just secured a deal with Artery Global booking agency and is working on new tour plans. The band has several performances confirmed for the months ahead, including a show in Sweden with Horndal in September, and a set at Doom Over Kiev alongside the likes of Tiamat, Antimatter, October Tide, and Monolithe in October. Watch for additional festival and tour dates to be announced shortly.
THENIGHTTIMEPROJECT Live:
9/07/2019 Kulturgaraget – Avesta, SE w/ Horndal [info]
10/12-13/2019 Doom Over Kiev – Kiev, UA [info]
The title of THENIGHTTIMEPROJECT's second album, Pale Season does not refer to the eight months where the weather in Sweden is a signature grey. Instead, it refers to those less-colorful patches of memory – years that fly by without anything spectacular happening, which pale in comparison to the vividness of one's childhood or the early days of romance. This, in other words, is an album for all those moments lost in between the extremes of the emotional spectrum. Elements of Porcupine Tree, Opeth, Anathema, Katatonia, and A Perfect Circle combine to create a record that is sublime in every way. A paean to melancholia, Pale Season is also not without its moments of physical and emotional heft and introduces the band to the international stage. The album was recorded at Valley Sound Studio/Nailvillage, mixed by guitarist Alexander Backlund at Nailvillage, mastered by Tony Lindgren at Fascination Street Studios, and completed with cover art by Denis Forkas and design by Kadriel Betsen.
"…Mattias and Fredrick continue their career-long examination of melancholic heavy rock with THENIGHTTIMEPROJECT… guitarist and vocalist Alexander Backlund proves himself every bit the vocal equal to the suite of spectacular men and women who have sung with the Norrman brothers. That said, the penultimate song, 'Signals In The Sky,' features a guest spot by Heike Langhans of Draconian and is a particular highlight of this elegiac journey." – Consequence Of Sound
"Dreamy and dark! Pale Season exudes calm!" – Metal Hammer
"a slow and emotional album. Pale Season reminds me of a sadder Porcupine Tree album, which is a feat that seemed impossible." – Metal Injection
"Beautiful, melancholic melodies meet fragile arrangements! Great album!" – Rock Hard
"What if contemporary bands in the genre crafted radio hits like their forefathers in Yes? Anthemic without being stupid, smart without being pretentious, THENIGHTTIMEPROJECT provides an exhilarating listen…" – PopMatters
"An emotional masterpiece! 9/10" – Nocturnalhall
"This can easily compete with Katatonia! 9/10" – Demonic-Night
https://www.facebook.com/thenighttimeproject
http://www.debemur-morti.com
http://www.facebook.com/debemurmorti
http://www.instagram.com/debemurmorti
http://dmp666.bandcamp.com