This Friday, Los Angeles technical death metal assassins THE ZENITH PASSAGE will drop their long-anticipated Solipsist debut upon the masses.
The forty-minute offering investigates the concept of solipsism, a philosophical theory that the self is all that can be known to exist, anything else outside of one's own mind is uncertain. THE ZENITH PASSAGE, which features within its ranks current and former members of The Faceless, Fallujah and All Shall Perish, builds upon this foundation, expanding into themes of nonexistence and a computer-generated fictional reality experienced by all of humanity. Solipsist demands that listeners join the band on their voyage to explore the unsettlingly complex and improbable world they've uncovered in this bold experiment, this gut-wrenching visceral transmission of disturbing intellectual revelation.
Hear Solipsist in its stunning entirety at THIS LOCATION where you'll also find various preorder bundles.
In a recent 8/10 review of Solipsist, Decibel Magazine observes, "What sets THE ZENITH PASSAGE apart from say, The Faceless… is the way they glide in and out of their voluptuous moments rather than being all fucking abrupt. While the band does apparently draw inspiration for their attacks from a handful of antecedents — most notably Opeth and Yes — they're not into repeating themselves, either." In a 9/10 score, Dead Rhetoric notes, "The type of album that will get modern death metal fans drooling, Solipsist captures the spirit of genre to a tee. Between the balance of tech, atmosphere, and melody, THE ZENITH PASSAGE are doing some exceptional stuff. The year's first must-have tech-metal release." Adds Wonderbox Metal, "The level of musicianship is absurdly high. With so many complex guitars parts, twisting melodies and outright mind-ripping axe-shredding, Solipsist doesn't leave the listener wanting in the technicality department. That the mayhem is occasionally punctuated by more atmospheric and relaxing moments just serves to make the extremity all the more powerful."
In conjunction with the release of Solipsist, THE ZENITH PASSAGE will play a short run of record releases shows with additional live assaults to be announced in the coming weeks.
THE ZENITH PASSAGE:
4/14/2016 The Gate – Bakersfield, CA
4/16/2016 Pub Rock – Scottsdale, AZ
4/17/2016 P.B.W.L.A. – Pomona, CA
4/24/2016 Red House – Walnut Creek, CA
Solipsist was engineered, mixed and mastered by Zack Ohren (Animosity, Suffocation, All Shall Perish et al) at Castle Ultimate Productions with additional engineering by McKinney and Michael Keene (The Faceless) at Keene Machine Studios. Solipsist includes a guest vocal appearance by Fallujah's Alex Hofmann, a guitar solo by Wes Hauch (ex-The Faceless) who also co-wrote a portion of seventh cut, "Hypnagogia," a synth solo by Vikram Shankar and cover art by Ken Sarafin (Skinless, The Kennedy Veil, Archspire et al).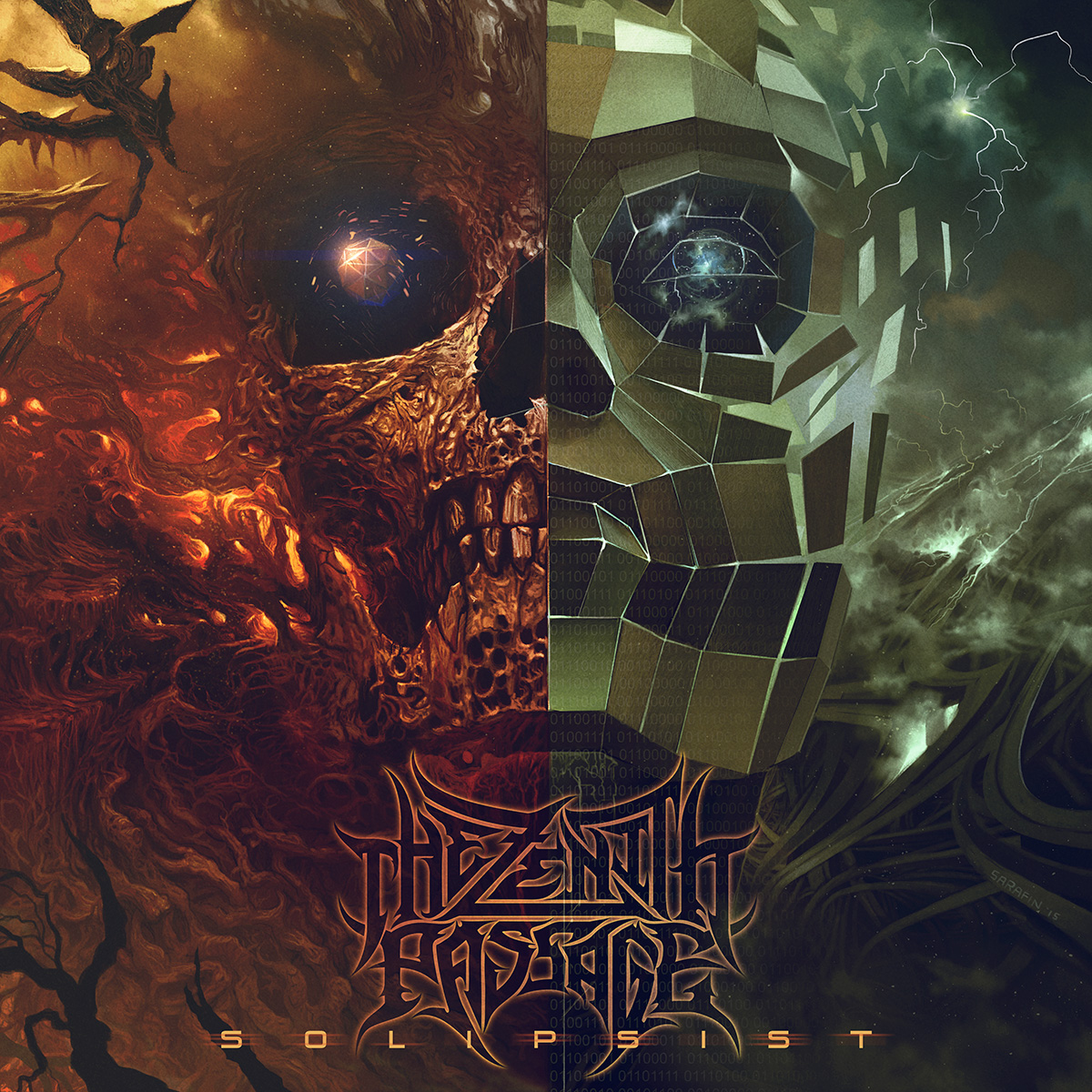 For review links and interview requests contact liz@earsplitcompound.com.
http://www.facebook.com/TheZenithPassage
http://www.uniqueleader.com
http://www.facebook.com/UniqueLeaderRecords