[photo by Gene Schilling]
As Pitch Black Records puts the final plans in place for this week's release of GYPSY CHIEF GOLIATH's third full-length Citizens Of Nowhere, the entire album drops on the public early through an exclusive stream at Revolver Magazine.
Ontario's GYPSY CHIEF GOLIATH thunders with their own signature brand of triple-guitar-amplified, harmonica-infused. fist-pumping, stoner/fuzz metal, which is at its prime thus far on their third full-length album. Sea Of Tranquility champions the new record, "Boasting a three-pronged guitar attack, Citizens Of Nowhere packs some serious thunder throughout… doomy, bluesy riff monsters with a healthy amount of groove."
And with a GCG branded limited run of craft beer coming out soon titled Black Samur-IPA the wall of riffs can be tasted as well as heard! GYPSY CHIEF GOLIATH is a very real contender for Canada's Underground throne in the genre of stoner metal, given the band's lineage and who they've worked with in the past.
GYPSY CHIEF GOLIATH's entire Citizens Of Nowhere is now playing exclusively at Revolver Magazine at THIS LOCATION.
An in-depth gear feature with GCG's Al Yeti Bones also just posted at PureGrainAudio right HERE.
Pitch Black Records will release Citizens Of Nowhere this Friday, April 15th on CD and digital download. Preorders are live HERE and HERE.
Coinciding with the album becoming officially available, GYPSY CHIEF GOLIATH will hammer their hometown region with a pair of shows this weekend, playing Windsor on Friday, April 15th and Waterloo on Saturday the 16th. Additional live dates are to be expected in the coming weeks.
GYPSY CHIEF GOLIATH Live:
4/15/2016 Dominion House – Windsor, ON
4/16/2016 Maxwell's Music Hall – Waterloo, ON
Proudly (and rightly so) declaring their affection for that good old warm sound, GYPSY CHIEF GOLIATH went completely analogue on Citizens Of Nowhere, recording on reel to reel tape at Sharktank Studios in Windsor, Ontario. The follow-up to their New Machines Of The Night (Pitch Black Records, 2013) which received numerous praises worldwide, including the #4 spot in Revolver Magazine's online readers poll for album of the week as well as charting #15 on the CMJ Loud Charts, Citizens Of Nowhere is an album that truly "reels" the listener in right from the start and the band's unique style of bluesy stoner rock/metal, which includes three guitars and a harmonica, is set to captivate audiences once again. The album boasts nearly an hour of music including a cover of the Sabbath classic "Killing Yourself To Live" as a CD bonus.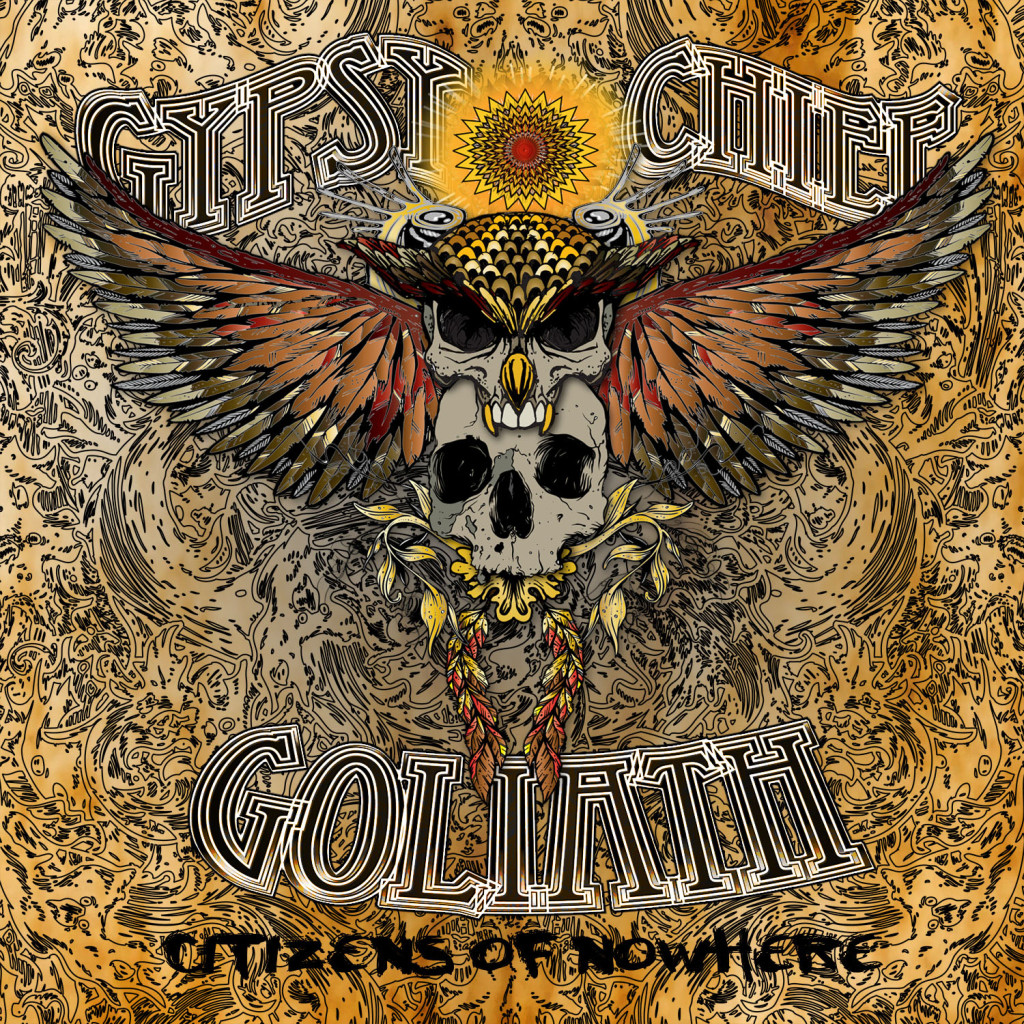 http://www.gypsychief.com
http://www.facebook.com/GypsyChiefGoliath
http://www.pitchblackrecords.com
http://pitchblackrecords.bandcamp.com