photos by Bill Kaiser
New York City's THE THIRD KIND – comprised of current and former members of All Out War, Bastard Clan, Vise Massacre, Awkward Thought, and more – will release their debut LP, Man vs Earth, this Friday. As its assault on the public looms, Toilet Ov Hell is now hosting an advance stream of the entire album, and the band has scheduled a livestream performance from NYC for the day of its release.
Engineered by THE THIRD KIND's Taras Apuzzo at the band's home studio at Otter House Studios in Long Island City, Man vs Earth was mastered by Dan Emery at Black Matter Mastering (Kool Keith, Krieg, Dwarves) and completed with cover art by Richard Muller and Frankie Accordi, and layout/design by Apuzzo.
The band offers, "Man vs Earth comes from a proletariat perspective. This music is built to inspire action, alive and fierce like the sun. Each song is written as a fable generally relatable to current events coupled with a reflection of the past. To ride it to win."
Toilet Ov Hell writes, "…THE THIRD KIND are ready to throw down against all comers with their new album Man vs Earth. While some bands look to the stars and get all googly-eyed thinking about little green men, THE THIRD KIND turn their focus inwards to humanity and don't like what they see."
Stream THE THIRD KIND's Man vs Earth LP at the Toilet Ov Hell portal RIGHT HERE.
THE THIRD KIND will self-release Man vs Earth on black vinyl LP and all digital platforms this Friday. Find preorders HERE.
Friday will also see THE THIRD KIND launching their first livestream performance in conjunction with the LP's release. With audio and video for the event handled by Andrew Kambanis, the set will broadcast from the band's Otterhouse Studios.
Tune in this Friday, June 26th from 8:00 to 8:30pm EST at THE THIRD KIND's Youtube channel HERE.
Also see the official video for the album's title track at The Footlight Bar in Queens, New York, the first week of March 2020, just before quarantine was enforced, HERE.
Formed in 2015, THE THIRD KIND deploys an energetic and dynamic style of hardcore/punk-infused street thrash that oozes with NYC attitude. The band's theme embodies lyrical and thematic content employing sci-fi analogies in relation to human malfunction and idiosyncrasies without a political agenda; the finger is pointed at humanity itself. The current lineup enlists drummer Brian Shonen (Bastard Clan, ex-Awkward Thought, On The Offense, Run Like Hell), bassist/vocalist Richard Muller (Vise Massacre, Great Planes, The Last Crime), and guitarist Taras Apuzzo (All Out War, Bastard Clan, ex-Strap Hangers) and Mike Gordon (Big Gunz, Shiro And The Raw Dogs).
THE THIRD KIND delivers the follow-up to their 2018-released eponymous debut EP with Man vs Earth. Having re-forged the alloy of their metal and taken their destruction to the next level, their proper debut album Man vs Earth drops eight tracks in under twenty-three minutes, where bulldozing thrash metal assaults and groove-heavy hardcore hooks that draw the listener into the science-fiction fantasies the lyrics depict.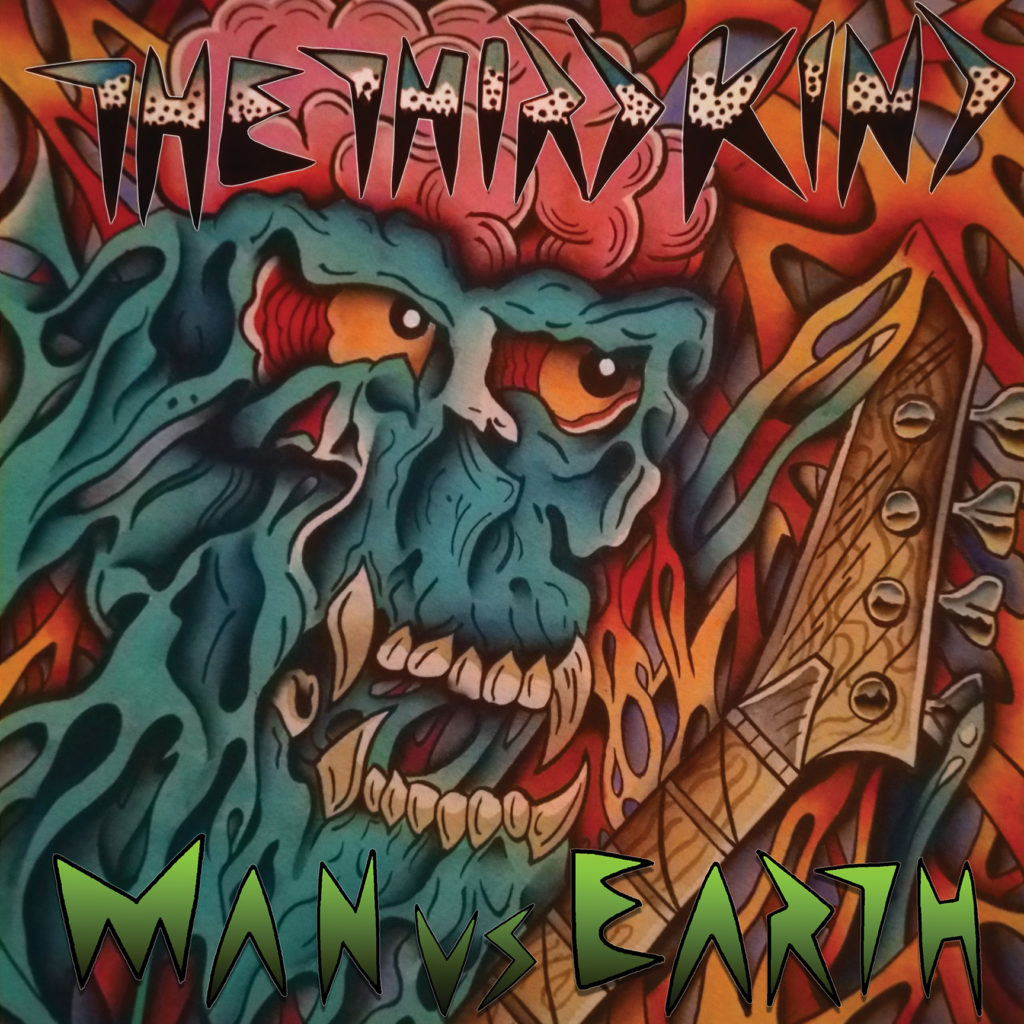 https://www.facebook.com/TheThirdKindofficial
https://thethirdkindofficial.bandcamp.com
https://www.instagram.com/the_third_kind
https://www.youtube.com/channel/UC7onxYGU3RSuSyJDY17QolQ