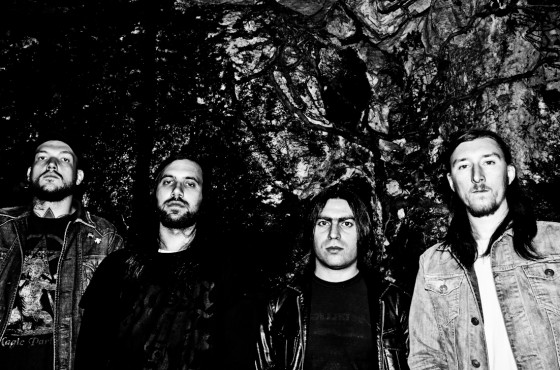 This week, in celebration of its recent release via Southern Lord, the ninjas at Cvlt Nation have graciously hosted a stream of the entire fourth album from THE SECRET.
The incredibly caustic and unfathomably decimating Agnus Dei is the most lethal weapon in this unique Italian attack squad's broadening arsenal, coalescing the most destructive elements of crust, black metal and hardcore with the force of tectonic plates, constructed of monolithic riffs which take the listener through a hallucinated trip towards a hazy tomorrow, recorded by Kurt Ballou (High on Fire, Converge, Black Breath) at Godcity Studios, as was their previous album, Solve Et Coagula.
Oppress your senses and succumb to the intolerant justice THE SECRET have served up for you via Cvlt Nation RIGHT HERE.
This month THE SECRET will tour Europe with Converge, Touché Amoré and A Storm of Light, with much more tour action to be announced into the New Year.
"…fast, furious, and fucking hostile… Antireligious sentiment is no foreign concept to either black metal, death metal, grind, or crust punk, and it's satisfying to see that a band as invested in perfecting and perverting all four sounds is just as serious about doing the Devil's work." – Pitchfork
The Secret do share a little of the Sunlight affinity, but they've got a straightahead black metal fury not seen in their peers. This lends an mysterious quality to their music that makes for an excellent bridge between the different eras of Southern Lord. 4/5″ – MetalSucks
"Definitely one of the more interesting releases to include a hybrid version of black metal, The Secret's Agnus Dei should, with its crusty crushingness and black bleakness, appeal to more adventurous fans of both a black metal and crust punk. 5/5" – Sea of Tranquility
"…this album really rips me a new one. 8/10" – American Aftermath
"…it's stacked with riffs and pounds aimed at inducing not only neck damage from spontaneous head banging but chest injury from the continuous waves of beats that pummel you through each of the tracks. 8.5/10" – This Is Not A Scene
"Not a traditional hardcore album, though The Secret often show their roots, Agnus Dei is the result of taking a fairly simple joyride and jacking it up into a white-knuckle death trip." – Treble
"The result of something cataclysmic, with all its destruction, atrocity, and bleakness, is often far worse than the cataclysm itself. This is where the quartet now stands musically. 4.5/5" – Sputnik Music
THE SECRET European Tour w/ Converge, Touché Amoré, A Storm of Light:
11/23/2012 Essigfabrik – Koln, Germany
11/24/2012 Magasin 4 – Brussels, Belgium
11/25/2012 Koko – London, UK
11/26/2012 02 Academy 2 – Birmingham, UK
11/27/2012 Arts Centre – Colchester, UK
11/28/2012 Classic Grand – Glascow, Scotland
11/29/2012 Academy 2 – Manchester, UK
11/30/2012 The Button Factory – Dublin, Ireland
12/01/2012 Concorde 2 – Brighton, UK
12/02/2012 L'Astrolabe – Orleans, France
12/03/2012 Tivoli – Utrecht, Holland
12/04/2012 Fabrik – Hamburg, Germany
12/05/2012 Brew House – Gothenburg, Sweden
12/06/2012 Rockefeller – Oslo, Norway
12/07/2012 Strand – Stockholm, Sweden
12/09/2012 Nosturi – Helsinki, Finland
12/11/2012 Loppen – Copenhagen, Denmark
12/12/2012 SO36 – Berlin, Germany
12/13/2012 Conne Island – Leipzig, Germany
12/14/2012 Futurm – Prague, Czech Republic
12/15/2012 Kantine – Augsburg, Germany
12/16/2012 Durer Kert – Budapest, Hungary
12/17/2012 Mochvara – Zagreb, Croatia
12/18/2012 Arena – Wien, Austria
12/19/2012 Factory – Milan, Italy
12/20/2012 Traffic Club – Rome, Italy
12/21/2012 Kiff – Aarau, Switzerland
12/22/2012 Substage – Karlsruhe, Germany
http://weknowyoursecret.blogspot.com
https://www.facebook.com/pages/The-Secret/95794903277
http://www.southernlord.com
https://www.facebook.com/SLadmin
http://twitter.com/twatterlord