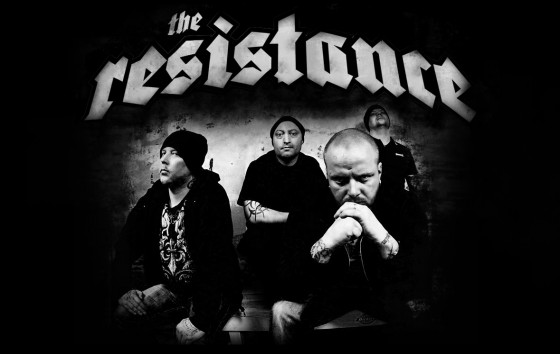 Today GunShyAssassin kicks off your week in style with an exclusive track premiere of "To The Death" from Swedish melodic death metal assault, THE RESISTANCE. Featuring within their ranks In Flames' founder Jesper Strömblad on guitar alongside second guitarist Glenn Ljungström (ex-In Flames), vocalist Marco Aro (ex-The Haunted, Facedown) and drummer Chris Barkensjö (ex-Kaamos), the tracks comes courtesy of the band's forthcoming, fittingly titled Scars full-length. An old-school death metal flashback set to detonate on May 14th in North America via Armoury Records, the scathing 12-track recording is the follow-up to the last year's Rise From Treason teaser EP, which Metal Underground dubbed "a completely unexpected success that's a great start to 2013," in a 4/5 review adding that, "Strömblad's signature soloing style is still intact, providing a contrast to the otherwise pounding assault. It somehow still fits the music and is the lingering ghost of In Flames."
Witness "To The Death" at THIS LOCATION.
"[Scars] is just awesome death metal," notes Strömblad, the main musical force behind the Stockholm/Gothenburg based squad. "We're just four guys who made up their mind and recorded the music we wanted play for a long time," the band further elaborates in a collective statement. "It turned out that the good old violent sound of Swedish death metal put that certain smile to the faces, the one you see when something special happens. Blended with the raw energy of hardcore, the result was just a vile bastard waiting to tear ears apart, break your neck and make you have a good time."
CD, vinyl and digital versions of Scars will be available via Eagle Rock imprint Armoury Records, in conjunction with Hamburg, Germany-based earMUSIC. Additionally, you can check out the band's lyric video for "The Serpent King" as well as an exclusive interview with Aro and Barkensjö HERE.
http://www.facebook.com/theresistanceswe
http://www.eaglerockent.com