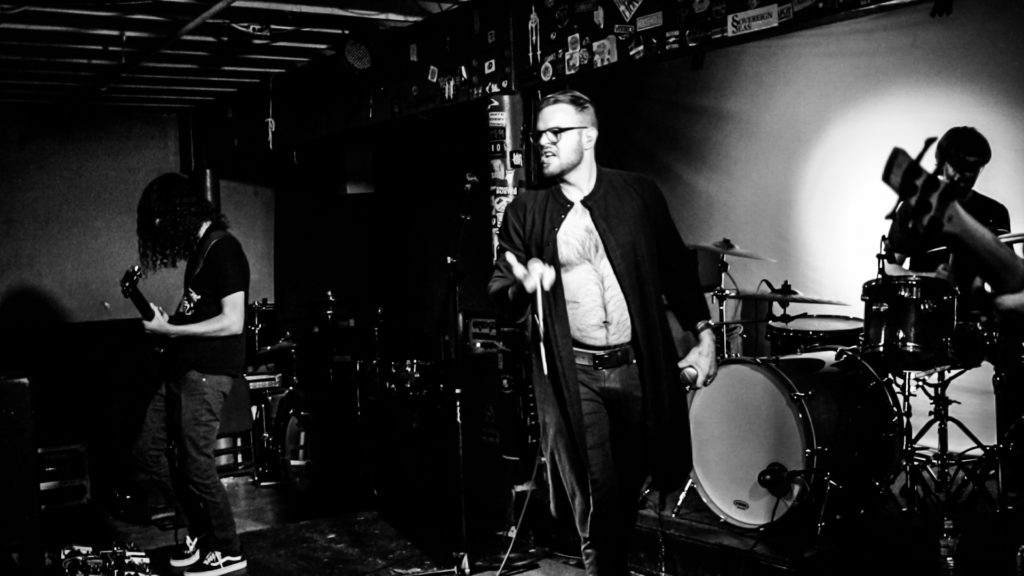 Arizona grunge/metal eccentrics THE OXFORD COMA have issued a previously-unreleased video for the title track to their Steve Albini-produced 2017-released second LP, Everything Out Of Tune.
THE OXFORD COMA's Everything Out Of Tune delivers a spectrum of effects-drenched tones, teleporting the listener into an altered state of listening. Created over a two-year cycle throughout which the entire band lineup was completely restructured, Everything Out Of Tune is undeniably an album which takes the band's unique sonics to the next level. The band recorded with Steve Albini at Electrical Audio in Chicago, utilizing the famous producer's talent and vast arsenal of equipment and instruments, including the same guitars and amps as some of their most influential bands like Nirvana and many others have recorded with. Mixed by Albini and mastered by John Golden at Golden Mastering, the album features guitar from Intronaut's Sacha Dunable on the lead track, "Trauma (Maybe I'm Forgetting Something."
The new video was filmed at a show THE OXFORD COMA played supporting Big Business in August 2018 and edited by the band's founding guitarist/vocalist Billy Tegethoff, who offers, "The song is the title track from the last album Everything Out Of Tune. It's called 'Everything IS Out of Tune (My Only Victories are Others' Failures)' because I'm annoying. It's basically me whining about how the success goes to the most connected. Networking is a skill I've never been great at, so I've always been envious of those to whom it comes naturally. The video is coming out now because we have had a great response to a promo I ran on Facebook with part of this song in it. It got nearly a million views and provided us with a lot of good information on where we need to be touring (UK, incoming)."
See THE OXFORD COMA's video for "Everything IS Out of Tune (My Only Victories are Others' Failures)" at THIS LOCATION.
Everything Out Of Tune is out now on limited edition colored vinyl LP; find options through the band HERE and via Nefarious Industries, who will release the band's upcoming fourth LP HERE, The album is also available digitally as an "extended release" where fans receive the album for free through a nine-day email sequence. It includes one song per day, and every song comes with a video, background info, lyrics, and relevant stories. People can sign up at https://album.theoxfordcoma.com.
THE OXFORD COMA will announce new stateside as well as UK tour dates for the second half of the year in the weeks ahead with additional new videos to be expected. Updates on the band's next album will also be issued later in the year.
http://www.theoxfordcoma.com
http://theoxfordcoma.bandcamp.com
http://www.facebook.com/theoxfordcoma
http://twitter.com/theoxfordcoma
http://instagram.com/theoxfordcoma
http://nefariousindustries.com
http://www.facebook.com/NefariousIndustries
http://www.twitter.com/NefariousInd
https://www.instagram.com/nefarious_industries