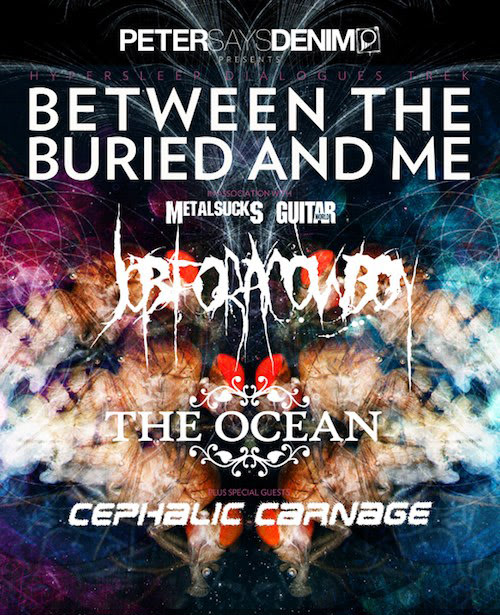 THE OCEAN has spent the last few weeks making their way through North America on The Hypersleep Dialogues Trek, with headliners Between The Buried And Me, Job For A Cowboy and Cephalic Carnage on select dates. Presented by Peter Says Denim, in association with Guitar World & MetalSucks.net, The Hypersleep Dialogues Trek commenced on April 15th and has been pulverizing the masses ever since.
AOL's Noisecreep is currently hosting a teaser video the band created on tour. To witness some documented clips of the mayhem from the comfort of your computer chair, point your browser HERE.

THE OCEAN [remaining dates]
w/ Between The Buried And Me, Job For A Cowboy, Cephalic Carnage (*on select dates)
5/10/2011 The Marquee – Tulsa, OK
5/11/2011 New Daisy Theatre – Memphis, TN
5/12/2011 The Masquerade – Atlanta, GA
5/13/2011 Rockettown – Nashville, TN
5/14/2011 The Orange Peel – Asheville, NC
THE OCEAN was founded in 2001, when guitarist Robin Staps leased the basement of a former aluminum factory from World War II in the heart of Berlin-Kreuzberg. After a few weeks of daily construction work, Oceanland was born – a large underground complex of recording studio and sleeping rooms, where many members of THE OCEAN would spend the bigger part of the upcoming few years of their lives. The band's live show was conceptualized and refined here, and over the years, a collective of musicians from classical as well as rock music backgrounds formed around Staps. Four albums were recorded at Oceanland before the band was evicted in 2008.
http://www.theoceancollective.com/heliocentric
http://www.metalblade.com/theocean
http://www.facebook.com/theoceancollective
http://www.myspace.com/theoceancollective
http://twitter.com/OceanCollective
http://www.youtube.com/theoceancollective
http://www.metalblade.com