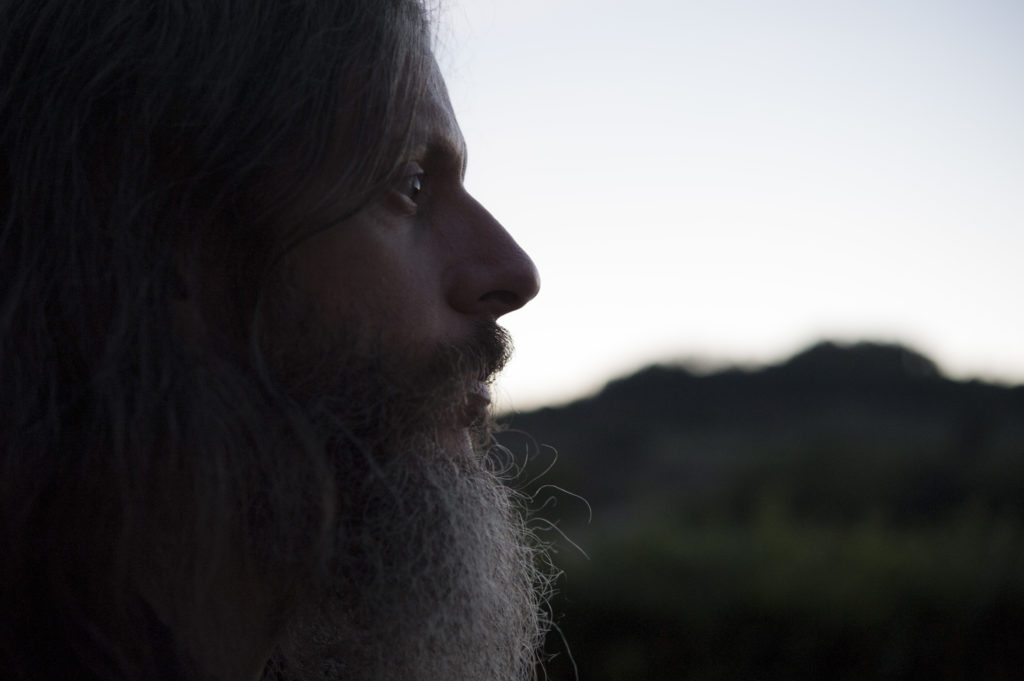 [photo by Francesca De Franceschi Manzoni]
THE MON – the new solo project by Ufomammut's bassist, synth player, and vocalist, Urlo – presents its debut recordings in the form of the Doppelleben LP. Decibel Magazine is now streaming the entire album ahead of its street date through Supernatural Cat Records later this week.
While Ufomammut creates mind-expanding, heavy psychedelic, otherworldly sounds, The Mon by comparison is far more intimate, looking inward, as Urlo explores and examines his inner most thoughts through music. In his own words, the goal of THE MON is, "to reach the boundaries of a spiritual soundscape in which the music becomes purification and atonement, a way to bring out to the world inside my soul."
With their advance stream of The Mon, Decibel Magazine offers, "Italian doom trio Ufomammut make some of the most vibrant, recognizable and psychedelic doom out there. It should come as no surprise, then, that Doppelleben, the debut album from Ufomammut bassist/vocalist/keyboardist Urlo under the moniker THE MON, is a far-out exploration into what a heavy psych album can sound like. From the pulsing bass and expansive textures of 'Salvator Mundi' to the trippy industrial of 'Blut' and the haunted soundscapes on 'Soulloop,' THE MON dives deep into a variety of sounds that feel interconnected while also sounding independent of each other."
Immerse yourself in THE MON's Doppelleben LP at Decibel Magazine RIGHT HERE.
Also view the videos for the album's "Her," "Hate One I Hate," and "Doppelleben" HERE.
Supernatural Cat, the label formed by members of Ufomammut and the Malleus Rock Art Collective, will release Doppelleben on CD, LP, and digital formats this Thursday, November 8th, the LP pressed on black 180-gram vinyl, printed with red metallic foil, including a twenty-page booklet with photos, a download card, and more.
Find US physical preorders at Earsplit Distro HERE, international preorders via the label's webshop HERE and digital via Bandcamp HERE.
A listening party for the album has been booked for this Saturday, November 10th, at a tattoo/record shop near Milano, where fans can have a drink and immerse themselves in the album and its videos in an intimate setting with Urlo. See the full details HERE. Live actions supporting the album will also be announced shortly.
THE MON builds layers of brooding sounds which sometimes unfurl at a glacial pace and other times lurch with rhythmic propulsion on Doppelleben, each piece distinct, densely packed, and all-consuming in their evocative atmospheres. Created entirely but Urlo, analog and electronic instrumentation weaves seamlessly around both instrumental and vocal movements through eight diverse tracks encompassing nearly forty-three minutes of spellbinding music. Doppelleben weaves a creative web of sounds which should entice fans of Ufomammut, John Carpenter, Bobby Beausoleil, Nine Inch Nails, Angelo Badalamenti, and more.
http://themon.bandcamp.com
https://www.facebook.com/urlothemon
http://www.supernaturalcat.com
https://www.facebook.com/Supernaturalcat666
https://www.instagram.com/SupernaturalCat_recs