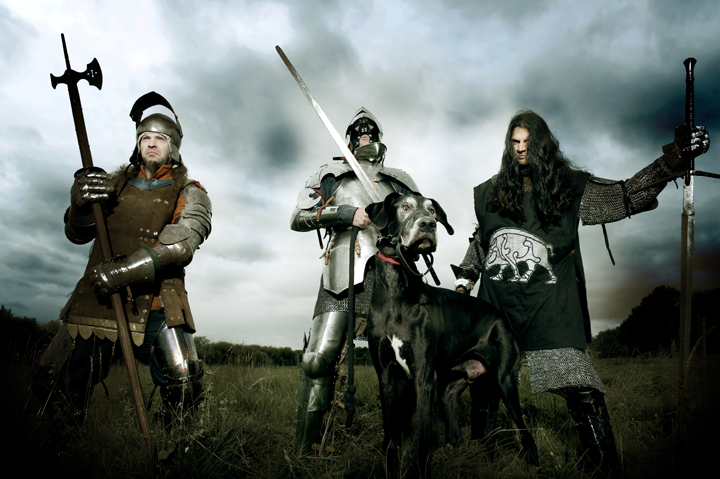 This week, Candlelight Records USA is proud to finally unleash the brilliant new full-length from England's unique blackened genre-benders THE MEADS OF ASPHODEL, which has been bathed in praise by metal media outlets worldwide in recent months.
Officially on the streets as of yesterday, January 11th, the band's latest masterpiece of bizarre and infectious blend of theatrics and musical bastardization The Murder of Jesus The Jew, is ready for the North American public's consumption. The album details the historical life of Jesus (Yeshua), the Jewish rabbi who was slaughtered on a tree by the Romans on a cold winter day 2000 years ago, and thereafter his people condemned to be pariahs of the earth due to Christian hatred. It is ironic that the Jewish roots of the Christian church have been erased and the blame of their man-god's death cruelly placed upon a people already broken by the yoke of Roman imperialism. Truth is often blinded by faith, none more so than the story of Jesus and his maligned people.
Life In The Shadows is a 35-minute documentary on THE MEADS OF ASPHODEL where Metatron explains his controversial lyrics and ideas on religion, J.D Tait guides us around the Meads' Bridge Gate Studios and Urakbarameel vents his annoyance at being labeled a 'Battle Metal' band. View the three-part movie at this location for a look inside the incredible concepts behind the new album.
In support of the record, THE MEADS OF ASPHODEL are readily available for interrogation via email or phone interviews with North American journalists. Please contact your local Earsplit thug with all requests right away.
"…more diverse than ever, with every track committing grave heresies against orthodox BM dogma, ranging from the jazzy vamping and 'Jesus Christ Superstar'-style piano led narrative chorus of 'Addicted To God' through the acoustic blues stomp and bongo break of 'Stiller Of Tempests' to the moody trip-hop beat of 'Dark Gethsemane'." – Terrorizer

"UK weirdo black metallers the Meads of Asphodel take the light-speed black metal, carnival music, female operatic vocals, and rock-god guitar solos of Sigh and Cradle of Filth a few steps further into the abyss… kudos for the awesome and absurd experimentation of it all." – Snowboard Canada
"Our ears are continuously surprised around every corner. Meads of Asphodel has given us what sounds like a black metal version of Mr. Bungle…10/10" – Blistering
"…the densest, shiniest, more stadium-sized work to date." – Stereogum
"The Meads of Asphodel are completely fucking brilliant, and The Murder of Jesus the Jew should silence any doubts of this fact with a resounding, deafening roar. A+" – Metal Army America
"Their English quirkiness is mixed together with punk undertones and old school black metal, whille experimenting with symphonic, orchestral, Middle Eastern and folk elements. 4/5″ – About.com
"…a masterpiece that delivers on every level. 10/10" – Apoch's Metal Review
"…I am incredibly proud of these true English heretics, and you should be, too. Incredible, genre destroying stuff." – Metal Runs In My Veins
http://www.myspace.com/theofficialthemeadsofasphodel
http://www.candlelightrecords.usa.com
http://www.myspace.com/candlelightrecordsusa