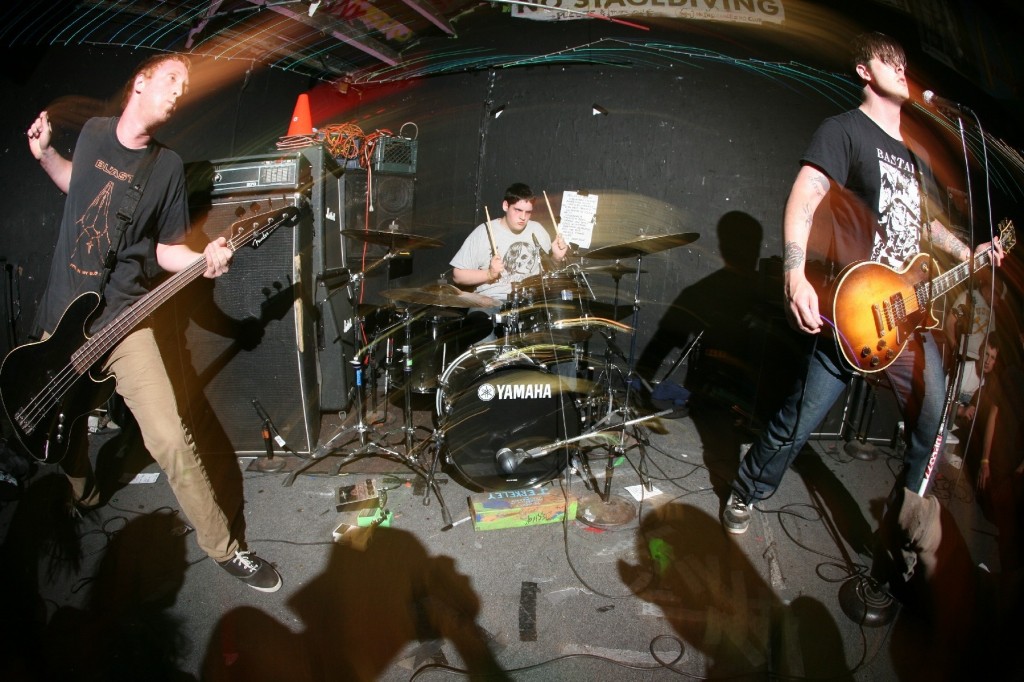 Southern California-based trio NAILS have just confirmed a short run of exclusive East Coast appearances this Spring, as they will attack Boston, Brooklyn and Philly in a straight three-day rampage with support from Burning Love, All Pigs Must Die and New Lows. NAILS are also one of the many acts on the roster for this May's annual installment of the Maryland Deathfest, scheduled to play on the first night of the festival alongside Pulling Teeth, Neurosis, Corrosion Of Conformity, Marduk, Kylesa, labelmates Masakari and Goatsnake plus tons more.
Confirmed NAILS Live Attacks:
3/312011 Great Scott – Boston, MA w/ Burning Love, All Pigs Must Die, New Lows
4/01/2011 Union Pool – Brooklyn, NY w/ Burning Love, All Pigs Must Die, New Lows
4/02/2011 The Barbary – Philadelphia, PA w/ Burning Love, All Pigs Must Die, New Lows
5/27/2011 Maryland Deathfest – Baltimore, MD
Arguably one of the heaviest hardcore acts to ever exist, NAILS released their debut thirteen-minute full-length album Unsilent Death at the beginning of 2010 on their own Streetcleaner Records, and were shortly thereafter picked up by Southern Lord Recordings for a full reissue of the album as well as their next release, due out sometime in 2011. Since the initial release of the album, NAILS have been blowing minds with their ultra-intense hardcore, which pushes the physical limits of the genre with its' sheer antagonistic weight. Following an American tour with Venomous Concept in mid-2010, Unsilent Death has been appearing on countless year-end lists worldwide, setting the band up for absolute domination in 2011.
"It's as if Phobia, Nasum, Dismember, Cursed and Despise You squeezed out a blackened placenta of distorted bass walls, guitars that sound like aluminum on fire, and Jones doing his best imitation of himself being stabbed in the throat. 9/10" – Outburn
"…one of the most focused, frenetic and fanfuckingtastic efforts to merge grind's relentlessness with hardcore's muscular whomp." – Decibel
"One word I would use to describe Nails' debut full length, "Unsilent Death", is this: grimy. This is pure, unadulterated filthy hardcore at its finest. 4/5″ – Stereokiller
"…being this fast and furious, Nails leave little room for interpretation – they just slay. 8/10" – Blistering
http://www.myspace.com/unsilentdeath
http://unsilentdeath.com
http://www.southernlord.com
http://blog.southernlord.com
http://www.myspace.com/southernlordrecordings
http://twitter.com/twatterlord