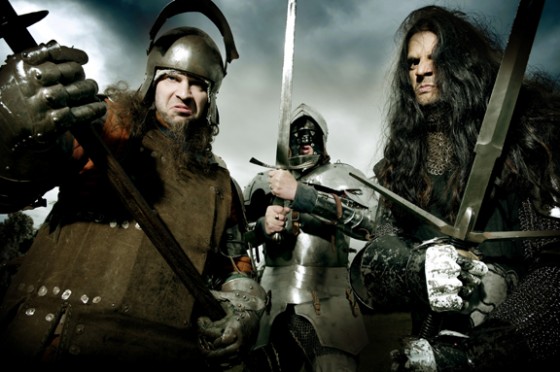 This weekend, in "celebration" of the Easter Holiday, Candlelight Records and Calgary's Megawatt Mayhem will broadcast the entire 63-minute long epic, The Murder Of Jesus The Jew, the latest album from English avant-garde black metal bastards THE MEADS OF ASPHODEL.
The festivities will kick off at the stroke of midnight (EST), for the first moments of the Easter holiday, this Sunday, April 24 (locally officially kicking off at 10pm MST on Saturday night for those in the Calgary area). Megawatt Mayhem is broadcast online via CJSW 90.9FM's official website, so thrill-seeking metalheads worldwide are invited to take part in the festivities. Tune in at: http://www.cjsw.com.
The latest masterpiece from the infamous THE MEADS OF ASPHODEL, The Murder Of Jesus The Jew is an infectious and unique culmination of black metal might, presented in an utterly unique, epic, theatrical manner. The album details the historical life of Jesus (Yeshua), the Jewish rabbi who was slaughtered on a tree by the Romans on a cold Winter day 2000 years ago, and thereafter his people condemned to be pariahs of the earth due to Christian hatred. It is ironic that the Jewish roots of the Christian church have been erased and the blame of their man-god's death cruelly placed upon a people already broken by the yoke of Roman imperialism. Truth is often blinded by faith, none more so than the story of Jesus and his maligned people.
Stay tuned for more announcements on THE MEADS OF ASPHODEL over the coming weeks. Interviews with Metatron, the key mastermind behind the band's insane and genius hymns, are available to North American journalists via phone and email anytime via Earsplit PR.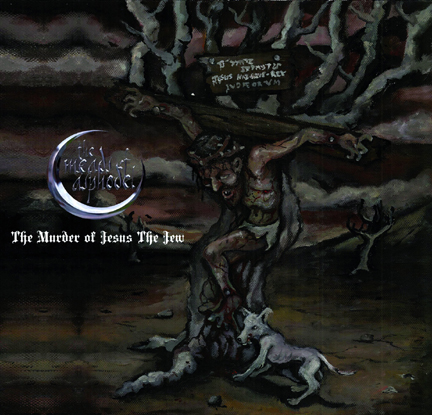 "This is an album that fist-fucks all the rules and boundaries, and that we're able to mention show tunes, psychedelic rock, horns and black metal in the same sentence without vomiting on our shoes is an indicator of the successful irreverence of this beast. 9/10" – Decibel
"…more diverse than ever, with every track committing grave heresies against orthodox BM dogma…" – Terrorizer

"…the densest, shiniest, most stadium-sized work to date." – Stereogum
"…a black metal version of Mr. Bungle…10/10" – Blistering

"The Meads Of Asphodel has proven themselves to be the future of black metal… 4.5/5" – Metal Underground

"Their English quirkiness is mixed together with punk undertones and old school black metal, while experimenting with symphonic, orchestral, Middle Eastern and folk elements. 4/5" – About.com
"The Meads of Asphodel are completely fucking brilliant, and The Murder of Jesus the Jew should silence any doubts of this fact with a resounding, deafening roar. A+" – Metal Army America
http://www.themeadsofasphodel.com
http://www.myspace.com/theofficialthemeadsofasphodel
http://www.candlelightrecords.usa.com
http://www.myspace.com/candlelightrecordsusa